Enjoying the simple pleasures of walking across the great outdoors, discovering exceptional panoramic views of Mont Blanc and the surrounding mountains… this is what hiking in Les Gets is all about.
What should you pack in your rucksack? Where are the best spots to watch the sunset, enjoy a picnic or pitch your tent?
This article reveals all our best ideas to ensure you get the most out of your future hikes.
Your rucksack essentials
Preparing your bag before a day's hiking couldn't be simpler! We know your priorities are wine, cheese and saucisson. OK, so you have the basics, but there's a little more to it. Here's our checklist of essential items to take with you for a perfect day-long hike.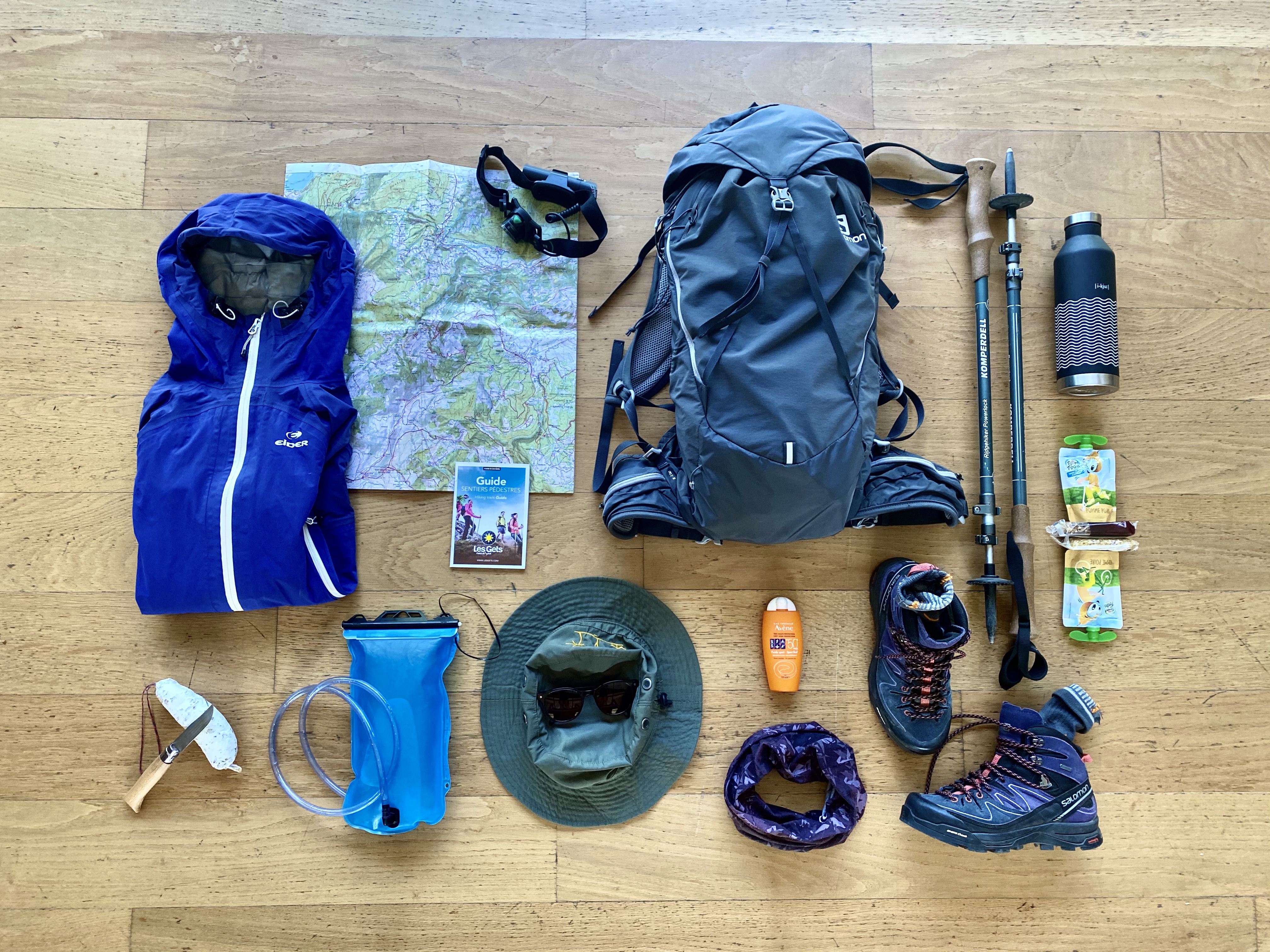 Walking shoes: if your hike is intended as a sporting challenge, opt for lightweight, low-cut shoes with a good grip. Trail-running shoes are ideal. If you need good ankle support, choose stiff, high-cut shoes instead.
Rucksack: For a half-day or full-day hike, a 20-30 litre bag is ideal as it'll be light and not too big. No point in being weighed down to skip across the pastures or scramble up mountain paths.         
Technical hiking socks: Comfort gets you everywhere! Of course, when hiking, it is vital to look after your feet if you want to walk further and higher. Start with a good pair of socks. They should be reasonably thick and stop at the ankle, to avoid overheating or getting blisters.
Appropriate clothing: Remember to take adequate gear for the time of year and weather conditions. Winter or summer, always take a wind-proof jacket, one of the classics that has saved many a hiker from hypothermia! When it's hot and sunny, don't forget to take a sun hat or cap as well as sunglasses and sun cream. In cold weather, a technical sports garment, a winter jacket, a warm hat and a pair of gloves will be much appreciated at high altitudes. A buff is also an essential item for keeping your neck or head warm.
A pair of hiking poles: Hiking poles are often forgotten or used in the wrong way, yet they make precious allies when you're walking all day. Don't hesitate to seek advice for purchasing the right poles for your hiking needs. Both uphill and on the way down, using poles can relieve the pressure on your joints by 30%. Your knees will thank you for it!
And if your walking companion isn't moving fast enough, you'll know what to do to pick up the pace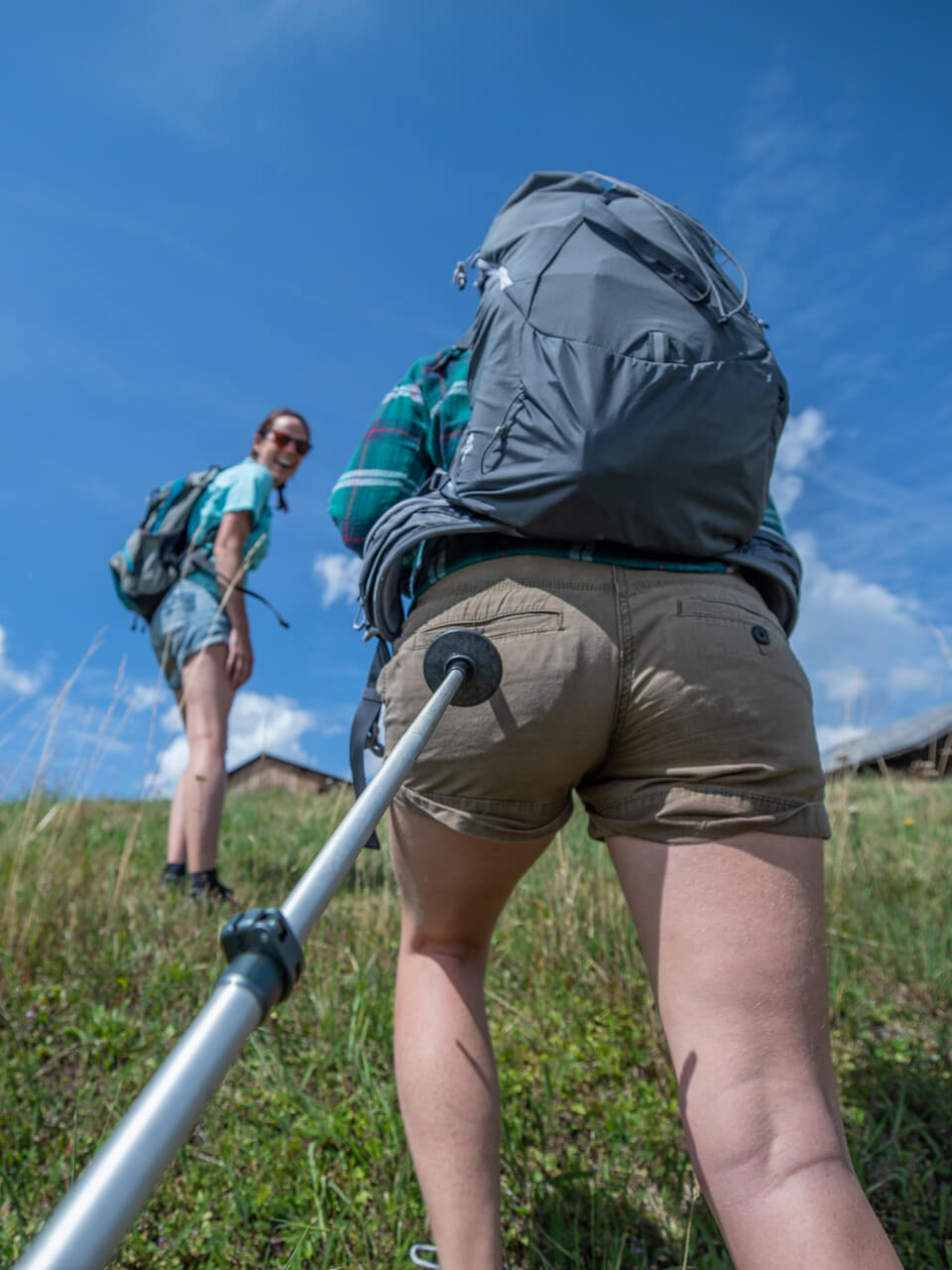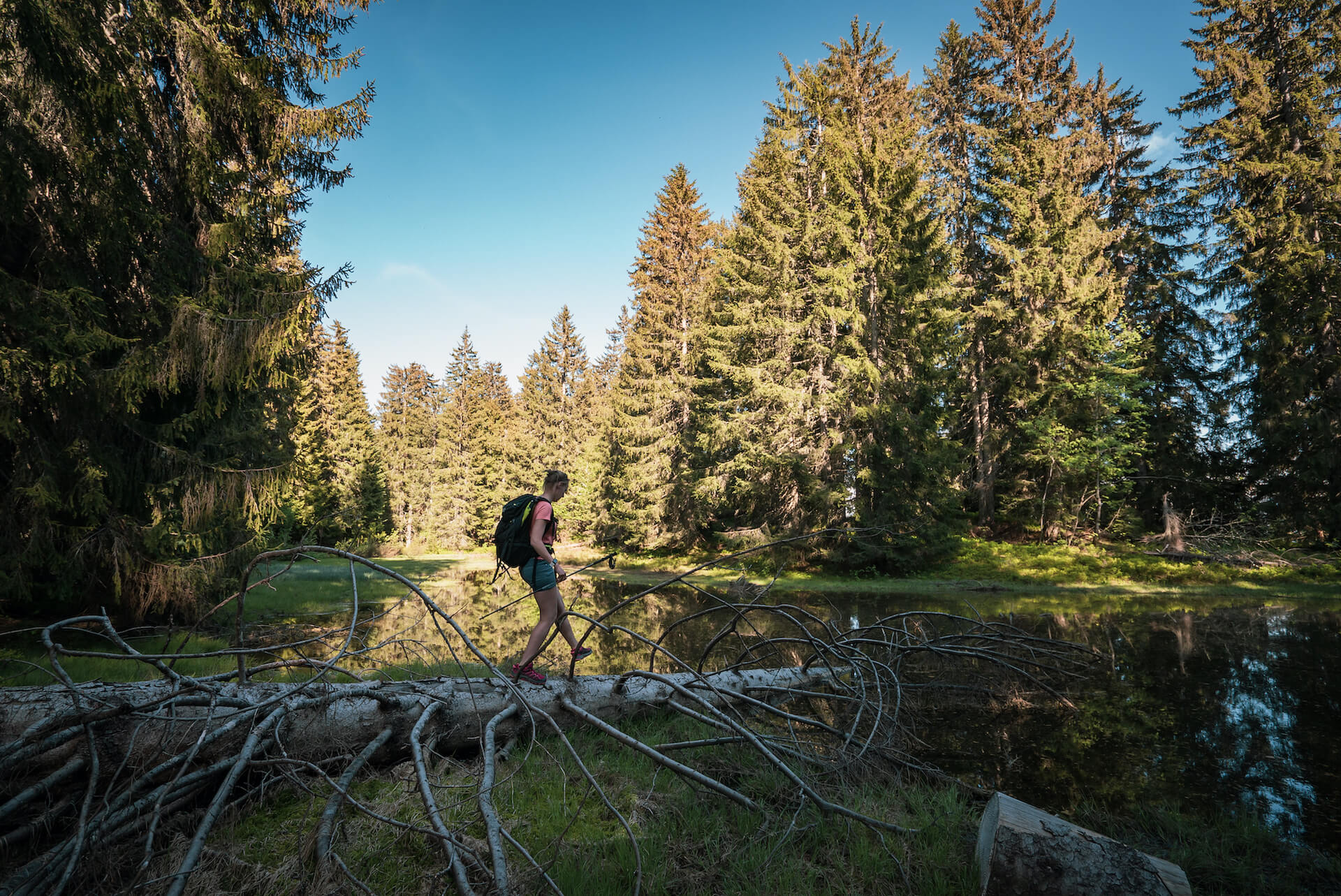 Sufficient water: No, you're not (yet) capable of walking for miles like a camel without drinking a drop of water! To avoid fatigue, cramp and headaches, it is important to stay hydrated. For a day of hiking we recommend you take at least 1.5 litres of water per person and check beforehand if there's anywhere along your itinerary where you can refill your bottle.
Food: We all agree that on any hike the picnic is sacred ! Besides your sandwich, remember to pack some nutritional snacks to stave off those moments of weakness during the climb. Our favourites are fruit compote, fruit jellies, cereal bars and fresh fruit*.
*We must insist that you refrain from littering nature with organic waste (fruit peel etc.), as this can attract rats and other predators that endanger the region's protected species.
First-aid kit: Carry disinfectant and plasters to treat minor cuts, scratches and grazes. For more serious injuries (sprains) make sure you have a support bandage with you. And don't forget the sun cream! For longer distances, it's a good idea to take a survival blanket as well.
Map: there's nothing to stop Mike Horn fans taking a topographic map, a compass and a GPS. But the truth is, you don't need an ordnance survey map to discover the little treasures of Les Gets! Simply download this guide to the footpaths of Les Gets. It includes the detailed descriptions and itineraries of all the region's hiking routes.
Head torch: just in case you get delayed and are still hiking when the sun sets. And say thanks to dear uncle Johnny whose brilliant sense of direction made you walk an extra 10 km.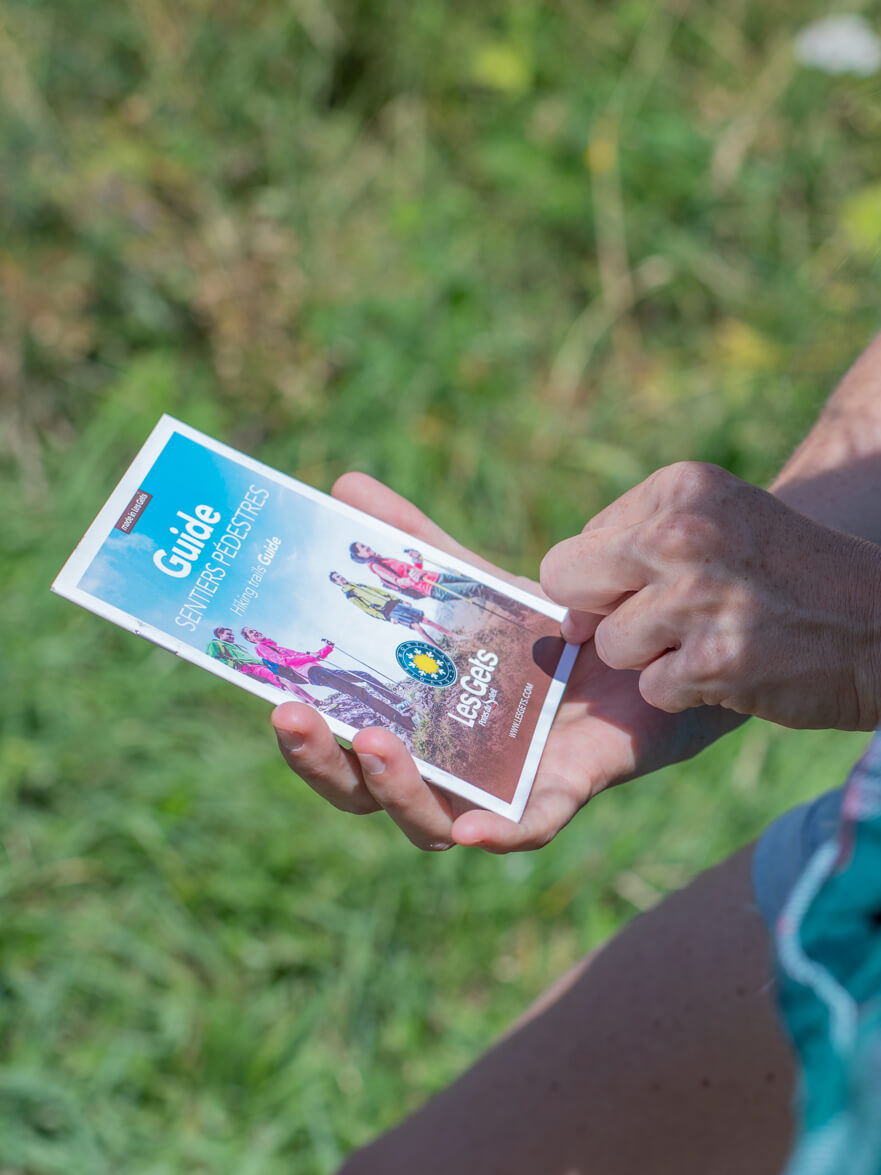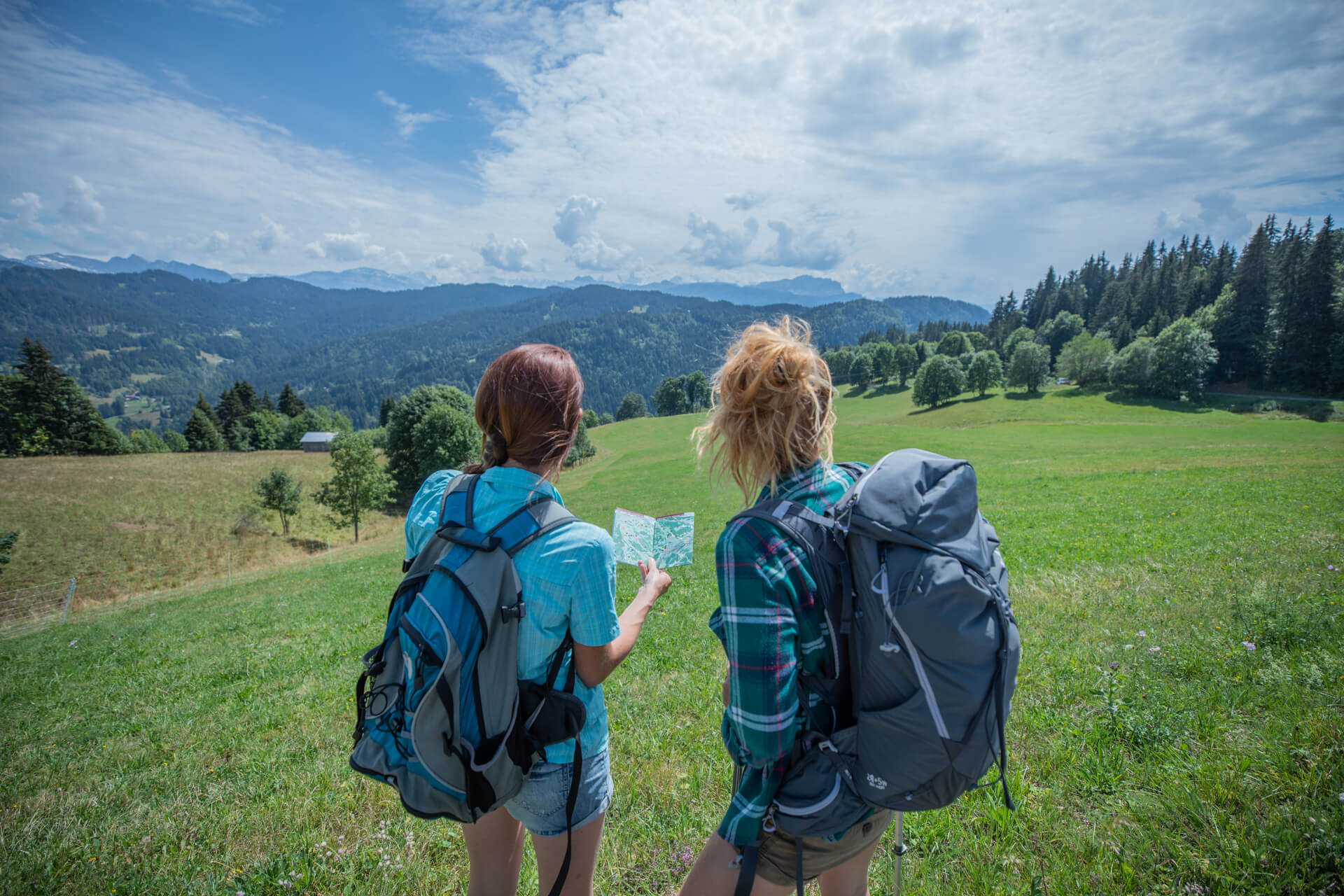 Not quite so vital, perhaps a bit heavy or cumbersome, but great to have all the same
Binoculars, to scan the landscape for wildlife hiding in the trees or out on the pastures. You'll be able to tell your friends you spotted a chamois on the opposite slope.
A camera, to capture the low light of the declining sun with your new 400mm lens that weighs at least 3 kilos.
The fondue pot, to enjoy a delicious meal, Savoie-style, facing the Mont Blanc.

If you prefer professional supervision, a number of mountain guides are on hand to accompany you.
Our (sort of) secret spots :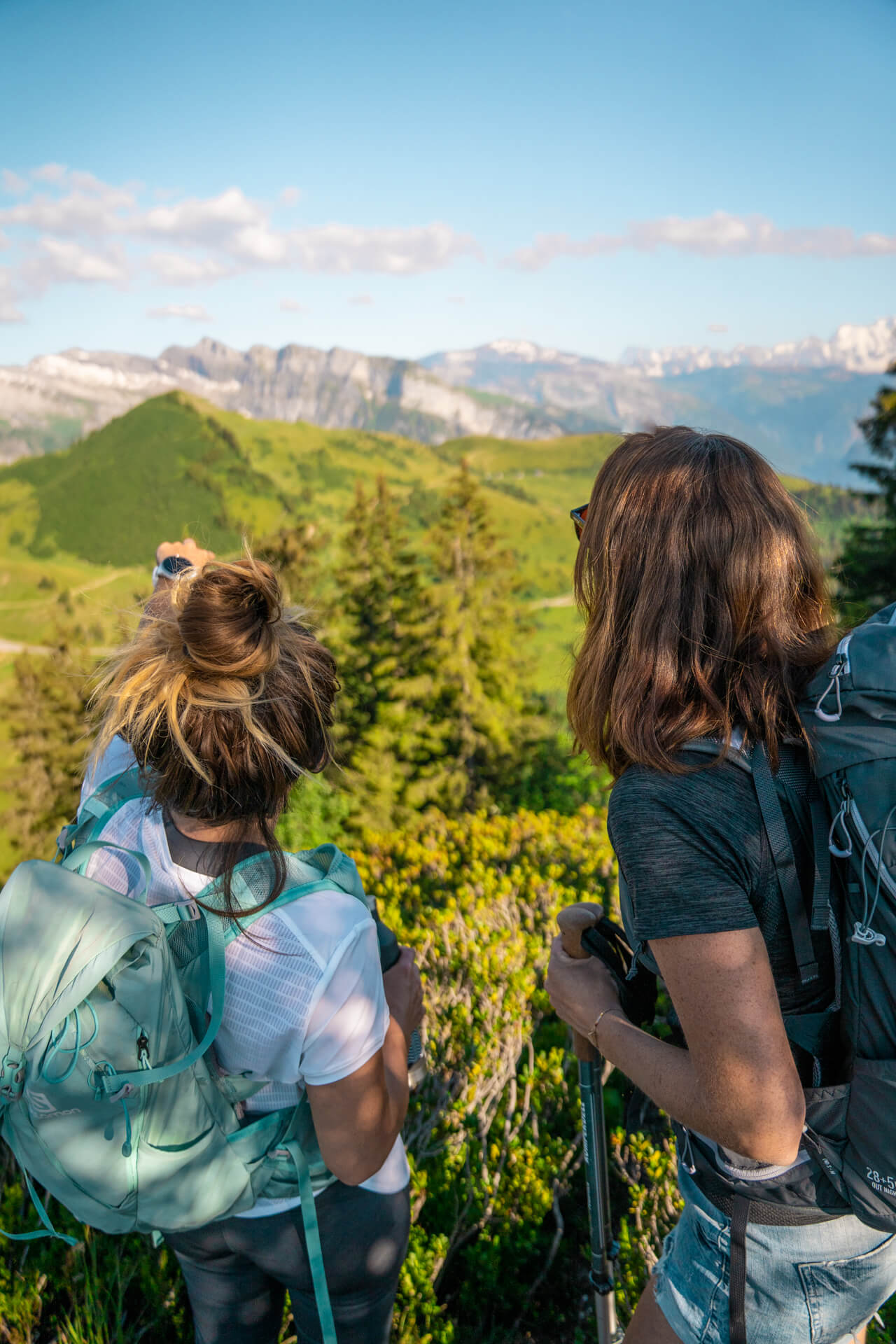 Sunrise at the top of Mont Chéry
Sunset on the Ranfolly ridge
Picnic at Jacquicourt Chapel, a remote site concealed in a superb setti
For the wildest of panoramic experiences, follow the ridge path between Mont Chéry and Mont Caly
Get a little high on the Ranfoilly platform
2 ways to bivouac*:
(1) "Roots" in the beautiful unspoilt setting of the Mont Chéry, facing Mont Blanc
(2) "Chill" at the top of Mont Caly with after an easy approach by car
* Bivouacking rules to remember: allowed for one night only, with or without a tent, between dusk and dawn, generally between 7 pm and 9 am. The bivouac site must be left in an impeccable state.
Always more tips & tricks…