We are actively preparing the summer to welcome you in the best conditions! Here are the planned openings of activities and a calendar of events for the summer.
Covid-19: The dates and conditions of opening of some activities or events may be modified in the light of health measures and changes in the situation.
Bikepark and lifts opening
The Bikepark and the lifts (Chavannes and Nauchets express chairlifts ; Mont Chéry gondola lift) are open continuously from Saturday 20 June 2020.
Multi Pass Portes du Soleil
The Multi Pass Portes du Soleil ensures unlimited access to more than 60 leisure facilities in the 12 Franco-Swiss resorts for just 2€ or CHF 2.50 per day of your holiday.
Alta Lumina
From 31 July 2020, discover the brand new Alta Lumina trail that will plunges you into an imaginary world, on a wonderful interactive adventure full of emotions that are unique to each participant.
Opening of activities
GOLF : opening from Saturday 6 June 2020 >> Learn more
LAKE : opening of the swimming lake (Lac des Ecoles) and the inflatable water park Wibit from Saturday 4 July 2020
>> More info
GETSLIB : the self-service electric bicycles at the station is available from 15 June 2020 >> More info
MECHANICAL MUSIC MUSEUM: reopening from Monday 11th May from 2.30pm to 6.30pm except on Tuesdays.
TENNIS LES GETS: (Bovard courts): reopening this Monday 11 May
MANEGE: from 6/07 to 30/08 open every day from 10.30 to 12.30 and from 15.30 to 19.30.
MOTORBIKE TRIAL & ELECTRIC QUADS: open every weekend from 9am to 6pm and then every day from 4/07 to 27/08 from 9am to 6pm.
SPAS – SOURCES DU CHERY : from 20 June to 4 July : massage area only then opening of the spa entirely from 4/07. No access for children under 11 years old.
ENERGYM & YOGA: seasonal programme from 2 July.
FITLIFE: seasonal programme from 4 July.
LIBRARY: every Monday, Tuesday, Wednesday, Thursday and Friday from 3pm to 6.30pm. Exceptional closures on 14 July and 15 August.
CINEMA: reopening from 04 July.
BRIDGE : reopening from July 6th.
FRUITIERE : free visit on Wednesdays and Thursdays at 10am from 8 July (10 people max per visit on reservation).
LA FERME DE CAROLINE : Tuesdays and Thursdays at 6.30 pm on reservation.
Other sports and cultural activities (white water sports, fitness, climbing, paragliding, pottery, farms visits…) are available by phone upon reservation.
Opening of the Tourist Office
From 20th june to end of September: everyday from 8.30am to 12.30am and from 2.00pm to 6.30pm
The reception team will be happy to answer your questions by phone or email.
Tél. : +33 (0)4 50 74 74 74
Mail : lesgets@lesgets.com
Calendar of events
Tuesday 14th July
Les Gets Golf Vintage (Subject to change or cancellation)
National Holiday Guinguette evening and dinner dance, fireworks, Esplanade de la Maison des Gets (Subject to change or cancellation)
Saturday 18 and Sunday 19 July: The Museum of Mechanical Music celebrates! On the theme: from Savoy to Montmartre
From Monday 20th to Friday 24th July: Festival of the 4 Elements
Family event focused on the enhancement, preservation and discovery of our natural environment. he 4 elements that make up our planet. The program is based on a multitude of playful activities, creative and scientific workshops, meetings with local actors, the discovery of crafts, nature outings and guided tours without forgetting festive animations.
From Monday 03 to Friday 14 August: Lounge Music Festival
More than 30 free lounge music concerts in the streets, restaurants and bars of the village generating a friendly and relaxed atmosphere!
Friday 14, Saturday 15 and Sunday 16 August: Braderie des Commerçants (Shops sale)
Saturday 15 August: Master Golf & Poker. Golf competition in stable ford and poker Texas Hold'em (Subject to change or cancellation)
Sunday 16 August:DH Kids Cup
Sunday 23rd August: Trail des Gets(Subject to change or cancellation)
Friday 28, Saturday 29 and Sunday 30 August:Pass'Portes du Soleil, 17th edition
Saturday 5th and Sunday 6th September: The Alambike. 24h VTTAE race by Wetzayer
24h MTB team relay event where you have to cover as many kilometres as possible to win the donation race. info@alambike.fr
Friday 18, Saturday 19 and Sunday 20 September: Mercedes-Benz UCI MTB World Cup 2020 (XCO & DHI) (Subject to change or cancellation)
Saturday 19 and Sunday 20 September: European Heritage Day at the Museum
Saturday 14 November: Museum Night on the theme "Bells, stamps and chimes".
Throughout the summer, you will find the regular activities proposed by the Tourist Office's animation team:
– Welcome drinks with music every Sunday at 6pm from July 5th, Place de la Maison des Gets.
– Animations for children and workshops
– Children's shows
– Sporting and creative animations
– Concerts…
You can find the program of events available at the Tourist Office reception desk and in shops, and in digital version on www.lesgets.com.
All activities this summer in Les Portes du Soleil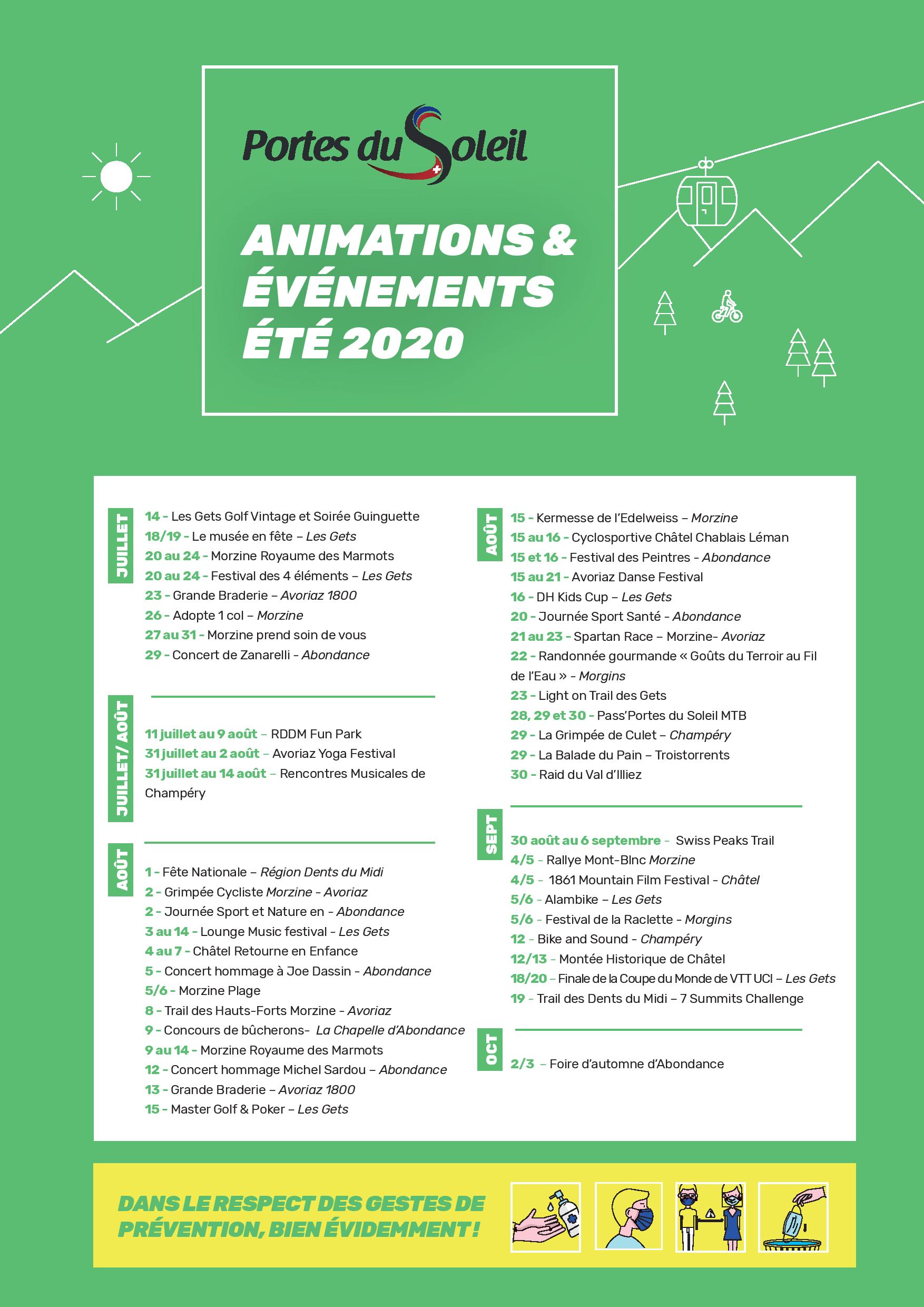 Stay connected to mountains…