Your week of skiing is just around the corner and you're getting excited. And yes, almost two years without skiing is a long time! So, you've booked your accommodation in Les Gets, arranged time off work and bought all your equipment. Well, that's all well and good, but you're leaving soon and not sure how to get organised. You really don't want to ruin this skiing holiday!
Don't panic. We've prepared a to-do list for you to use so that you won't forget anything.
1. Check the webcam and the weather forecast ❄️
Our webcams give you one-click access to information about snow conditions in the ski area as well as the weather forecast all year round. This is really handy so you know what to pack.
2. Check road conditions 🛣
If you're travelling by car, check the road conditions so you won't get any nasty surprises. And remember that you must have winter kit on all roads and motorways in the Haute-Savoie department.
So, get your winter tyres, snow chains or snow tyre socks ready!
For an easier option, you can always car-share with someone else or come by train or bus. There are lots of options for getting to Les Gets.
3. Check parking facilities 🅿️ and how to get around in Les Gets🚌
Once you arrive in Les Gets, you can leave your car in the car park and get around by foot, shuttle bus or little train.
The local authority has decided to provide free parking. All outdoor parking for tourist vehicles is free in the village. During the winter season, the car parks in the centre are in a blue zone, where parking is limited to a maximum of two hours between 8am and 6pm.
Colour-coded parking discs for the different resorts are freely available from the town hall reception or the Tourist Office.
A number of car parks are available for you to use : https://www.lesgets.com/en/discover-the-resort/mountain-resort/getting-there/#car-parks
To help you get around, there are free shuttle services to the main parts of the village and during the skiing season, a shuttle service operates between resorts. Whether you want to travel by bike, hire a GetsLib electric bike, have a wander on foot or travel on the little train, you'll be able to move around safely and enjoy a spot of shopping in the town centre, where roads are fully pedestrianised at certain times of year.
4. Buy or top up your ski pass online 🎫
You're guaranteed our best prices online and it also means you won't need to queue at the ticket office to buy or top up your pass.
Just go to https://www.lesgets.com/en/lift-pass/, select your ski area: Les Gets Morzine or Les Portes du Soleil, the duration of your stay and the number of people travelling with you. Simple as that!
Buy or reload your lift pass
You'll then be able to collect your pass:
At the Click & Collect points accessible 24 hours a day located at the central ticket office in Chavannes, underneath the departure point of the Chavannes cable car(297 route du Front de Neige, Les Gets)
At the 24-hour machines located:
At the central ticket office in Chavannes, underneath the departure point of the Chavannes cable car (297 route du Front de Neige, Les Gets)
At the Perrières ticket office, at the departure point for the Perrières ski lift (free parking) (Route des Pesses, Les Gets) (only during the winter season)
Tourist Office (89 Route du Front de Neige, Les Gets)
Chéry Nord, at the departure point for the Chéry Nord ski lift (167 route de Taninges, La Côte d'Arbroz) (only during the winter season)
Chavannes Central Ticket Office, Perrières Ticket Office, Tourist Office
Chavanne haut (3900 route des Chavannes, Les Gets) (only during the winter season)
Turche Ticket Office(935 Route de la Turche, Les Gets) (only during the winter season)
Chéry Ticket Office (2673 route des Grandes Alpes 74260 Les Gets)
5. Book or prep your equipment in advance🎿
If you have your own skis (or snowboard) at home, get them ready by waxing and sharpening them.
What's the purpose of waxing and sharpening?
Waxing the base of skis helps provide optimal glide for faster and more exhilarating descents. Sharpening skis is important to ensure they can properly grip the snow so as to prevent uncontrolled sliding.
If you're a DIY enthusiast at heart, sharpening and waxing kits are available on the internet and in several stores. There are a number of tutorials on the internet to help you.
Otherwise, when you arrive at the resort our professional ski techs will be on hand to prepare your skis for perfect performance.
And while we're on the subject of professionals, you'll also need them if you want to hire your skis. Once again, by booking online, you'll save money on equipment hire costs.
Visit this page for a list of sports shops in Les Gets.
6. Book your ski lessons ⛷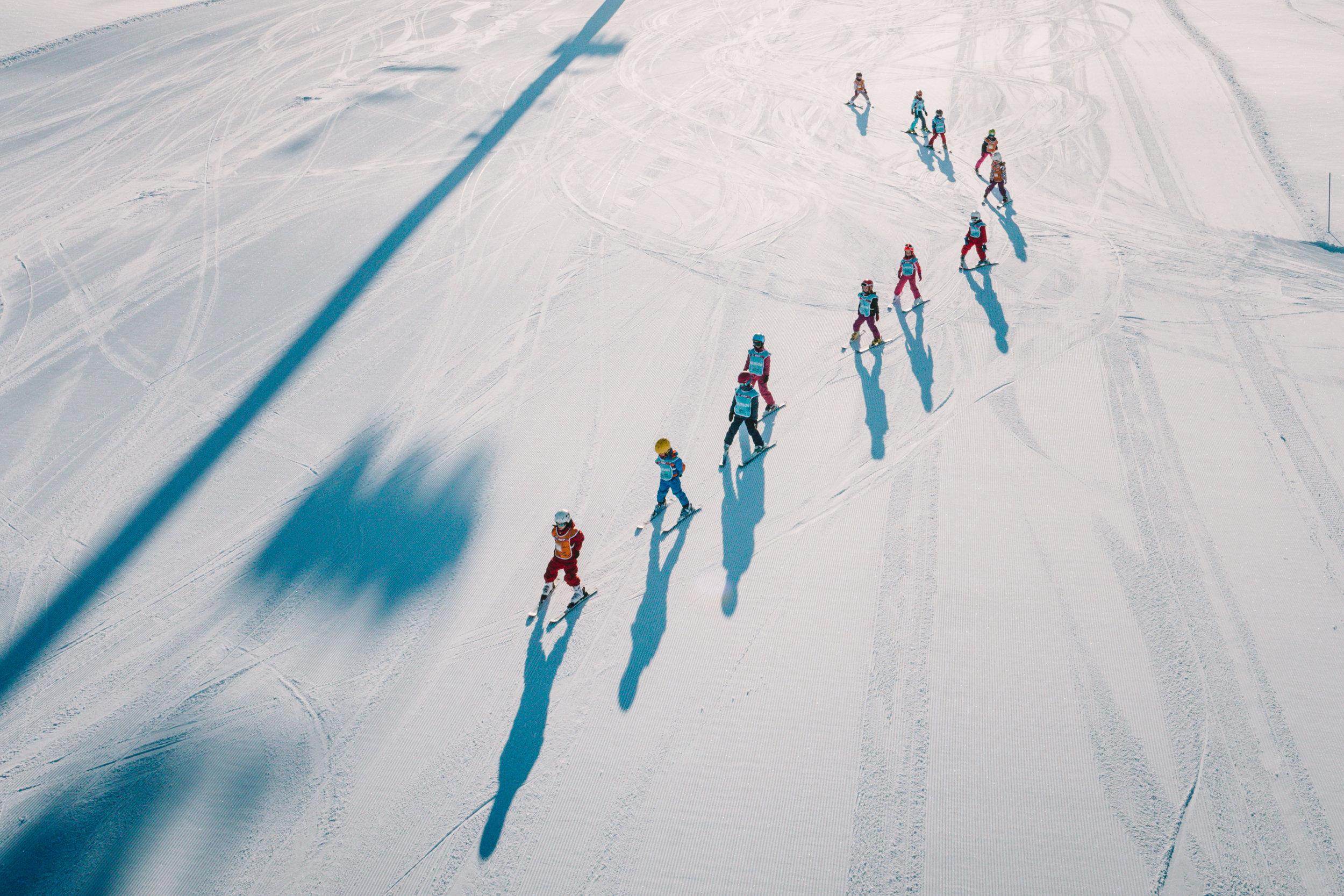 Whether you want to learn how to ski, become more confident or perfect your skills, professional instructors are on hand to help you progress and enjoy the skiing experience.
Below are details of the École du Ski Français (French Ski School), the International 360° Ski School and independent ski guides based in Les Gets. Why not get in touch with them and book your next ski lesson?
7. Check the resort map 🗺
If you're not keen on checking the ski area map every time you reach an intersection on the slopes, then maybe you should take some time to have a look at the Portes du Soleil resort map. There are 12 ski resorts between France and Switzerland, 293 marked trails and 209 ski lifts, so there's plenty to keep you busy for a while
Do you want to explore all the valleys and see all the peaks? You can start to plan and memorise some of the ski and snowboarding trails. For example, which is the most direct route to Chatel or Avoriaz from Les Gets? Or, how do you pop over to Morgins or Champéry in Switzerland?
Also see: Ski safari in Portes du Soleil
Can you also name the peaks in the Haut Chablais and Valais regions? If you want to impress your loved ones, we recommend that you download the PeakFinder or Peaklens app so you can easily identify the surrounding summits.
8. Check the entertainment schedule🎉
There are so many things to do in Les Gets. So, it's always best to check the entertainment schedule before you go so that you won't miss anything. Culture, leisure, sports, traditional activities: there's something for everyone!
https://www.lesgets.com/agenda
Don't forget to find out about all the activities on offer in the Les Gets resort: https://www.lesgets.com/en/what-to-do/winter-activities/
9. Find the best place for a fondue 🫕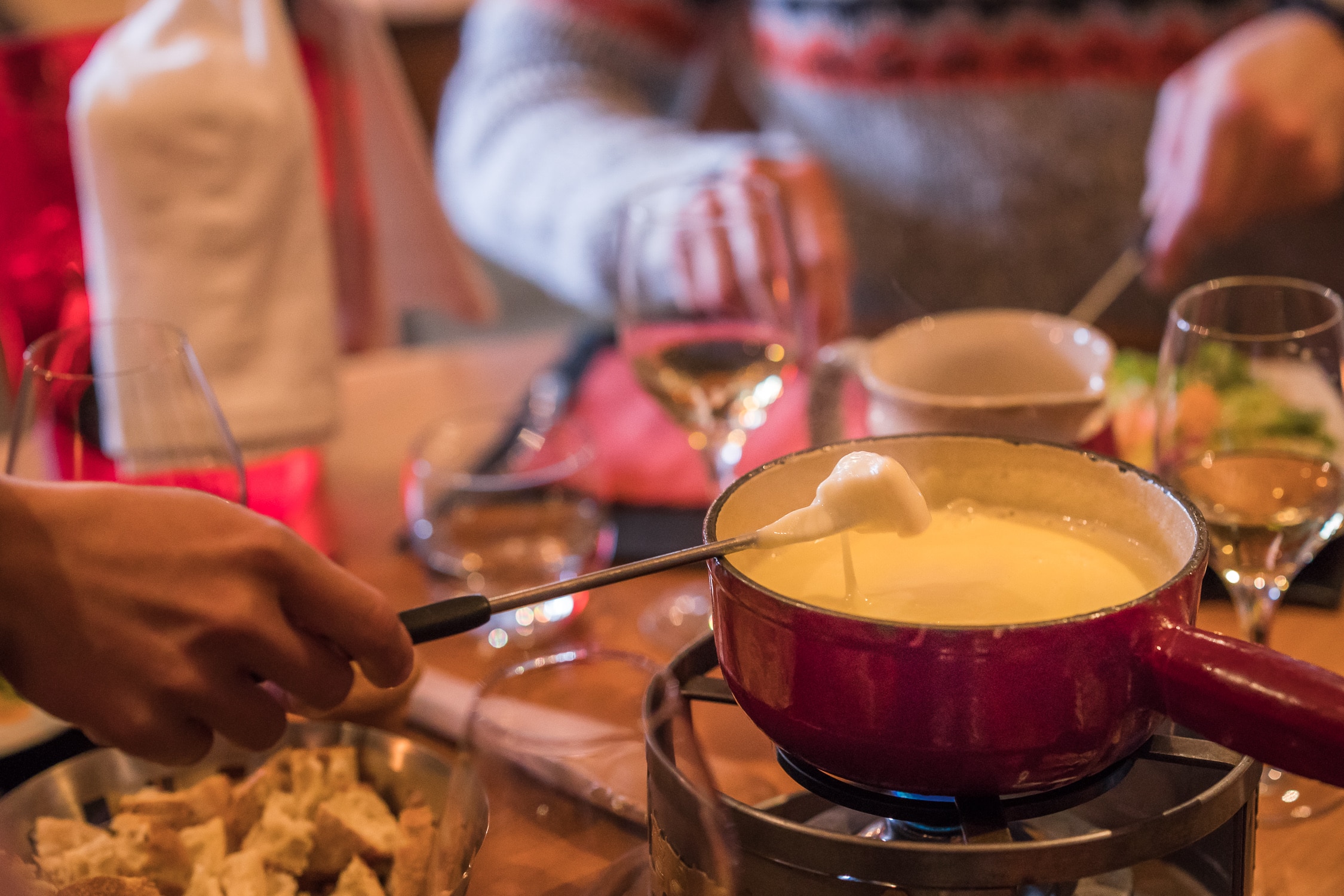 In Les Gets, we appreciate the good things in life, especially when they're local, fresh and made with love.
Our producers, retailers and restaurant-owners all have their own way of showcasing the resort's fine foods and high standards. Standards that have been passionately maintained over the years, taking pride of place when it comes to gourmet cuisine based on locally sourced, seasonal produce.
So, are you Team Fondue or Team Raclette?
10. Pack the right stuff 🧳
We know that packing for a skiing holiday can be tricky. With a huge pile of equipment to remember and bulky jumpers taking up all the space, it can be a real pain.
So, here's a little list of things to remember that could come in handy:
You can never be reminded often enough about the 3-layer principle which will keep you warm and dry throughout the day:
breathable 1st layer: avoid cotton and opt for synthetic fibres or merino wool (a must!)
thermal 2nd layer: a down or fleece jacket
waterproof and windproof 3rd layer: ski jacket and trousers
Ski socks – remember to pack several pairs
Gloves or mittens, glove liners for those who feel the cold
Ski goggles or visor
Backpack with hydration pack, water bottle and picnic
Sun cream and protective lip balm
Ski pass
And don't forget your anti-Covid approved mask or neck warmer for the ski lifts and queues. If you like, you could get yourself a Les Gets branded mask and neck warmer from our online shop or from a ticket office.
As a reminder: here are some examples of approved masks and neck warmers:
– Disposable surgical masks
– Category 1 "general public" masks for non-medical use
– Category 2 "general public" masks for non-medical use
Bonus! Your "no worries" toolbox 🛠
Les Gets-Morzine piste map
Portes du Soleil piste map
Hiking, snowshoeing and cross-country skiing trails map