Are you starting to give serious thought to the first slopes you're going to tackle this winter ? Us too!
While we await the cheek-numbing cold, the warming-up sun and the thigh-burning descents, how about shaking things up a little and getting in tip top shape this winter ?
Don't lose a minute of time on the slopes during your next skiing holiday
Below, we've shared some of our best practical and fun advice so you're all set once the ski area is open.
1. Preparing physically for the ski season: good, strong thighs !
Below we share 5 practical exercises that you can do at home, to prepare for your return to the slopes, designed to help improve your pressure distribution and endurance, prevent aching muscles and, above all, injury.
1. Warm up: remember to warm up for 5 to 10 minutes before starting your strengthening exercises: joint rotations, jumping jacks, knee raises, heels-to-glutes, static jogging etc.
2. Cardio training: you can opt for the thrilling run round the block, sticking within the 1 km radius of your home. Otherwise the skipping rope is an excellent way of raising your heartbeat in no time at all. 
3. Strengthening lower limbs: alternate sets of squats, lunges (front, back and side) or wall sits. These exercises will strengthen your hamstrings, glutes and quads.
4. Core: we recommend that you work on your core to help prevent lower back pain and tension, often linked to weakness in the abdominal and lumbar regions. We have a soft spot for static and dynamic plank exercises. 
5. Walking up and down stairs: this is a very good exercise which works the glutes, quads and hamstrings.
There's no need to embark upon a top-body challenge; the idea is to gradually get you back on track for an incident-free ski season.
Back to basics
2. Revisiting downhill skiing
If Jean-Claude still has problems planting his pole, that's because he hasn't take time to revise the basics of downhill skiing: body alignment, weight transfer, flexibility and range of motion etc.  
When the time comes to put on your skis and make fresh tracks, you may as well do it with style, control and panache. Which is why we're offering you a little refresher course on the basics of downhill skiing: alignment and flexing of hips, ankles and knees, body weight forward, tilting of body to execute lovely, uniform turns etc.
Do you want to really impress your friends and family ? Forget about weddling and instead revise your position and angle to execute the perfect carve!
Freeride enthusiasts can take inspiration from the best in the field with videos of iconic skiers such as Candid Thovex, Sébastien Michaud and Marion Haerty.
3. Maintain your equipment: waxing with reblochon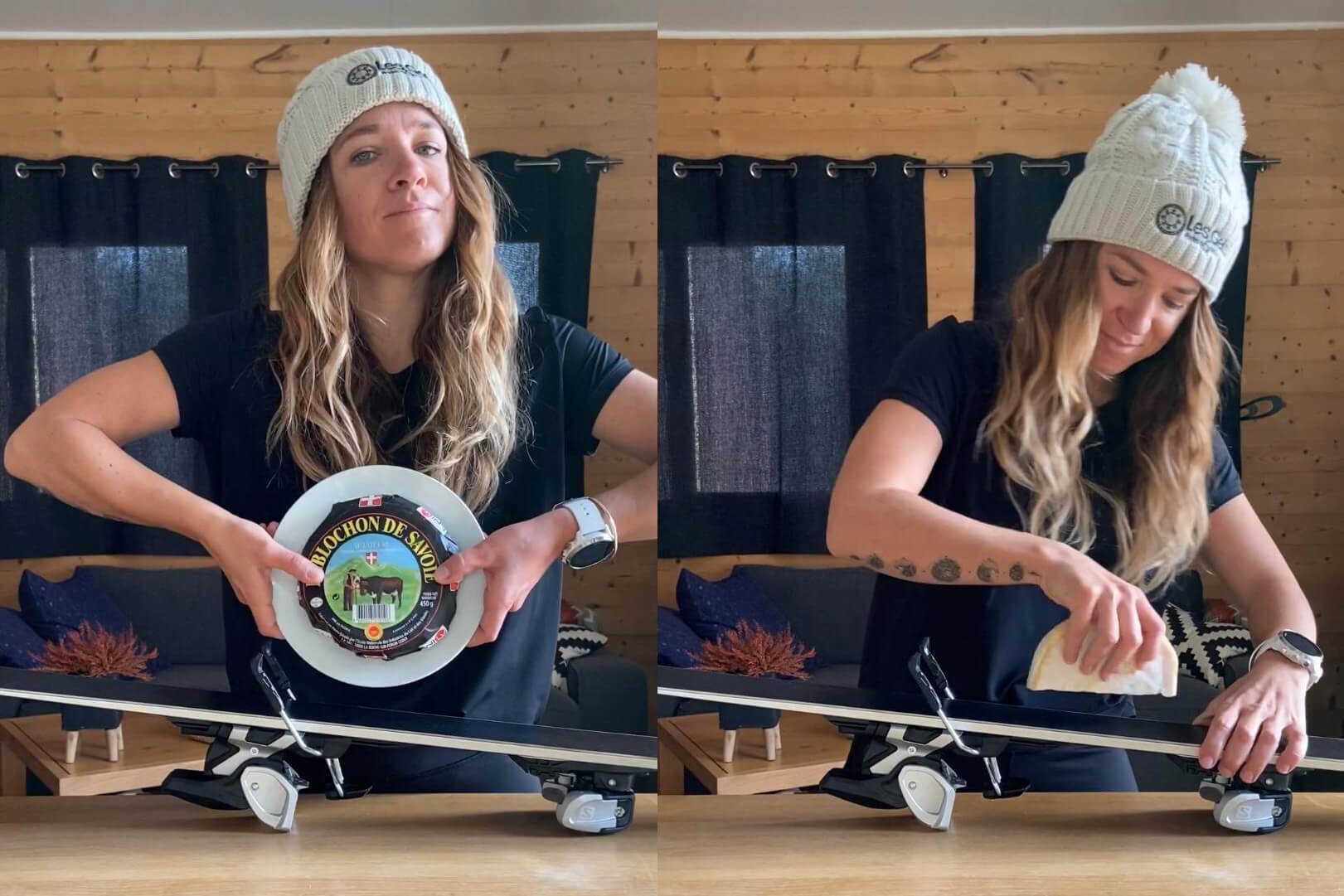 While your flatmate is perfecting his carving technique in his bedroom, why not have a go at waxing your skis before winter, using yesterday's reblochon! Its creamy paste will lightly lubricate the bottom of your skis!
Joking apart, good ski maintenance starts with optimal storage at the end of the winter season.
Here are a few good habits to adopt:
Never leave your skis in a bag after a day's skiing as when they are damp their edges can rust.
Brush the base of your skis to get rid of any dust or dirt and then store them in a waterproof bag.
Store your skis in a dry room.
What's the purpose of waxing and sharpening?
Waxing the base of skis helps provide optimal glide for faster and more exhilarating descents. Sharpening skis is important to ensure they can properly grip the snow so as to prevent uncontrolled sliding.
If you're a DIY enthusiast at heart, sharpening and waxing kits are available on the internet and in several stores. There are a number of tutorials on the internet to help you.
Otherwise, when you arrive at the resort our professional ski techs will prepare your skis perfectly. Visit this page to check out the sports shops in Les Gets.
4. Memorise the piste map
Do you, like us, hate wasting time looking at the resort map at every slope intersection? So, make the most of your free time to memorise the Portes du Soleil piste map. There are 12 ski resorts between France and Switzerland, 293 marked trails and 209 ski lifts…. So there's plenty to keep you busy for a while 😉
Do you want to explore all the valleys and see all the peaks? You can start to plan and memorize some of the ski and snowboarding trails. For example, which is the most direct route to Chatel or Avoriaz from Les Gets ? Or, how do you pop over to Morgins or Champéry in Switzerland ?
Read also : Ski safari in the Portes du Soleil
Can you also name the peaks in the Haut Chablais and Valais regions? If you want to impress your loved ones, we recommend that you download the PeakFinder or Peaklens app so you can easily identify the surrounding summits.
The ski area
5. Start packing your case two weeks before you go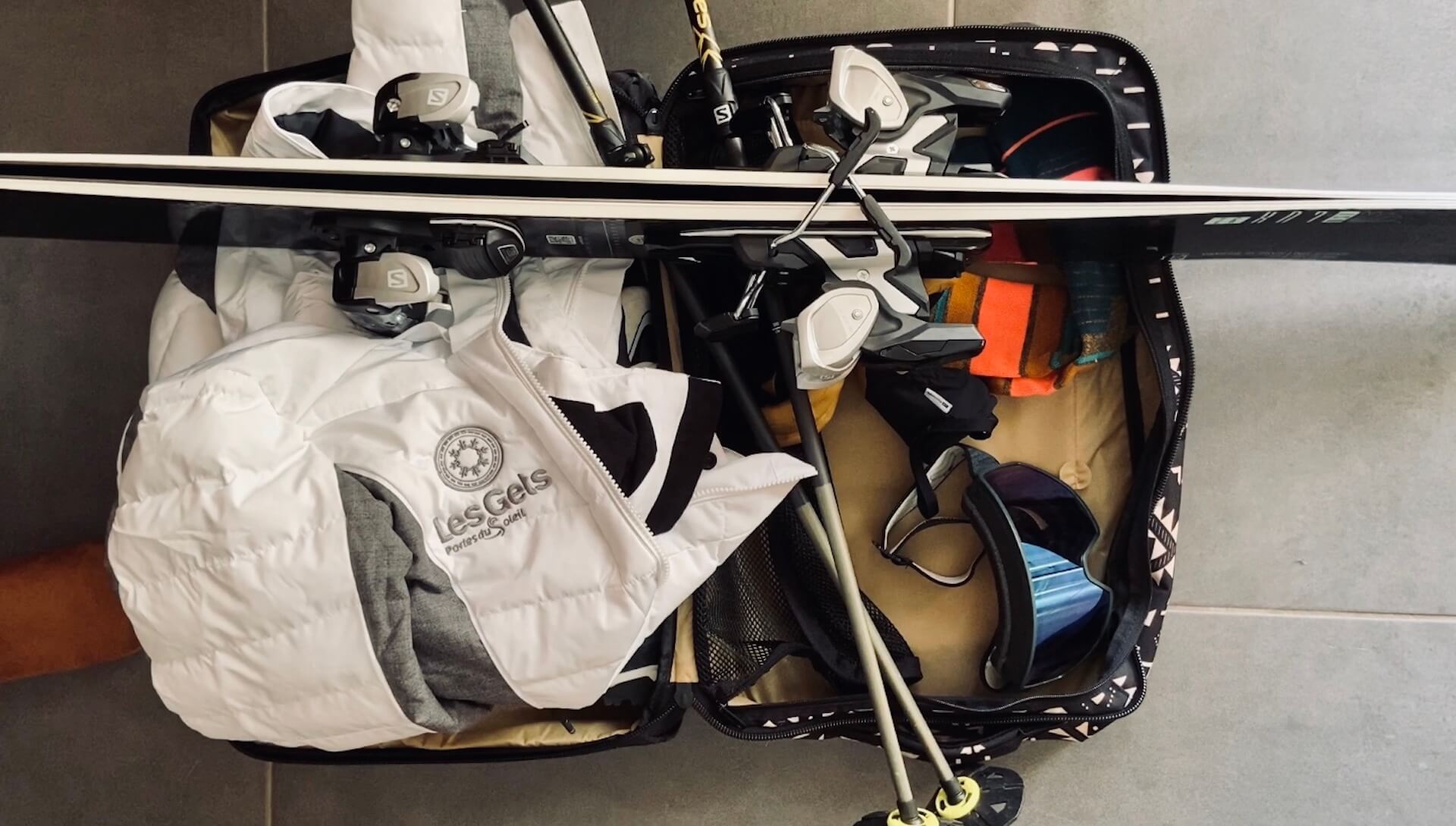 Now that you've memorized every nook and cranny of the ski region, here's some advice on how to pack well in advance and prepare for every eventuality (especially for the opening of the ski resorts that we hope will be soon)
Before you start stuffing your base layers inside your ski boots, this winter shouldn't we perhaps draw up an inventory of equipment? Boots, skis or snowboards, goggles, poles, various protective elements, backpacks, pairs of gloves: we figured right now was a good opportunity to sort through this merry mess!
Equipment: check!
Other essentials
You can never be reminded often enough about the 3-layer principle which will keep you warm and dry throughout the day:
Breathable 1st layer : avoid cotton and opt for synthetic fibres or merino wool (a must!)
Thermal 2nd layer, in the form of fleece or down jacket
Waterproof, windproof 3rd layer: jacket and ski trousers
Ski socks – remember to pack several pairs
Gloves or mittens, glove liners for those who feel the cold
Ski goggles or visor
Backpack with hydration pack, water bottle and picnic
Sun cream and protective lip balm
Ski pass
Not to mention your anti-Covid, approved mask or neck warmer for the ski lifts and queues.
As a reminder, here are some examples of approved masks/ neck warmers:
– Surgical paper masks
– Category 1, non-medical masks for the "general pubic"
– Category 2, non-medical masks for the "general pubic"
And as a bonus: a flask of genepi (herbal liqueur) to warm you up, your selfie stick for those Insta poses, your fondue pot… Well, pretty much everything that makes you happy !
For snowboarders
6. Practice stepping into your rear binding as quickly as possible when leaving the chairlift
As good skiers, we can hear you moaning from here about your friend, Michel, who always takes too long to get into his binding at the top of the chairlift 😉
Well things will be different this year! Michel has learnt a simple 2-step technique so he can step quickly into his binding when he leaves the chairlift.
1. While waiting at the bottom of the ski lift, he scrapes the bottom of his binding to remove any snow that has accumulated.  Which means he'll be able to step straight in without any problem.
2. When he gets to the top, he lifts the spoiler, steps into the binding and tightens the straps, while carefully sliding on his board, avoiding potential skiers and toddlers waiting in line.
Tadaaaaam… Everyone is ready to leave in under 20 seconds!
7. Practise cooking an express fondue on the slopes
Even if you're already on your 2nd raclette or 3rd tartiflette of the season, there's nothing better than a nice Savoyard fondue to warm your hearts and fill your stomachs during an intense day on the slopes.
Yes but …the clock is ticking and you've only planned a 30 minute break for lunch. Here are two possible scenarios, depending on your preference:
Option 1 : the realistic
Do you want to make the most of every moment spent outside in the snow?
Why not cook an express fondue on the slopes with the added bonus of a spectacular view? From the logistical angle, nothing could be easier: a stove and gas cylinder, a large saucepan, a cheese fondue mix from a grocery store in the village, some baguettes and that's it!
Option 2 : the humoristic
Do you like to go back to your apartment to warm up a bit at lunch time?
If so, we recommend the Smoothie Tartiflette which is ready in just a few minutes.
In a blender, mix two pre-cooked potatoes, an onion, a handful of diced bacon and half a reblochon. Something to perk you up for the afternoon!
8. Making a competition glove to take endless photos and videos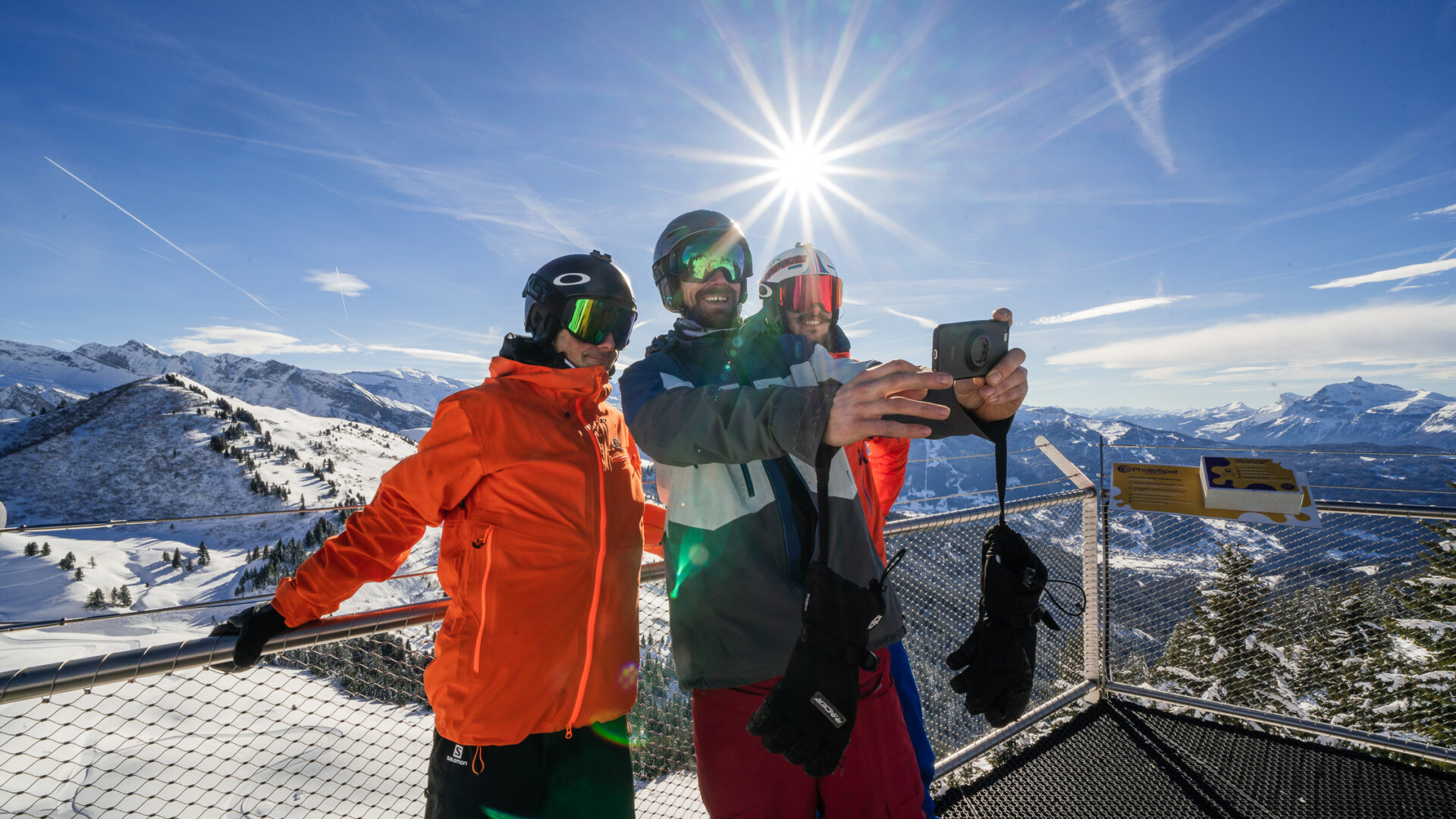 Filming a friend trying to do a backflip, recording an epic off-piste descent or taking a selfie against a breath-taking backdrop: we all want to capture memories of our unforgettable ski holidays. Yes but…you can waste valuable time getting out your phone, taking off your gloves etc. We have THE solution!
We've devised a must-have accessory so you can access your smartphone quickly,and at any time: a glove with easy thumb opening. Another gem to add to your collection of "ugly but practical "objects that everyone will envy.
We did try to make one, and then we told ourselves that we weren't yet ready to lose an inch frozen by the cold 😉