We are in the year 2020 after Jesus Christ. The whole planet of mountain biking is being turned upside down by a pandemic that is disrupting many sporting competitions. All of them? No! A village of indomitable Gétois is still resisting the invader.
Driven by a passion for mountain biking and the desire to offer the public a life-size show, the P2V association has decided to organize a DH race in Les Gets from 18 to 20 September 2020 with the world's best riders… behind closed doors.
A high-flying challenge brilliantly taken up by the P2V team, with the support of Les Gets resort !
Genesis of an unexpected event
From 18 to 20 September 2020, the world's best riders were once again to compete on the slopes of Les Gets and offer the public an exceptional spectacle on the occasion of the Mercedes-Benz 2020 UCI Mountain Bike World Cup.
For obvious health safety reasons, Les Gets resort, in agreement with the International Cycling Union (UCI) and the French Cycling Federation (FFC), was forced to cancel the event. This was a huge disappointment for the resort.
So the P2V association, made up of local mountain bike enthusiasts, embarked on the rather crazy project of inviting the 30 best world riders to a race on the Mont Chéry, behind closed doors in order to comply with government directives.
A competitive line-up for a fast-paced descent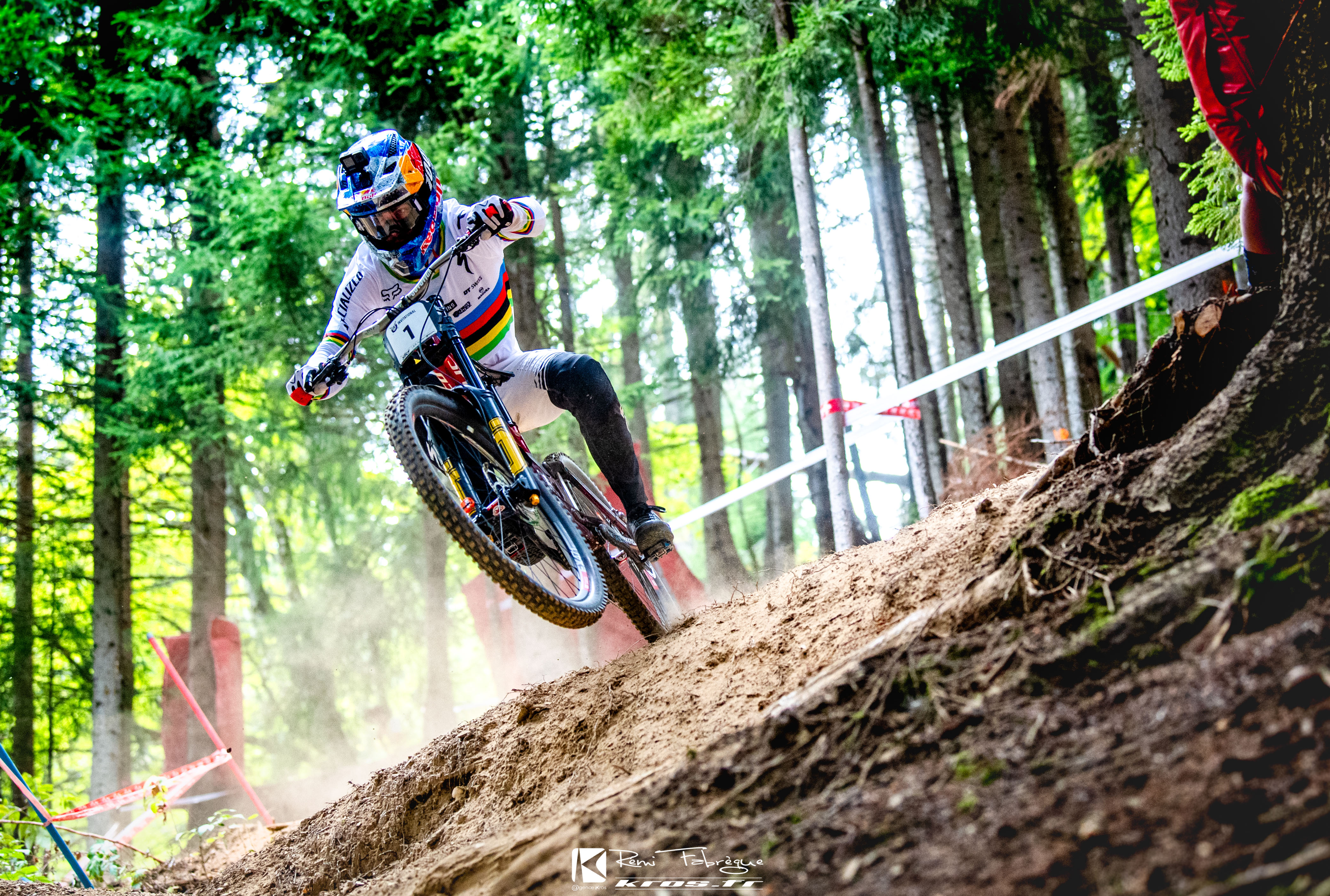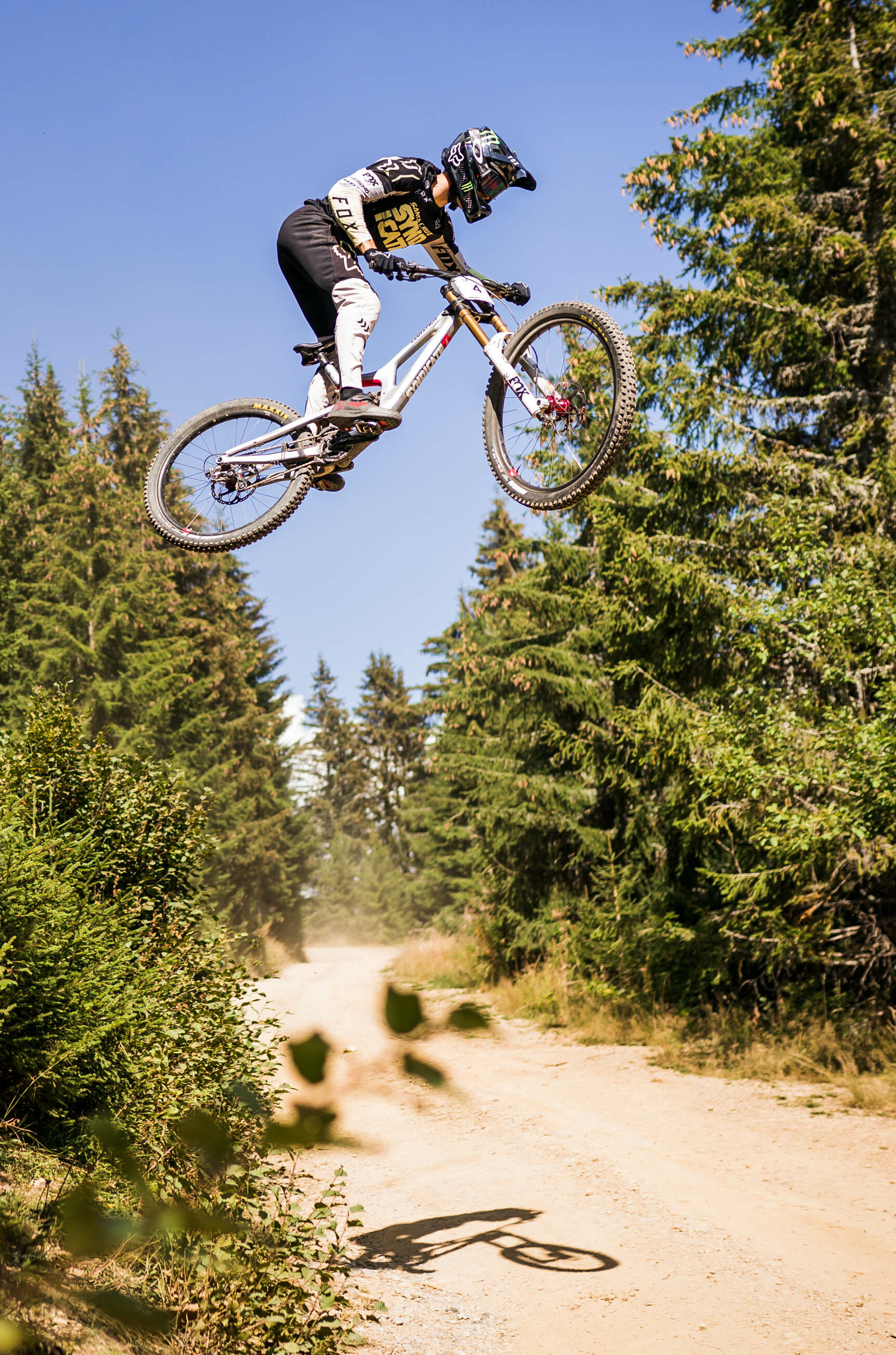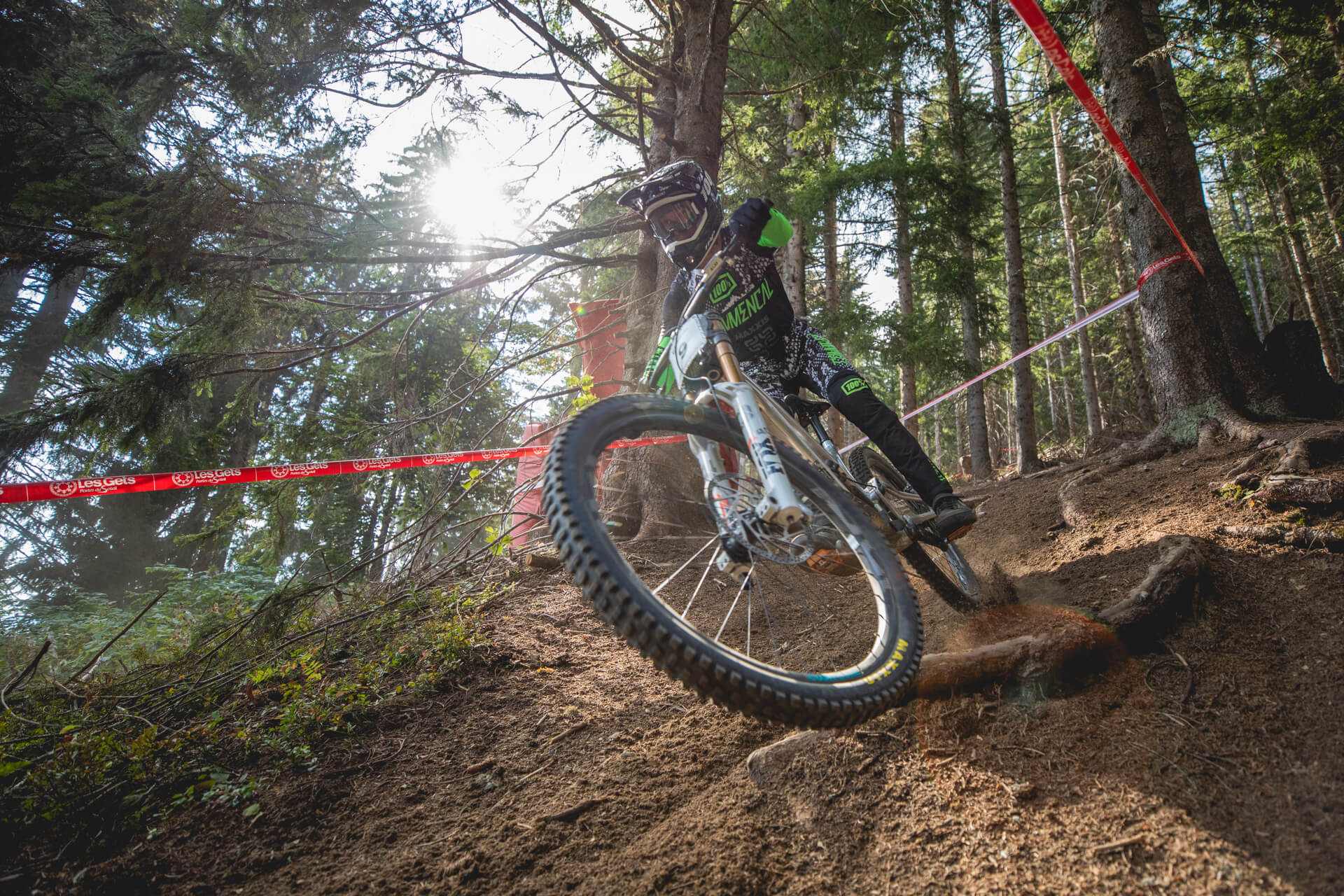 Around thirty pilots competed on a downhill (DH) track shaped in only 3 weeks and especially for the event. Both complete and demanding, the P2V Invitational track is a mix of difficult jumps, technical parts in the undergrowth in the roots, steep slopes, overhangs and bike park type turns.
« It's rare to have tracks where the level, speed and technique are the same as in the World Cup (…) Thank you for that, the track is crazy ».

Loic Bruni (Number 1 UCI ranking 2019)
The event brought together a top-notch line-up, including four-time World Champion Loïc Bruni, three-time South African World Champion Greg Minnaar, and French rider Marine Cabirou, 2019 World Championship medallist, not to mention Loris Vergier, Benoît Coulanges, Troy Brosnan, Steve Peat, Fabien Barel, Tracey Hannah, etc.
On this amazing new track, Loris Vergier did well and set the best time in 3'20"35 followed by Benoit Coulanges 3'22"59 and Loïc Bruni 3'23''21. Among the girls, Marine Cabirou won the race in 3'58''96 in front of Tracey Hannah 4'01''00. A thought for Mélanie Chappaz who unfortunately injured herself during the training sessions.
« It's quite crazy to get such a long track in three weeks of shaping. I would like to thank all the organization and staff for this incredible event and track »

Troy Brosnan (Number 3 UCI ranking 2019)
« We hope that we will be able to use this track in 2021 »

Hugo Frixtalon
An original live show on social networks
The competition was broadcasted during all-new show commented by Florian Letondeur, Loïc Bruni and McFly on Sunday 20th September at 6.30 pm on Les Gets Officiel Facebook page.
« The only event where we thank the public for not coming »

A follower on Facebook
If the public was not allowed on the edge of the pistes, they were certainly there for the live show on Facebook. Nearly 70,000 people watched the programme in 48 hours.
At a time when more and more sporting events are being cancelled for sanitary reasons, this event shows us that, even from a distance, the passion for sport continues to gather and that video is an incredible way to share strong emotions.
To watch and re-watch the highlights of the show :
➡️ Track preview : 3'15
➡️ Training clip : 7'35
➡️ Interviews : 9'35
➡️ Live race : 12'55
A story of passionate friends
The staff and volunteers of P2V spared no effort to organize this weekend of high-level competition. Around one hundred volunteers were mobilized before and during the event to carefully prepare the new track (sometimes at night by headlamp), manage the logistics, carry out the titanic work of producing and broadcasting the programme, welcome the athletes in optimal sanitary conditions, etc.
"One day, you have a crazy project. Almost too big… But thanks to a team of locals, enthusiasts, friends who believe in it and give absolutely everything, the dream comes true! What a great reward and what an inspiration to see a group of friends and its resort go to the end of an incredible and unprecedented adventure", thanks Florian Letondeur, organiser and founding member of P2V.
We would like to thank the staff and volunteers for their commitment and professionalism. Thank you to the event's partners and sponsors (Les Gets Tourisme, Oakley, Michelin and Jean Lain Automobiles), and thank you to the public for respecting the closed door.
Photo credits : Keno Derleyn – Remi Fabrègue – Richard Bord – Mel Carle
Stay connected to mountains…