That juicy, slightly acidic burst in the mouth, your purple-stained fingers (and T-shirt), and a tongue so blue you could join the Smurfs… We all have memories of summer afternoons spent picking and eating wild blueberries along the mountain paths.
The blueberry is an excellent wild fruit of the mountains. It is found between June and September, at altitudes that differ from one mountain to another.
As the summer holidays come to a close, you can continue enjoying those sun-filled flavours at home with this recipe for one of Savoie's greatest culinary specialities, blueberry tart.
A souvenir dessert, like the Proust's madeleine
There are of course as many versions of this recipe as there are cooks in our kitchens. This one is from Sandra, pastry chef in one of Les Gets' restaurants, who unveils her secrets for a blueberry tart that'll fire your tastebuds as well as those childhood memories.
"For me, blueberry tart brings back memories of afternoons at my grandmother's house. I love this simple, authentic dessert because the crispy shortcrust pastry and the naturally sweet, acidic fruit go so well together", Sandra tells us as she places the mouthwatering round berries on the pastry.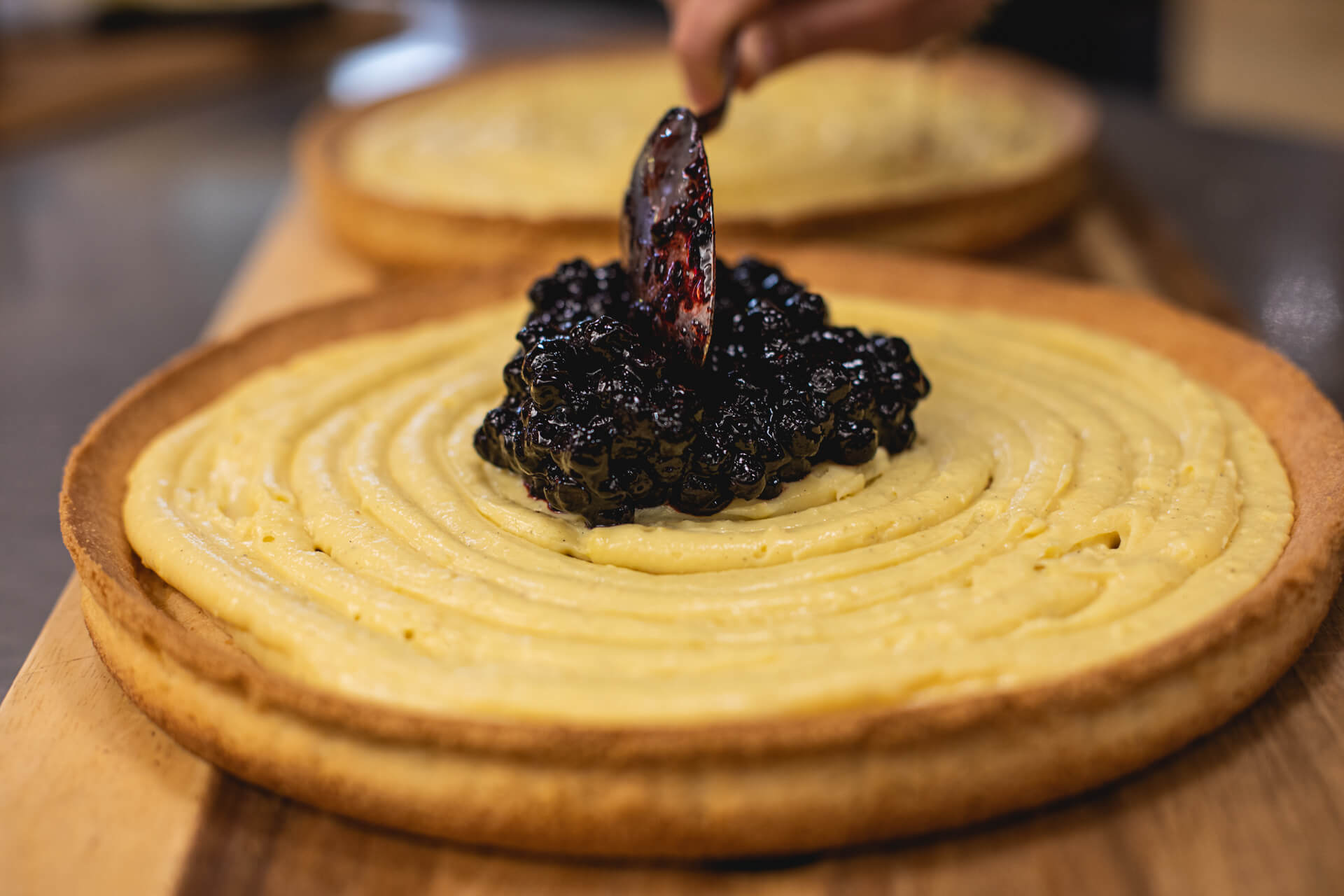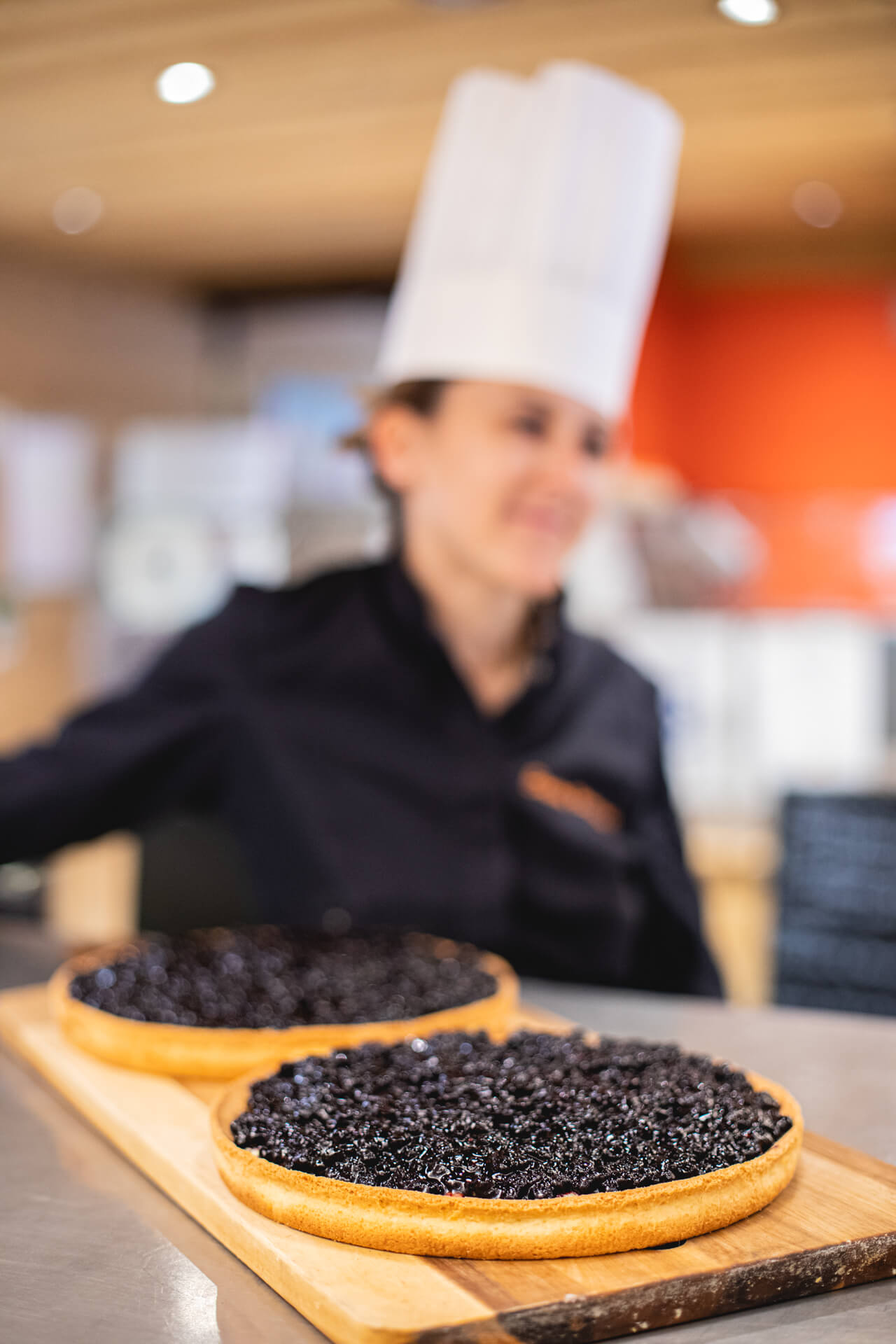 Here's some precious advice from the restaurant-owner from Les Gets :
It all starts with the harvest:
"Picking blueberries by hand requires a little effort!", warns Sandra. But above all it's great fun and… tasty too. One blueberry in the basket = five blueberries in the mouth. "To gather the berries without damaging them, I use a plastic bucket that's fairly wide and not too deep, to avoid crushing the small fruit."
Then you sort them:
This tip from Sandra makes sorting the berries much easier: "Place the blueberries at the higher end of a slightly-tipped tray. Gently shake the tray from side to side so that the berries roll to the bottom, leaving the leaves and twigs at the top, as if by magic."
Then wash the wild blueberries thoroughly. Ideally, bake them for 5 minutes directly on the tart base. Blueberries can be eaten up to 3 days after harvesting. Otherwise, they keep well in the freezer.
For those who enjoy raw blueberries, Sandra suggests an alternative, which is none other than her grandmother's recipe.
"If you don't want to use crème pâtissière or chantilly cream, you can brush the tart base with a beaten egg and flash bake it for 5 minutes at 180°C." This will create a protective coat to ensure the base stays nice and crispy.
Another suggestion to stop the pastry going "soggy" is to brush it with a thin layer of melted white chocolate and leave it to cool in the fridge for 3-4 minutes.
RECIPE – serves 8 to 10 people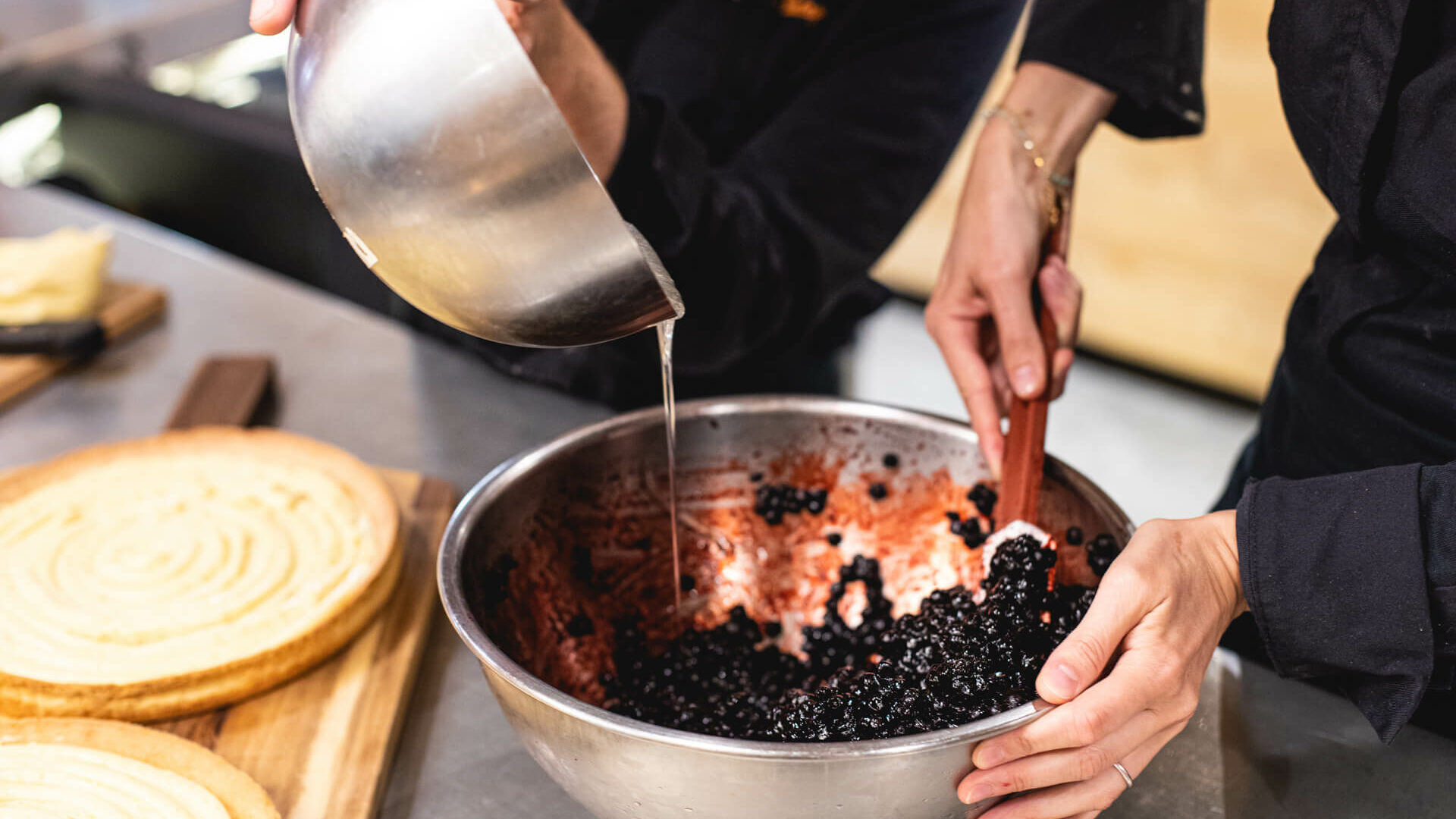 Sweet Pastry:
150g butter (unsalted)
1 egg
90g icing sugar
270g flour
30g ground almonds
Pinch of salt
In a bowl, first cream together the butter and icing sugar. Mix in the egg, then the flour, followed by the ground almonds and, finally, the salt.
Place the pastry in a tart tin and bake at 180°C (gas mark 6) for about 15 minutes (keep an eye on its colour).
Crème pâtissière:
1 litre vanilla-infused milk
180g eggs
150g sugar
80g cornflour
Bring the vanilla-infused milk to the boil. Remove from the heat and pour it over the mixed eggs, sugar and cornflour. Return to the heat, bring back to the boil and cook for 2 minutes, whisking constantly over the entire surface of the pan. Remove from the heat, place the mixture in a gratin dish and cover with plastic film, ensuring the film touches the cream in order to prevent a skin forming. Place in the fridge. Once the cream has cooled down, pour it into a mixing bowl and whisk again until perfectly smooth.
Neutral coating:
As an extra touch, you can glaze the fruit to give it a colourful, appetizing shine. You may already be used to making your own glaze with water and sugar or honey.
If not, here's a great tip: use red-fruit jelly diluted in a little warm water to coat your blueberries and give them a shine.
To finish your tart, just spread or pipe the crème pâtissière over the cooked pastry base, then carefully place your blueberries on top.
Bon appétit !
Always more tips & tricks…