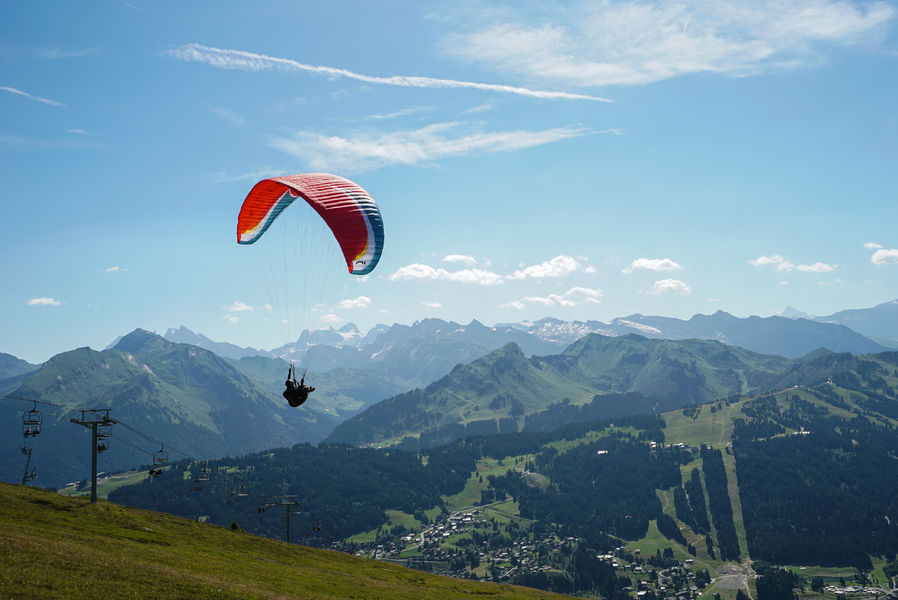 Two colors, the blue sky and white glittering mountains and the village of Les Gets under your feet. The decor : Facing the Mont -Blanc, the Chablais, Aravis, Les Gets.
Access map and contacts
Rue du Centre
Immeuble Les Rhodos (magasin Neige et Bonbon)
74260 Les Gets
---
Opening time
From 01/07 to 31/08, daily. The activity takes place all the year, but the office is daily open from the 1st of July to the 31st of August. From 19/12 to 11/04, daily. The activity is possible all year long but the shop is only open from 19 december till 11 April.
Takeoff procedure: verification and explanation before flight, inflation when walking, a short run and you are in the air.
The flight: well seated (even better than in front of the TV), without noise, without vertigo (vertigo is not possible in paragliding), you will benefit from your flight, magnificent landscapes and explanations from your guide if you wish.
The landing: will be smooth, just outside the village of Les Gets, towards Morzine.
Suitable for people with visual, auditory and mental challenges.