Sunshine, snow and stunning panoramic views, Les Gets resort has so much to offer! Less than one hour from Geneva, between Lake Geneva and Mont Blanc, this little piece of paradise provides a unique experience in the heart of the wonderful Portes du Soleil ski area. So, here are 7 ideas for skiers of every style and level to try in Les Gets.
1. Alpine skiing ⛷
You'll find Les Gets in the Portes du Soleil ski area, one of the world's most vast, linking 12 French and Swiss resorts and 600 kilometres of slopes.
At Les Gets you'll be at the foot of the slopes, with easy access to the 120 kilometres of slopes that cross the pine forests and alpine pastures of the Les Gets-Morzine ski area. This winter playground offers a huge variety of skiing, from beginner slopes to technically challenging runs for the experts.
2. Skiing for fun 🎲
Lots of play areas for kids and adults alike!
The ski area includes many fun spaces for you to explore.
The little ones will enjoy the Grand Cry Territory and the Mauve slope, while older ones can experience the exhilarating Boarder-Cross, Slalom and Snowpark.
Adults can take time out to relax in Les Nauchets picnic area or take a selfie at the Ranfoilly platform.
Safety and pleasure guaranteed!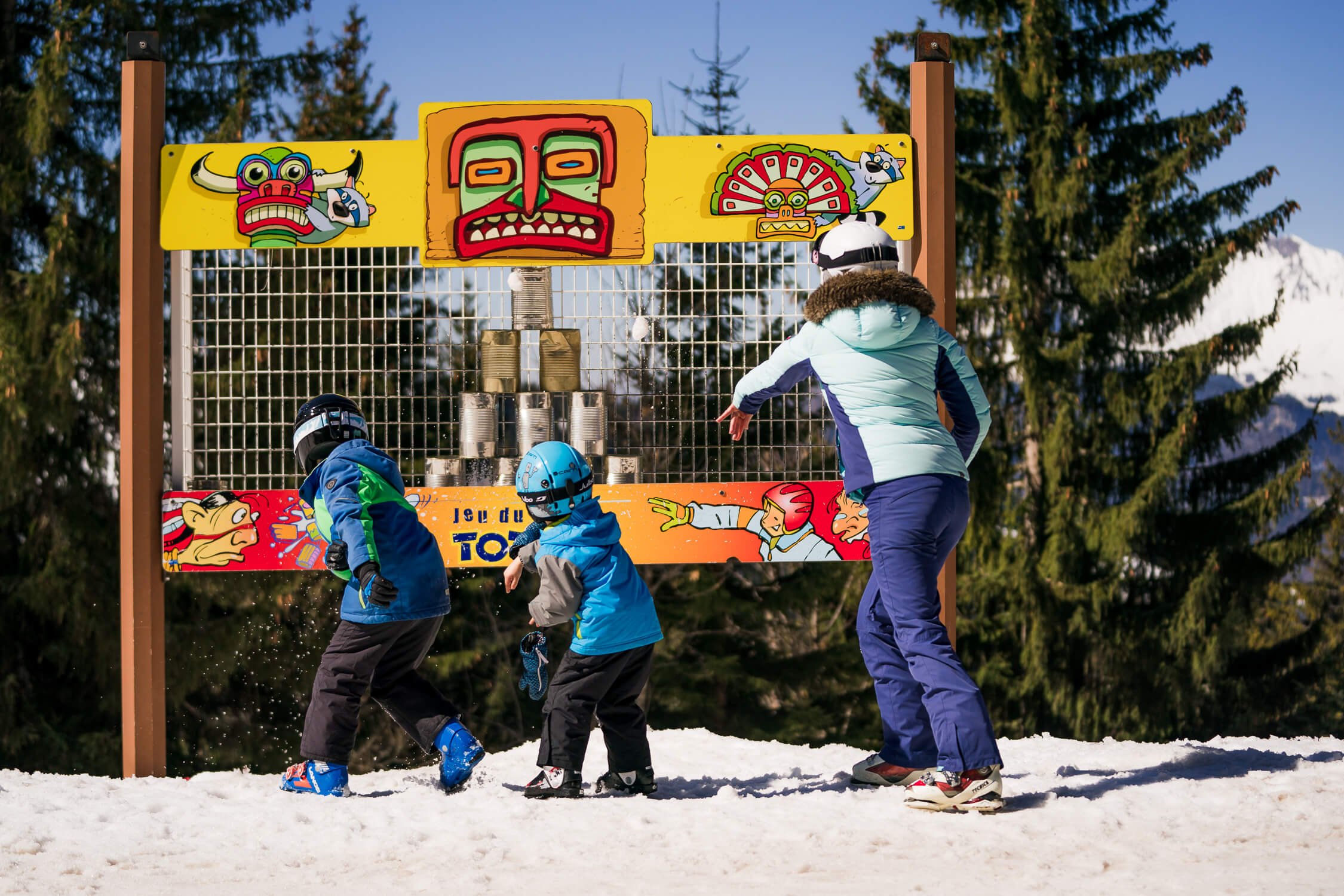 3. Off-piste skiing ❄️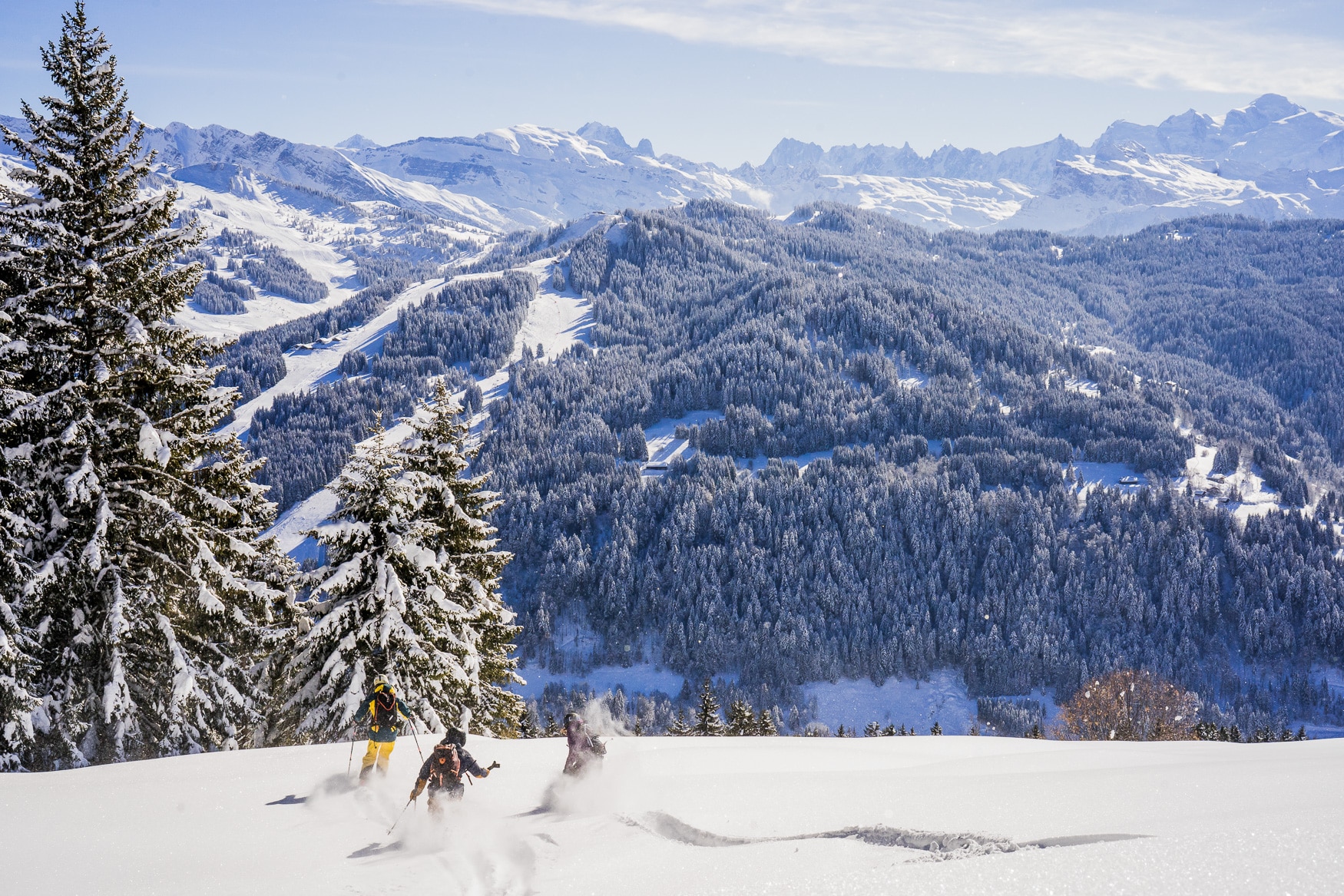 For those who love the freedom of going off the beaten track, Les Gets has some great routes for you to try:
"Les Maisons Larges": starting from the Ranfoilly chairlift, this relatively easy route takes intermediate-level skiers to virgin territory in a stunning setting with views of Mont Blanc. This route is ideal for those trying off-piste skiing for the first time, accompanied by a professional mountain guide.
"Les Crêtes du Chéry": at the top of Mont Chéry, a 360° panoramic view of Mont Blanc and the surrounding mountains sets the scene for this route. For intermediate-level skiers, this 650m descent takes in the traditional village of Mont Caly and winds its way through forests and mountain pastures before finishing in the Perrières area. For your own safety, you must be accompanied by a professional.
Whatever your level and for safety reasons, you need to be fully equipped (AVD, shovel, probe) and accompanied by a mountain guide:
And finally, don't forget to check the weather and the avalanche bulletin before you leave.
4. Ski touring 🎿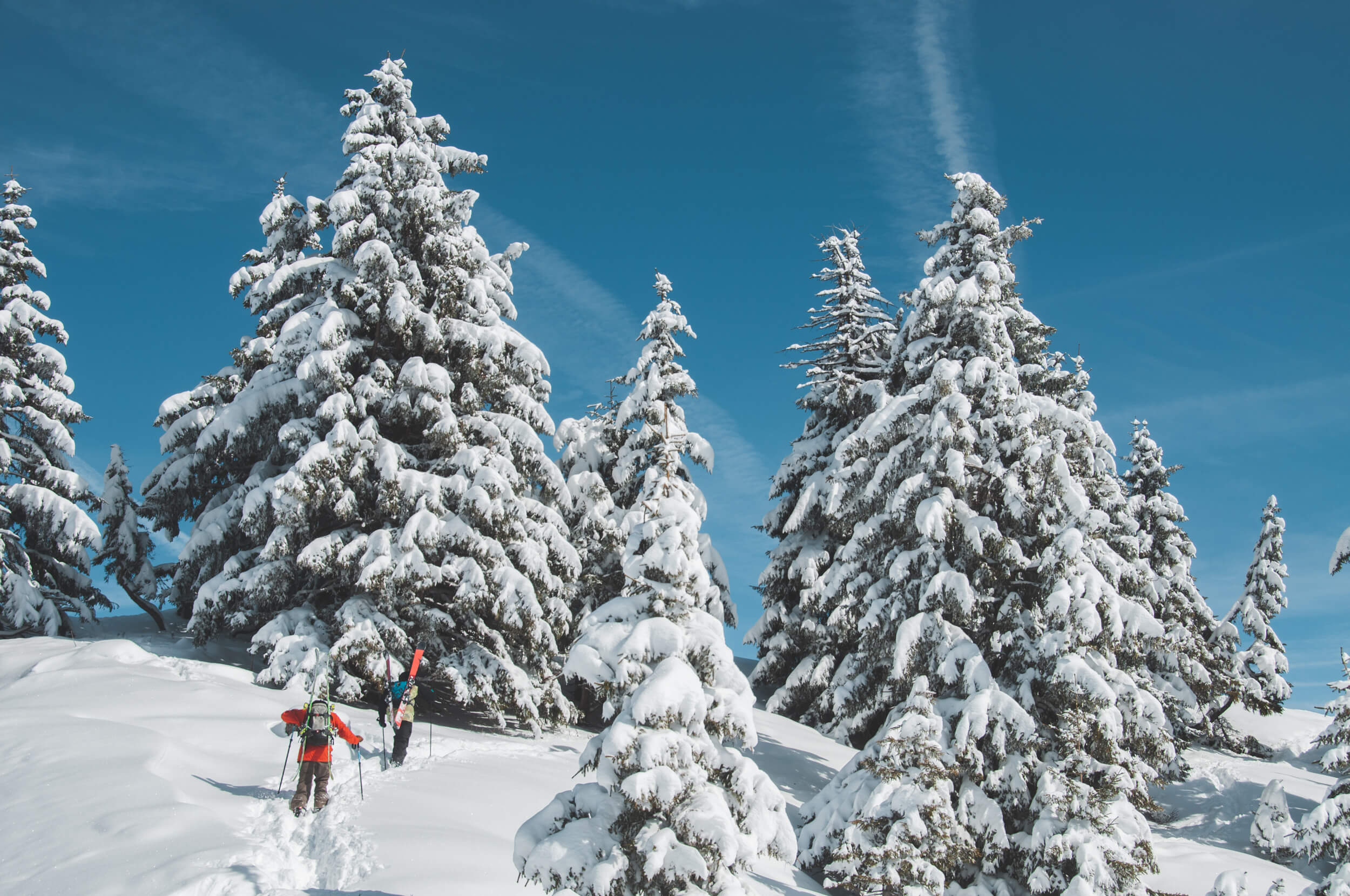 Do you love exploring unspoilt natural scenery, spending time in vast, immaculate white spaces, escaping far away from the crowded slopes? Well, ski touring could turn out to be your favourite sporting activity this winter.
And you're in luck, because Les Gets resort has a number of safe, waymarked routes available for nature lovers to discover the wilder slopes in the Mont-Chéry area.
When you head out from the Les Gets village, at the base of the Chamois run, follow the trail until you get to the top of Mont Chéry, where you can enjoy an unbeatable view of the Mont Blanc mountains.
Following last year's success with "climbing skins" (necessitated by the COVID situation), a new trail has been created for this season. You can get your skins out at Les Chavannes. This new slope is accessible to all and has no technical difficulties.
The trail starts in the village, joins the lac des Ecoles and winds along the chemin de la Mouille Ronde, through a lovely wooded setting, with an intimate, unspoilt feel, away from the main ski area. Only the last section of the trail runs close to the slopes, near the top of Les Nauchets.
Stats: 490 metres of elevation gain over a distance of 3.6 kilometres.
5. Cross-country skiing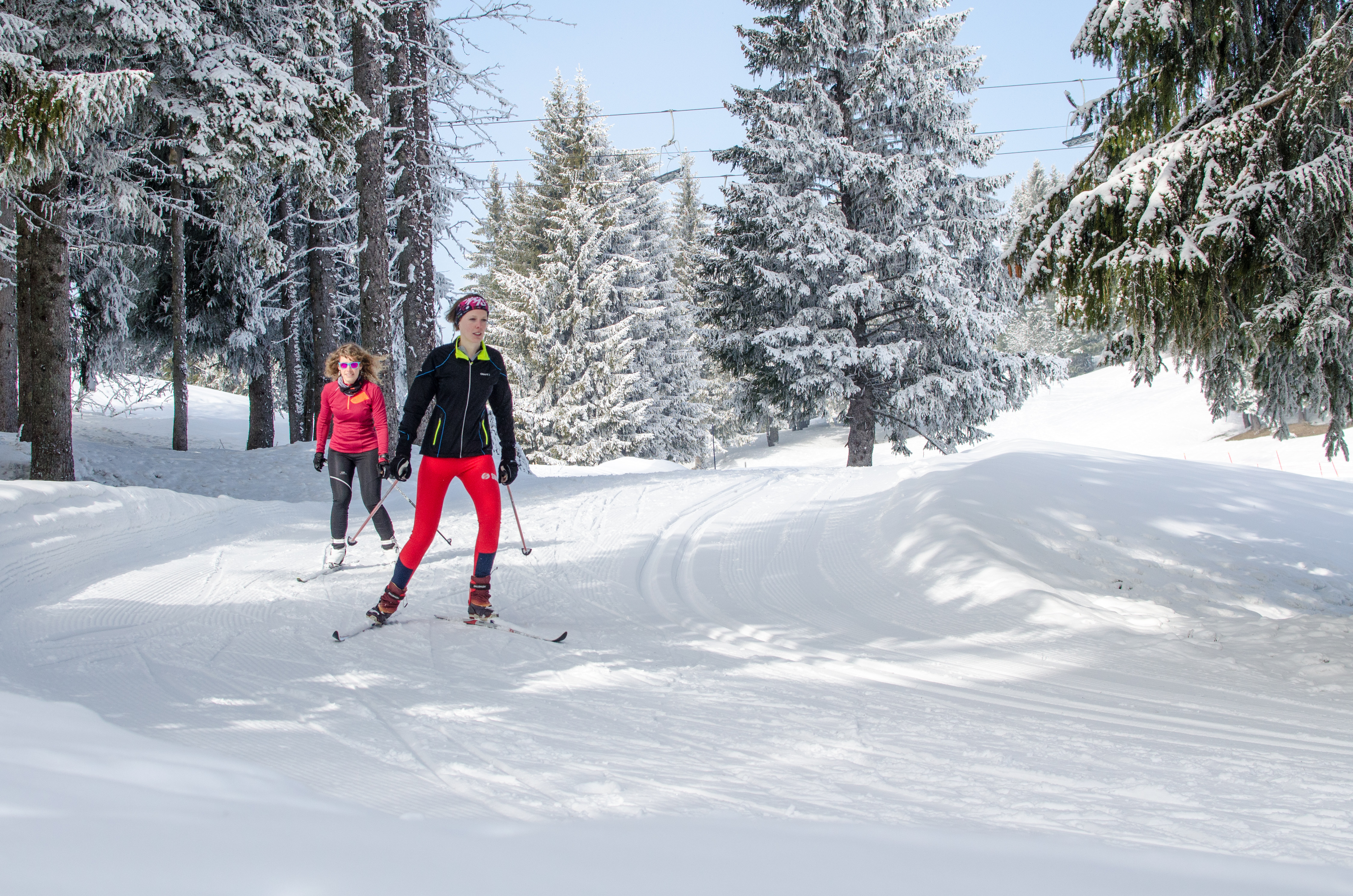 Cross-country skiing is a Nordic skiing activity that is accessible to all and will open up some stunning winter landscapes for you to rediscover and explore. Just like ski touring, cross-country skiing is a free activity.
Les Gets resort provides waymarked routes that are kept safe and well-maintained by our team, so that you can enjoy Nordic skiing on the slopes of Mont-Chéry and Chavannes.
6. ski Joëring 🐴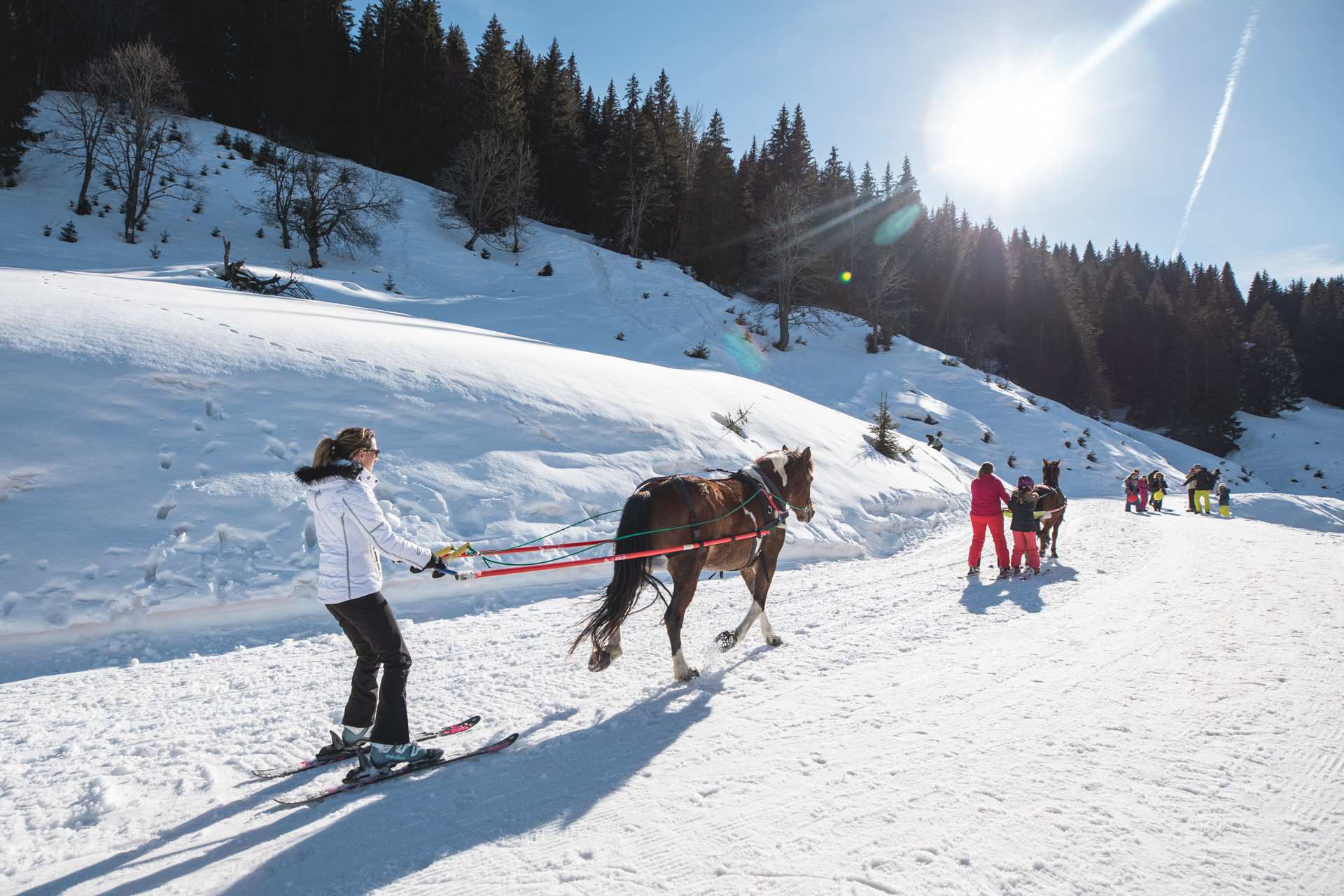 Experience the incredible delights of sliding on the snow, while being towed by a horse. Originating from Scandinavia and over 4,000 years old, experience an amazing adventure to the clip-clopping rhythm of your equine companion's hooves. It's best to have some experience of skiing before trying out this activit
7. Après-ski 🍻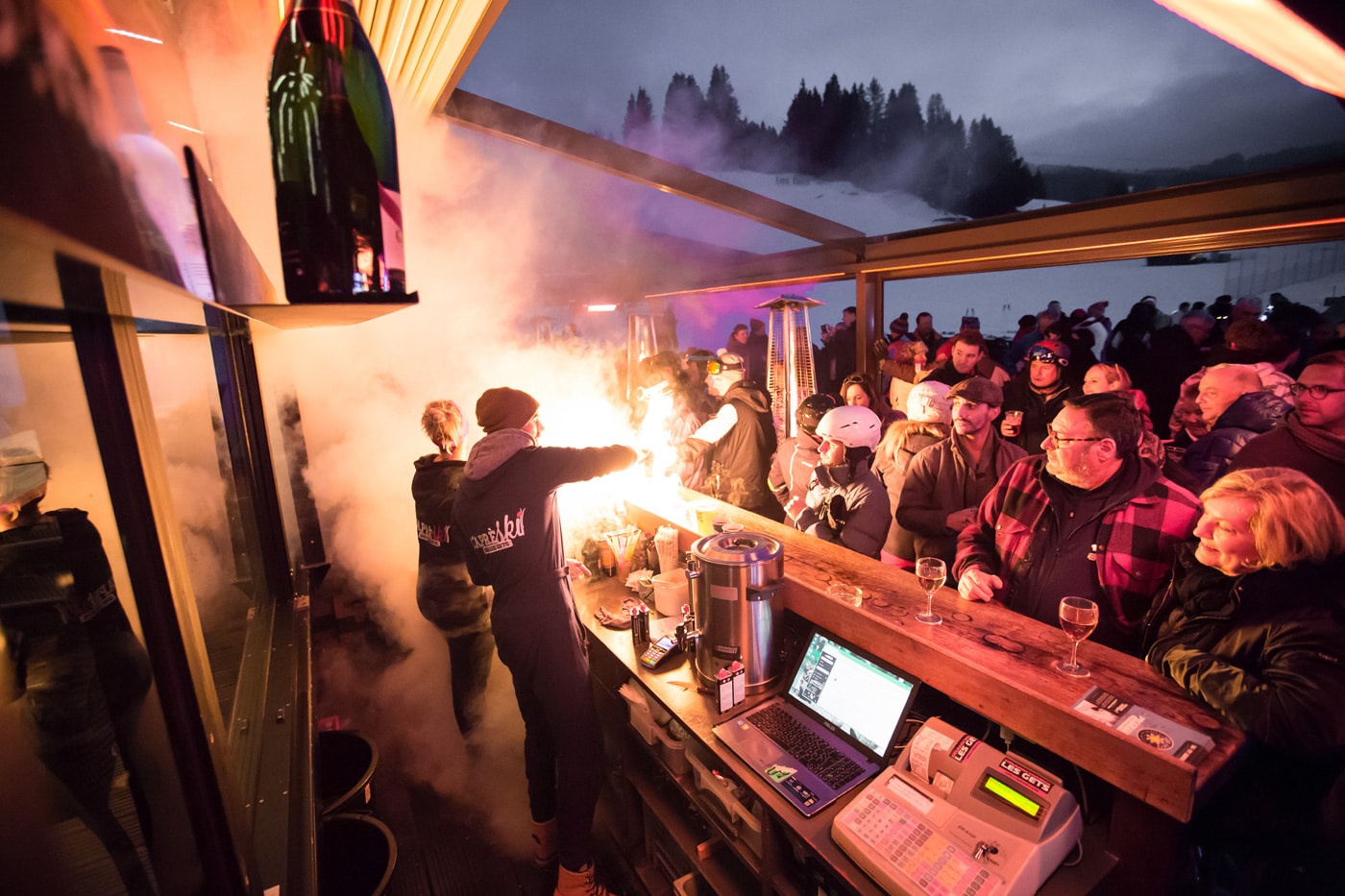 After all that exertion, time to relax!
If you've tried out one, all six or even none of these six types of skiing activity, I'm sure that you'll sample the après-ski, a mountain essential!
There's nothing quite like enjoying a drink with family or friends after an exhausting day.
Whether you prefer a stylish atmosphere, music or a high altitude environment, the bars in Les Gets are ready to welcome you so that you can make the most of your stay.