The Grand Cry Territory, a must for the whole family
The Grand Cry Territory is a ski area where you can simultaneously practise your skiing and have fun. The area, which is a must for all 5 to 12 year olds, comprises, Indian and trapper-themed slopes with sound-track, a recreation zone with musical and skill-based games, teepees, a picnic area, treasure-hunt style entertainment, drawing competitions and face-painting for children. This winter, new modules are being added to the Piste des Indiens (Indian Trail). Young skiers will be able to ring a " Totem Gong " with their poles, fist bump rotating hands and ski through a wall of giant " chips ", all under the watchful gaze of bisons and pumas!
A must for the whole family
The Grand Cry Territory
Children and adults can both have fun enjoying all of the facilities provided:
The Indians' ski run through the forest with bumps and banked turns

The Trappers' cabin with Indian tepees, picnic room, face-painting and other events

The VideoTotem to film yourself doing the snow dance

The colouring and games room to have fun and be creative
The Indians run
The Indians run is a green run designed for families. It winds its way through the forest and include several fun sections including tunnels where you need to duck down to get through, buffalo-inspired décor and lots of amusing places to take a photo. The run has its own sound system for an immersive experience.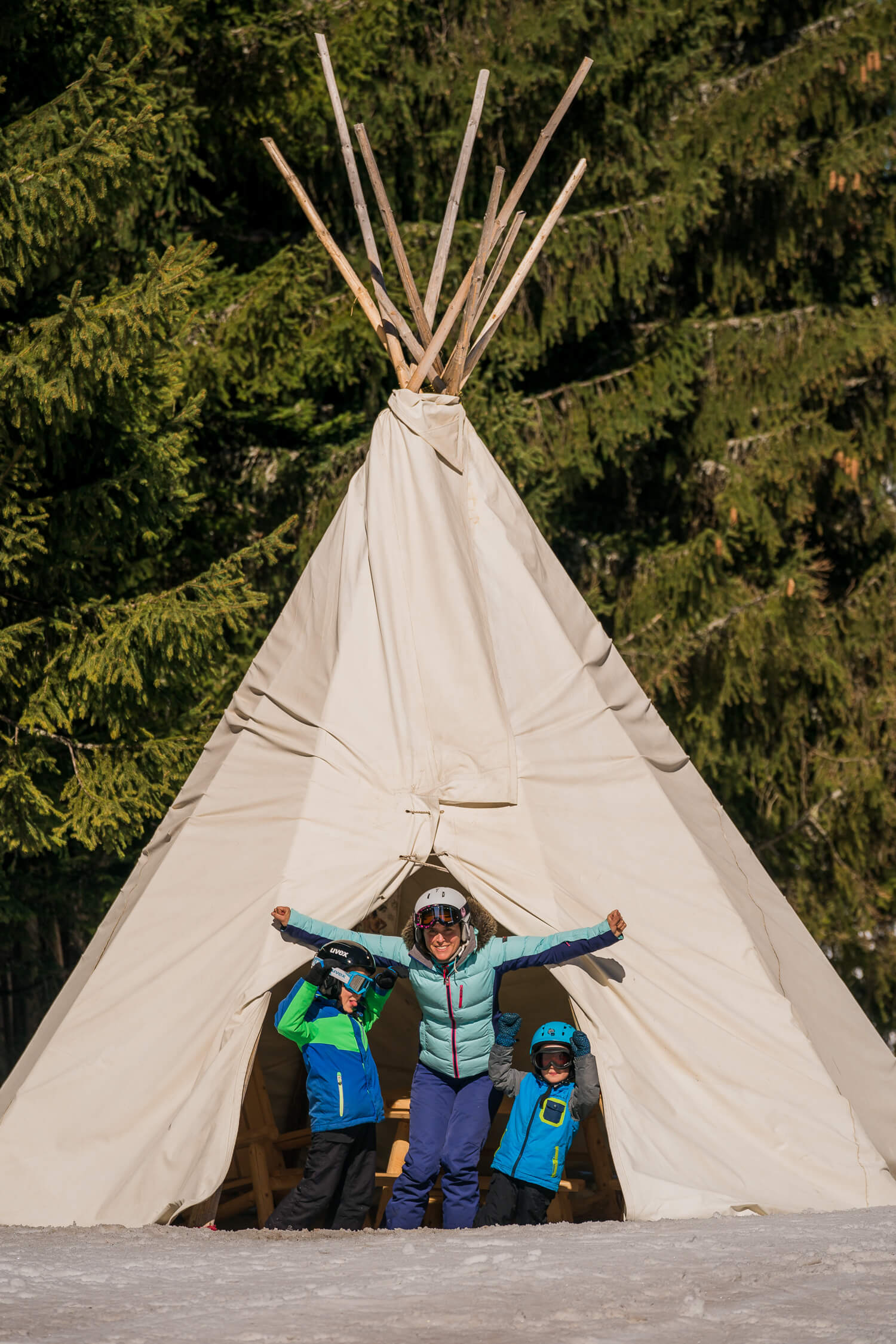 Virtual tour of the slope
Move forward using the arrows (module Google View)
The trappers' cabin
Explore an area set up at the bottom of indians run with proper indian tepees, wooden picnic tables and lots going on.
And while you're visiting the trappers' cabin, have your face painted free of charge by our activity hostesses.
There is also access to a picnic room for 30 people (with toilets) throughout the season. There's even free wifi !
Video Totem
The videototem is a free video area at the trappers' cabin in the grand-cry sector.
Ready? Go! You have 15 seconds to perform the best snow dance and have a souvenir video.
Then you can share it on social media with family and friends
---
Games and colouring room
With colouring, games and brain-teasers, there's everything for children of all ages to have fun getting creative.