The Portes du Soleil is reinventing summer holidays in the mountains
The Multi Pass Portes du Soleil ensures unlimited access to more than 60 leisure facilities in the 12 Franco-Swiss resorts. The Multi Pass is suitable for individuals, couples, families and groups for just 2€* or CHF 2.50 per day of your holiday.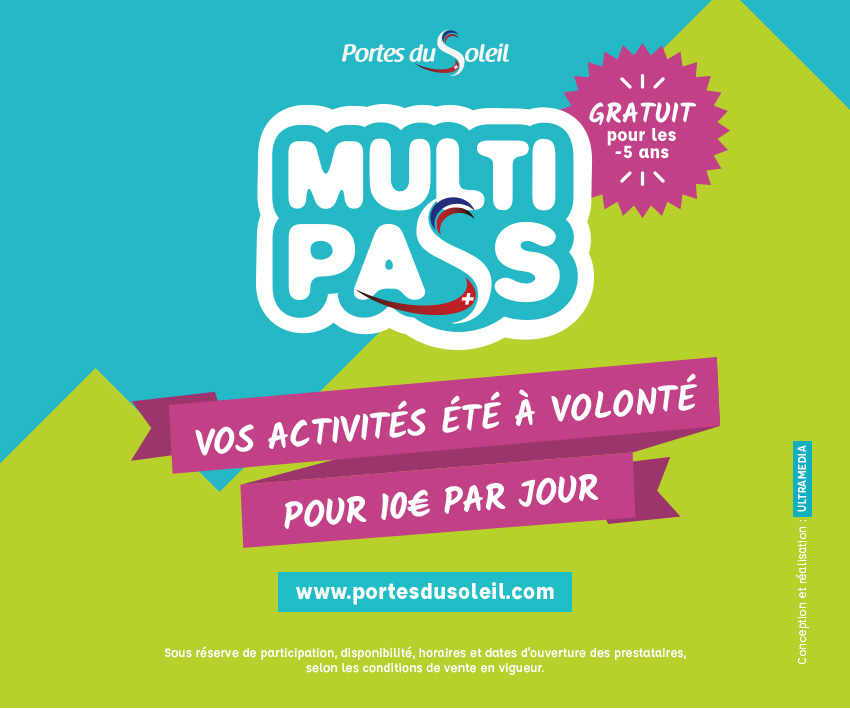 A Multi Pass for everyone
Whether you're staying in the Portes du Soleil for a day or a week, we want to make sure that you will make the most of your stay ! So we have designed formulas adapted to your needs.
Multi Pass Holiday Deal
2€* per day of your stay with participating accommodation providers. For example, if you are staying for 6 days, the Multi Pass Portes du Soleil costs just 12€*, giving you unlimited access to activities throughout the Portes du Soleil network.
Multi Pass 1 day
Do you want to explore the Portes du Soleil and its village-resorts for one day only? If so, ask for the 10€** (CHF 11) Multi Pass Portes du Soleil for unlimited access to activities !
Multi Pass Season Deal
Is the Portes du Soleil your favourite outdoor playground? If so, then choose the75€**Multi Pass for unlimited Multi Pass activities all summer long.
The Multi Pass is FREE for children under 5 years old.
*Offer valid from 27 June to 20 September 2020, subject to availability, hours and opening dates of service providers, according to the conditions of sale in force. Price per person The Multi Pass is issued for the entire duration of the stay. Mandatory hands-free card 1€ or CHF 1.5 supplement, non-refundable but reusable.
Opening dates
From 27th of June to 20th of September 2020
The Multi Pass gives you unlimited access to :
22 lifts for pedestrians
Swimming Pools and mountain lakes
Mini-golfs et Ice rinks
Museums and cultural activities : Mechanical Music Museum in Les Gets, 'Vallée d'Aulps Abbey discovery Center', Abonce Abbey, 'Maison du Val d'Abondance', 'Moulins de la Tine' in Troistorrents village.
Village road trains
Shuttles : Balad'Aulps Bus, Colombus et TPC
Tennis Courts
Other benefits
With a valid Portes du Soleil MTB pass, and by staying in a Multi Pass accommodation provider, the Multi Pass is offered.