Donnons Des Elles Au Vélo J-1 is an association of around ten national female ambassadors who work to promote cycling for women in their region throughout the year and who complete all the stages of the men's Tour de France on the day before the big event. A network of local ambassadors supports the national ambassadors to create a local momentum around cycling for all in the run-up to the eve of the big day. 🚴🏻‍♀️
This project is above all a human endeavour and a sporting and campaigning venture created by women for women… and men who defend the values of equality in sport. This associative project is run by the essonnien Donnons Des Elles Au Vélo – Evry Courcouronnes cycling club, which is predominantly female.
🚴‍♀️ To offer a cycling event which brings everyone together by opening it up to a mixed audience.
🚴‍♀️ To create a local and lasting momentum around women's cycling by creating links between the regions crossed by the Tour de France and using it as a means of spreading the message over the years.
🚴‍♀️ To promote the organisation of women's cycling by working at grassroots level through local stakeholders
🚴‍♀️ To promote and raise the profile of women in cycling
🚴‍♀️ To raise awareness among local communities of the need to get involved in women's sport, from grassroots to the highest level.

For Stage15 of the Tour de France from Les Gets to Saint-Gervais, Lucile, a local ambassador, a woman, a cyclist (and a lot more!), a resident of Les Gets and a member of the Les Gets Tourisme team, will be at the start on Saturday 15th July with all the ambassadors.
Here's what she has to say !
"I love sport! Put simply, I don't spend my free time on the sofa, I spend it on the trails, the passes and the mountains! Ever since I was a child, I've swum, cycled, run and skied… When it comes to bikes, I was originally more of a mountain biker. I discovered road cycling when I arrived in Les Gets 6 years ago. This was followed by a wager with a friend to do our first triathlon. Since then, I've always been up for a new sporting challenge!

It was such a surprise to find out that in 2023, the Tour de France will be doing several great stages in Haute-Savoie, and what's more, in Les Gets! This is a great opportunity for our region to make the 2023 Tour de France a wonderful celebration of cycling.

The Étape du Tour, as well as the Les Gets / Saint-Gervais stage this summer, are my two great challenges for 2023!
I hope to be able to complete the entire stage on the day before the main event, if my legs allow me to! The Étape du Tour a week before will be a good warm-up! Let's hope there are no mechanical issues!

What I like about sport is the sense of sharing, challenging yourself and discovering new things. However, I unfortunately often do my sport on my own. I meet cyclists on the roads, but there's far too little interaction and exchange between us, even though we have so much in common! That's why I wanted to get involved with DDEAV, to help build a sense of community among female (as well as male!) cyclists.
For me, cycling is both a sport AND a mode of transport. I don't think we should ever forget that every mile cycled is good for our health AND that of our planet!"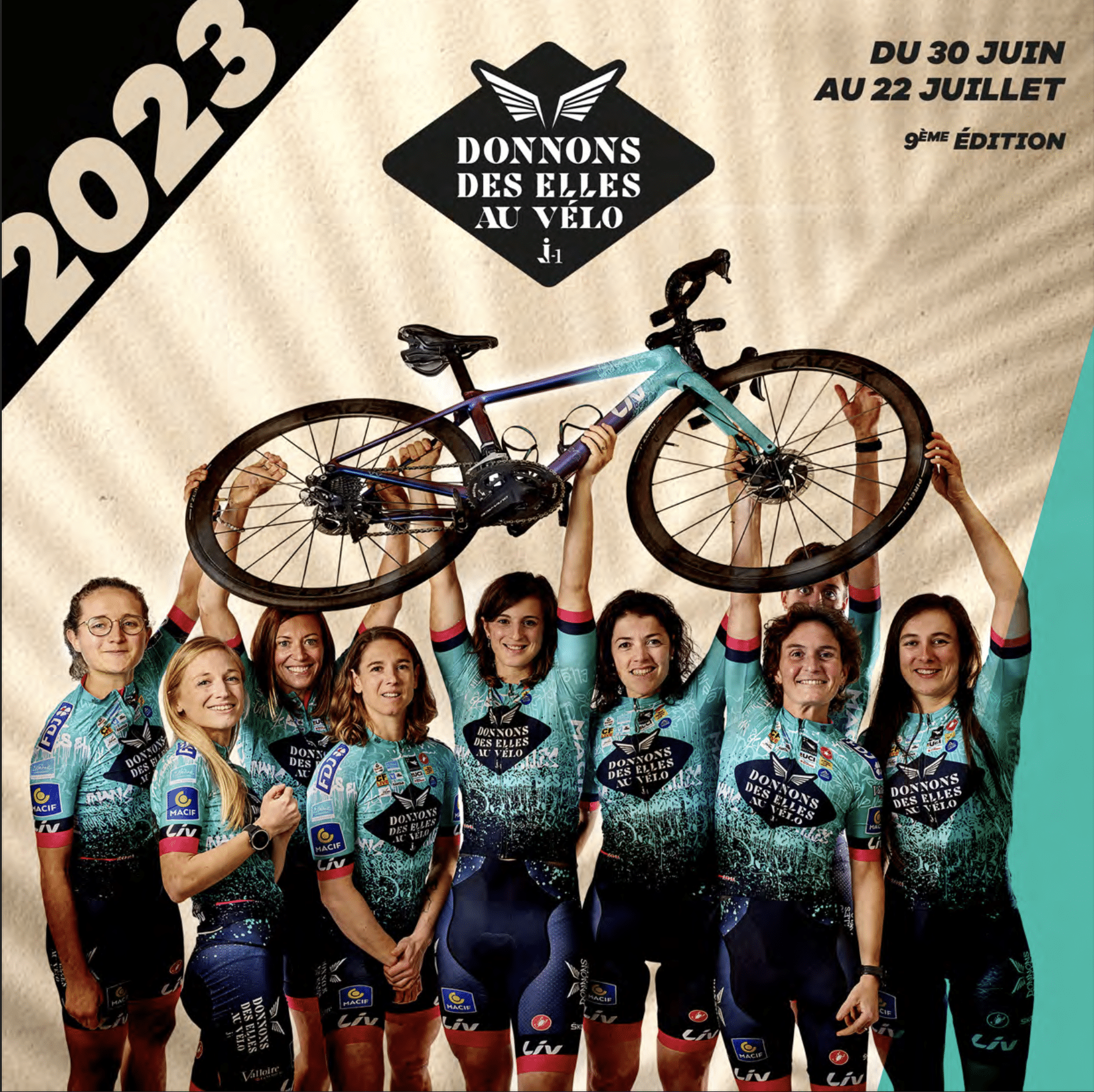 Would you like to take part in the adventure by joining the peloton of ambassadors on one of the stages on the day before the main event?
You can cycle to complete all or part of a stage. 35 women and 35 men can sign up free of charge and ride together, sharing a mutual enthusiasm for women's cycling. You're more than welcome to join them! Registration opens on 30 May via the following link ➡️ click here.