When you're riding down the MTB trails in Les Gets, you don't always stop to imagine the significant work behind these renowned tracks and what really goes on behind the scenes.
Have you heard of shapers?
These are the people we're talking about! These artists work in the shadows to shape the Bike Park with elegance and passion.
The Les Gets shapers are real architects. They plan out every bend, every bump and jump with great precision, to make sure mountain bikers have a thrilling adventure here without ending up crashing into a tree.
We met with one of them and he revealed some of the secrets behind his fascinating profession…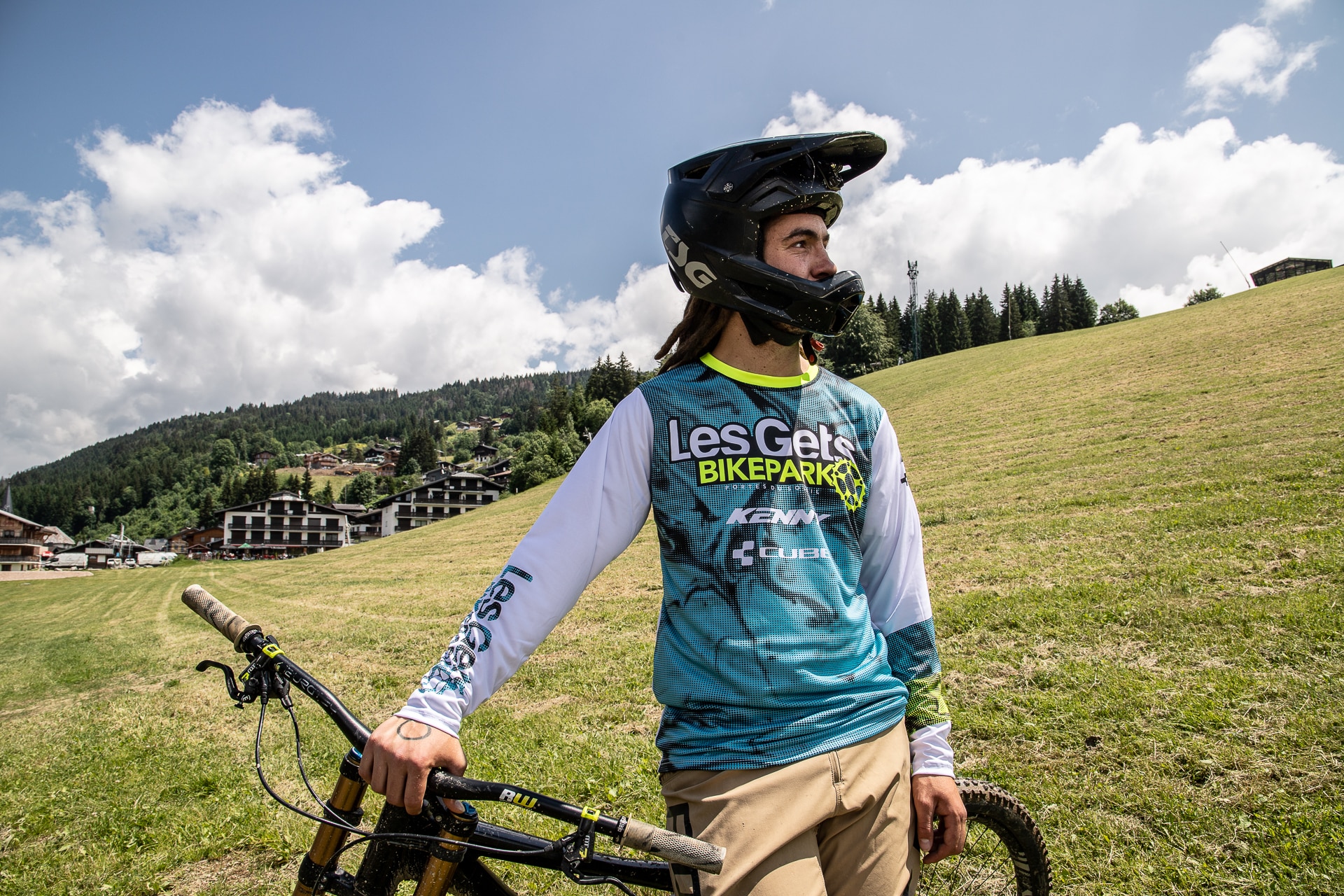 Les Gets: Tell us about yourself in a few words.
Noé: I'm 23 years old and I became a professional shaper in 2019. I'm originally from Alsace and I fell in love with Les Gets when I first came here about ten years ago on a family holiday. I'm lucky to be able to work here today as a shaper, with a great team by my side.
Les Gets: Tell us about your background.
Noé: After my Baccalaureate, I joined the team at Bike Solution (design office specialised in creating Pump Tracks) and I learnt so much during my three seasons there. I felt the need to get back to my original calling though, which was downhill MTB. As I was looking for new opportunities, I ended up in Les Gets in 2022 and I'm so proud to be working in one of the leading resorts in Europe for this sport.
Les Gets: What advice would you give to younger people who would like to enter this profession?
Noé: Shaping bike tracks is above-all a real passion. It is a demanding and technical profession that requires a certain level of devotion and commitment. My advice would be to create your own projects first in the forest, with authorisation from the owner. That's what I did, between the ages of 14 and 18 as soon as I had some free time, I went into the woods to bring my own creations to life
As for the specific training and studies, the shaper profession has evolved in recent years. Now it's possible to opt for a Professional Baccalaureate in mountain professions, which includes specialist landscaping modules that are particularly suited to this profession. This training will give you specific, in-depth skills that you will find essential to really excel in this field.
Les Gets: Can you describe a typical day as a shaper in Les Gets?
Noé: The day begins at 8 am and the whole team gets together in our premises at the heart of the tracks. We meet to talk about what needs to be done during the day, taking into consideration any comments from the Bike Patrol (pretty much the equivalent of the Ski Patrol team) who are always out on the tracks and inform us of the condition of the trails. We also discuss the tracks that haven't been worked on in a while, the next ones that will need some maintenance work. After this morning meeting, we all set off to start our duties for the day, depending on our roles. I am responsible for the work that requires a mini excavator.
Thanks to the instructions given every morning, we know exactly what we need to do. We often work to smooth out the tracks with holes created by the many riders using them, and we modify some of the bends. These are the two most common tasks we are entrusted with. Sometimes, we even need to completely redesign a track. This is a more significant task and it usually takes around three weeks to a month.
After I've completed my task with the mini excavator, another shaper takes over with a shovel to go over any imperfections and smooth out the track. Then we all get together again at the end of the day to talk about what we did and exchange views. Communication is key in our profession.
The day usually comes to a close at around 6 pm. We make sure all the machines are ready for the next day and we look after our tools. Teamwork and shared passion for shaping the tracks is what makes this such a rewarding and fascinating job.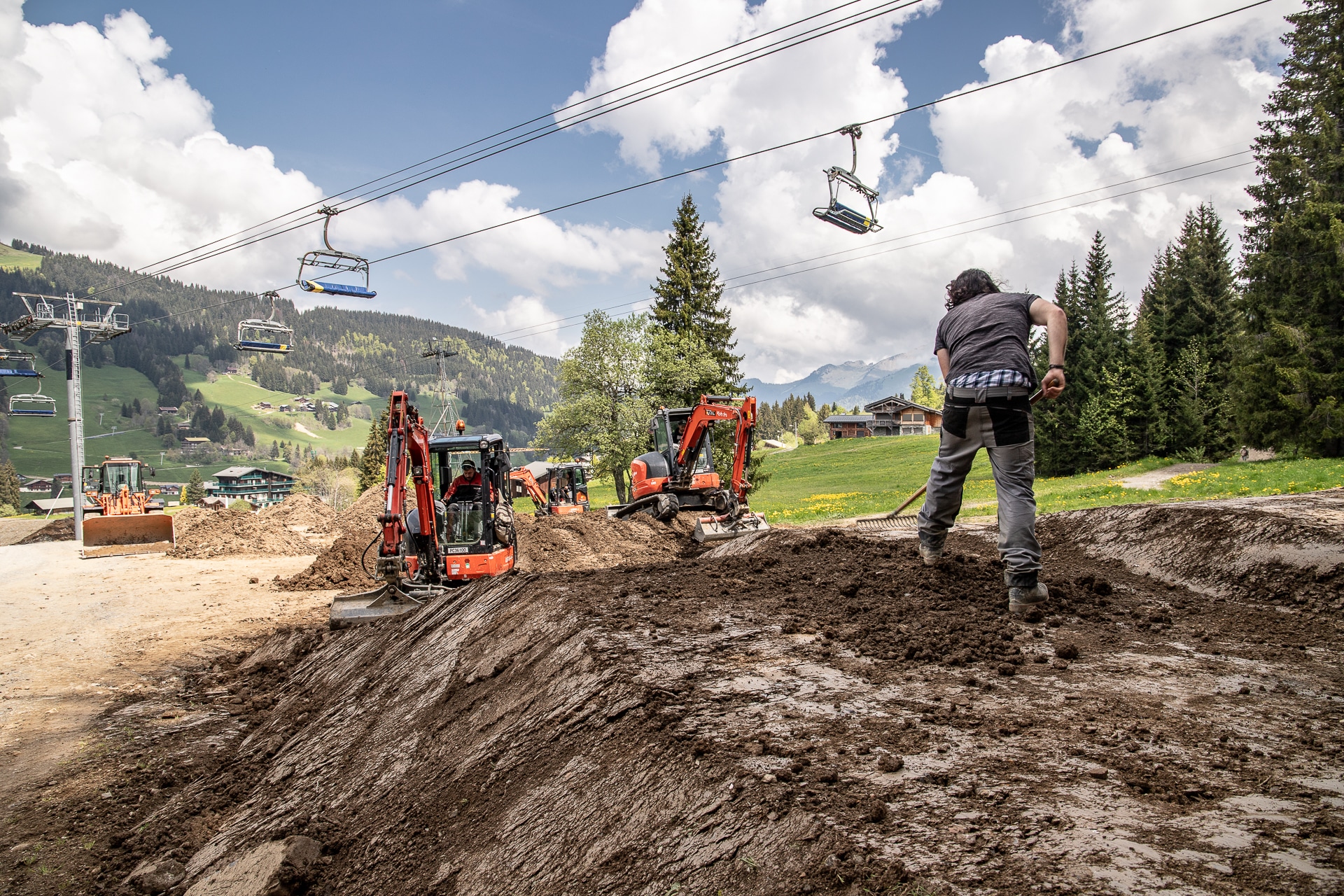 Les Gets: What are the advantages of this job?
Noé: Being outdoors all the time is an opportunity in itself. The sunrise, with the mountains in the background, is simply indescribable. It's a magical feeling that comes over you when you get into action, whether it's bright sunshine or even rain.
Les Gets: Any drawbacks?
Noé: Being a shaper is an extremely physical job and requires you to be in excellent physical condition. Working as a shaper involves spending many hours outdoors, often in a variety of conditions, and the tasks are physically demanding.
Handling tools such as shovels, rakes and mini-excavators, and carrying out earthworks, levelling and runway construction work requires considerable physical strength. What's more, you have to be able to put up with repetitive strain over a long period of time. I don't necessarily see the physical work as a disadvantage, but the job does require a minimum of training.
Les Gets: And to finish off with a fun little anecdote?
Noé: When we're working on the trails, we close them for the safety of the mountain bikers, but also for our own safety. Despite this, it often happens that bikes go by anyway, which can make us angry, because it represents a real danger. One day, as a bike approached, I got out my shovel and politely expressed my displeasure, explaining that this was unacceptable. To my great surprise, the cyclist took off his helmet and it was in fact my former boss who had come to say hello and check up on me… a misunderstanding that ended in a great burst of laughter!