Music
Du Monday 31 July au Saturday 5 August 2023 - De 12:00 à 00:00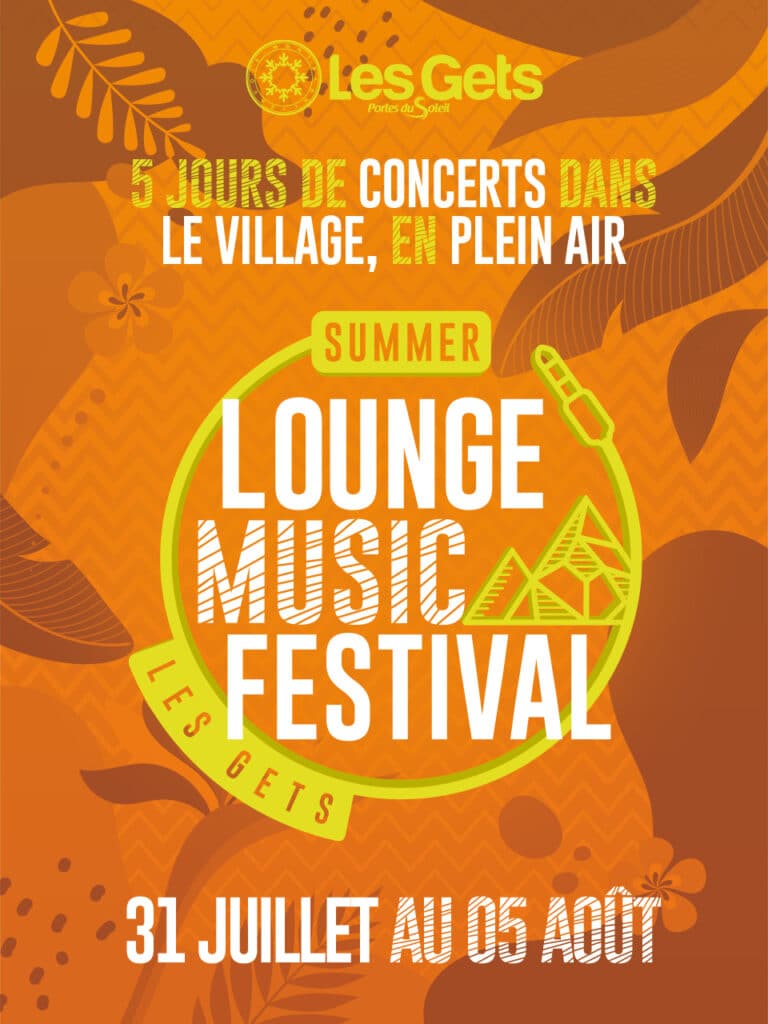 Unusual and free concerts during 6 days
For a week, the entire village is tuned in and offers you the chance to be transported each day by the sound of musicians, in the atmosphere of a giant concert hall! Every afternoon until the end of the night, the artists follow one another on an eclectic, lively and tangy Lounge programme, for around thirty free concerts in sometimes unusual and poetic places. Navigate from one stage to another, according to your desires, guided by the intoxicating rhythms of blues, jazz, folk, soul and even electro… 🎵 🎸
Programme
🎶 Monday 31 July:
6.00pm-7.30pm – Velvette – Ralph Hartmann
9.00pm-10.30pm – Aprèski – Looping Pong
🎶 Tuesday 1 August:
1.00pm-3.00pm – Le Chasse Montagne – Ralph Hartmann
6.00pm-7.30pm – Centre stage on the esplanade of the Maison des Gets – Jeanette Berger
8pm-11pm – Full Moon stage on the esplanade of the Maison des Gets – Dj Nico De Carli – Youth Star and Miscelanious
7.30pm-9pm – Biskatcha – Ralph Hartmann
🎶 Wednesday 2 August:
12.30-13.45 – Picnic and barbecue at the Lac des Écoles – Jujubees
6pm – 9.30pm – Le Velvette – Jeanette Berger
9pm-10.30pm – Aprèski – Deixa Gingar
7.30pm-9pm – Biskatcha – Jujubes
10.pm – Barbylone – Dj Nico de Carli
🎶 Thursday 3 August:
10.30am-12.30pm – At the bottom of the Chavannes chairlift – 2 Play
12.00 – Strolling through the streets of Les Gets – Jujubees
1.00pm-3.00pm – Le Chasse Montagne – Jeanette Trio
7.00pm-9.00pm – Le Crychar – Dj Nico de Carli
7.00pm – Strolling through the streets of Les Gets – Jujubees
7.30pm-9.30pm – Centre stage on the esplanade of the Maison des Gets – Niko Maille
🎶 Friday 4 August :
10.30am-2.30pm – Le Crychar – Jose Neves
6.00pm-7.10pm – Centre stage on the esplanade of the Maison des Gets – Will Barber
6.30pm-8.30pm – Le Labrador – Looping Pong
6.30pm-8.30pm – Chinfrey – Dj Nico de Carli
9.00pm-11.00pm – Aprèski – Jose Neves
🎶 Saturday 5 August :
4.00pm-5.30pm – Le Chalet du Golf – Jose Neves
Practical info
Musical picnic in the forest by the school 🌲

Musical picnic in the forest by the school

12.30pm > 1.45pm Free concert by Jujubees

Free access on foot from the village, by bike with a Getslib, by little train or the free village bus (Line B).

Bring your own blanket, picnic basket and something to eat and drink!
The artists 🎤
2 Play

Marc Finelli and Gérald Ginevra formed the duo 2Play in 2005. After playing together on stage for several years, they combined their experience to create this duo playing acoustic covers. From the Beatles to Coldplay, via U2, Sting, Stevie Wonder, Nirvana and Bob Marley, they adapt to the venue and the audience, offering a soft feel that becomes more rhythmic as their set progresses.
Deixa Gingar

Deixa Gingar (pronounced "deysha gingar") is a delicious mix of traditional and contemporary Brazilian music, with a hint of jazz and wild solos that get the audience out of their seats and singing along! Deixa Gingar is the musical energy of Brazil, past and present! It enters your body through your hips, stirs your guts, body and heart, fills your eyes, and resonates right through to your vocal chords.
Jeanette Berger

Jeanette Berger sings Soul from the heart, with disconcerting and breathtaking simplicity. A pianist, singer-songwriter and performer, she is presenting her repertoire in a new way: an explosive, sensual three-voice tête-à-tête, like a mirror to the soul, where the Chorus connects words and soothes troubles, with songs that are both autobiographical and self-fictional. Jeanette Berger's powerful, heartfelt voice delivers an unpretentious vibe, underlined by the "Gospel Touch" of her backing singers, who are like emotional ambassadors. Chills guaranteed. 
Jose Neves

A self-taught musician, he has built up a wealth of experience performing across Europe. Based in Lyon, he has travelled the length and breadth of Europe, performing in France, Italy, Germany, Russia and Spain.

As a soloist, he has gradually developed his own style of playing. The guitar is used subtly as percussion, bass and rhythm, sometimes creating the illusion that there are several instruments at the same time.

His folk, pop and funk repertoire will take you from the '80s to the present day.
Looping Pong

Looping Pong! A cosmic duo (don't forget the 's')!

One of them live samples piano, bass and guitar and sings and the other plays drums, does backing vocals, and plays a few sounds on the octapad. Astonishing, surprising, cosmic covers in English and French. From aperitifs to rowdy parties, all styles will be covered: Eminem, Queen, AC/DC, M, Boule Noire, Chic, Talk-Talk, XTC, U2 and even Portishead. Cosmic, I tell you…
Niko Maille

Niko Maille has been a fixture on the electro scene for many years, producing original sets and adapting to his audience.

A founding member of the group DUTY SOUND alongside Phil Torres, the duo have been spotted by major labels, and have made a name for themselves at the Pharaonic Festival as well as on radio tours with FG, Ministry of Sound and Hed Kandi.

His productions, worked up in the studio and then remixed, enable him to deliver elaborate, rhythmic sets.

Alone among his turntables and his percussion for this performance, he will take the audience into a groovy and funky atmosphere to provide a unique experience.
Ralf Hartmann

After several years on the road, he released his debut album "Turn On The Lights" in summer 2010. This first opus demonstrated his creativity and allowed him to step out of the shadows.

He toured Europe, from small clubs to Festivalst, opening for Michael Jones, Johnny Clegg, Luka Bloom and Madness.

In 2010 he opened for Charlie Winston on his Swiss tour.

In 2013 he made his name on TF1's The Voice 2, with a highly acclaimed cover of Murray Head's "Say It Ain't So, Joe". This was followed by a battle with Emmanuel Djob (over Procol Harum's "A Whiter Shade of Pale"), considered to be one of the highlights of the show.

His November 2015 album "Just One Step Away" features a duet with Louis Bertignac: La Vie Tranquille, as well as a track with Luc Arbogast: Just One Step Away

2017 marked Ralf's return with a brand new team dedicated to his new musical and artistic direction.

The new tracks got a more Electro Pop treatment, mixed by Mowlo. This turning point in the artist's career gave him a new lease of life, while still preserving his songwriting.

The first single "Your Secret World" is a perfect illustration of this.

Aside from his songwriting projects, Ralf regularly performs as a soloist, duo or trio, offering a huge repertoire of Pop, from the '60s to the present day.

An undeniable talent and, above all, a singer-guitarist capable of thrilling any audience.
Will Barber

With his overalls and neatly trimmed beard, Will Barber is undoubtedly a rocker. With his lap steel on his knees, this Ben Harper fan is more the type to have blues in his soul and rhythm in his body. Will Barber is untypical, with his quiet strength on stage and his shy demeanour. He conjures up sounds we've forgotten. He reminds us of Floyd, Creedence, Lynyrd or the Stones. And the more obscure bluesmen like the Greenwich folk strummers. He took part in the challenge of "The Voice 6" in 2017. With his particular musical style leaning towards country and blues, he wanted to face the opinion of professionals in the hope of winning over the coaches with a cover of Pink Floyd's "Another Brick In The Wall". The video was a hit, racking up 105 million views on YouTube! Since this experience, Will Barber has been performing in France and Europe, still in his overalls, Weissenborn guitar in hand. It was Ben Harper who introduced him to the instrument, a musician Will Barber takes his inspiration from.
Youth Star

Originally from London, Youthstar began his career on the Drum&Bass scene, notably as part of the Dirtyphonics collective, then with Camo and Krooked on a world tour.

In 2014, Youthstar met the group Chinese Man,and joined their tours around the world, taking part in The Groove Sessions Vol. 3 project. He also teamed up with Senbeï (Smokey Joe & The Kid) on production and released his first 2 solo projects on Chinese Man Records, SA.MOD and Back To The Sauce, on which he collaborated with a number of artists including Chill Bump, Dope DOD, ASM, Deluxe and Foreign Beggars.

While on tour with his own live show, he also took part in Chinese Man's tours in France and abroad for the album Shikantaza.

Miscellaneous is first and foremost the voice of the fusion group Fumuj and Rytmétix, with which he has collaborated with Doctor Flake and Metastaz. A native English speaker, Miscellaneous arrived in France at the height of the golden age of French rap and quickly established his sharp, pulsating flow.

In 2010, he formed the duo Chill Bump, based in Tours, with beatmaker Bankal. The group has released 4 albums ("Ego Trip", "Crumbs", "Going Nowhere" and "Crumbs Vol. 2") and performed extensively in France and abroad. Over the years, Miscellaneous has collaborated with a number of artists (Biga*Ranx, Taïwan MC, Foreign Beggars, Smokey Joe & The Kid, Senbeï, Degiheugi, ASM, etc.) and formed an explosive duo with the group Chinese Man and MC Youthstar.

At the end of 2021, Youthstar & Miscellaneous released their joint album "Out Past Curfew" on Chinese Man Records.

In 2022, the duo presented their new EP "Stranger Times" in collaboration with producers Bankal (from Chill Bump), Rhino (ASM) and Coeur Nwar.

Today, they're back with a bang with their second LP, Salvation. The album features incredible guest appearances from BIGA*RANX, Dope DOP and FP (ASM), as well as producers such as La Fine Équipe, Tha Trickaz, Ennemi, Olo (On Dub Ground) and Rhum One.
An album that everyone will get behind. Available from 24 March 2023 on Chinese Man Records.
Jujubees

Put on your best polished shoes, and let the JuJuBees Swing Combo take you straight back to the jazz clubs and swing balls of the 20's-30's. Between compositions and standards, the combo takes you on a journey from Harlem to New Orleans. On stage, in the street or in the ballroom, JuJuBees distils its good humour and infectious energy into a rousing retro swing.