Are you tempted by a snowshoeing outing #MadeinLesGets during your stay in Les Gets ? In this article, you'll find a selection of half-day or full-day outings, of varying durations and across varied landscapes.
As long as you stay on the marked and especially prepared tracks (see our trails guide), you can use them freely and without a guide. If you would like to explore the wilder parts of the ski area, we strongly recommend you go with a ski instructor or a mountain guide. To avoid any unfortunate incidents !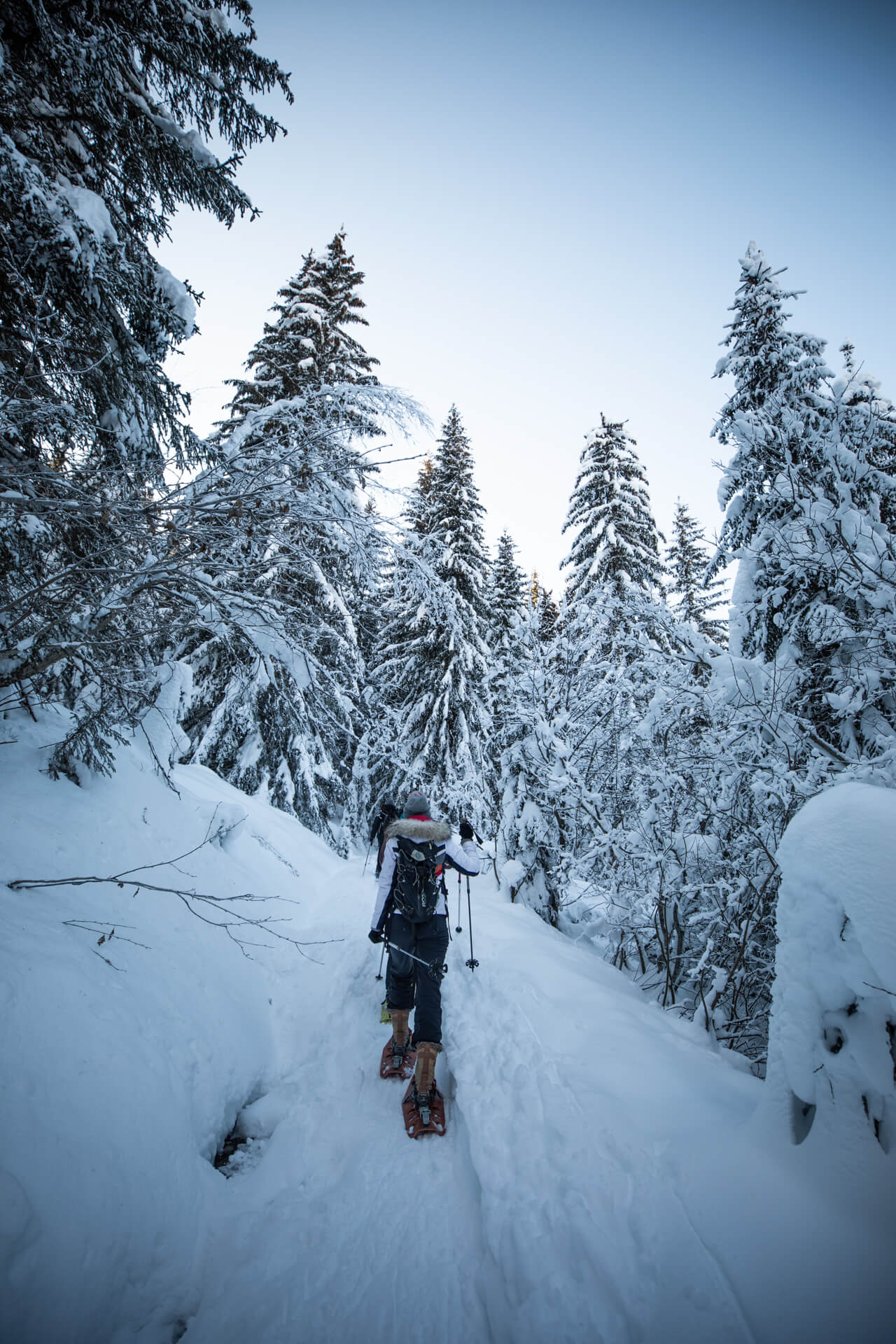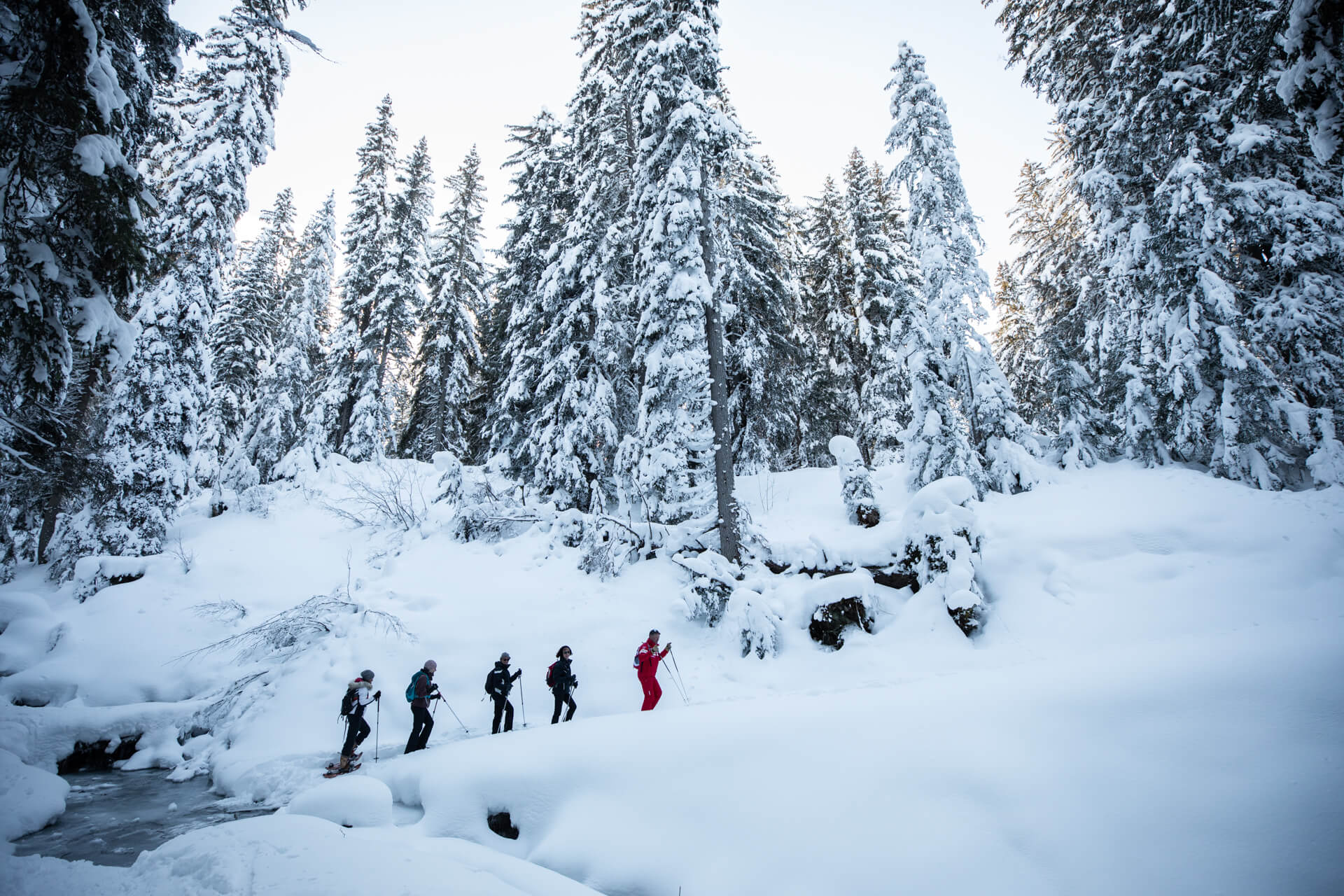 8 am – Wake-up call and hearty breakfast
Every adventure begins with a good breakfast. So make sure you recharge your batteries in the morning with a large baguette, a bowl of muesli or a stack of pancakes before heading out into the wilderness.
Walking in powder snow certainly builds up an appetite! Before setting off, make sure you've got some refreshments: 1L of water per person, a snack and your lunch if you've planned to have a picnic in the great outdoors.
You don't need complex or expensive equipment for a snowshoeing hike. You can easily hire the snowshoes and poles from one of the many equipment hire shops in Les Gets.
Before putting on your snowshoes, make sure you check one last time that you've got everything you need: waterproof shoes and good socks, warm and wind-proof coat, gloves, hat, scarf, backpack with food and water, poles, the trails guide and of course a camera or smartphone to capture these memorable moments.
9:15 am – Meet up with your mountain guide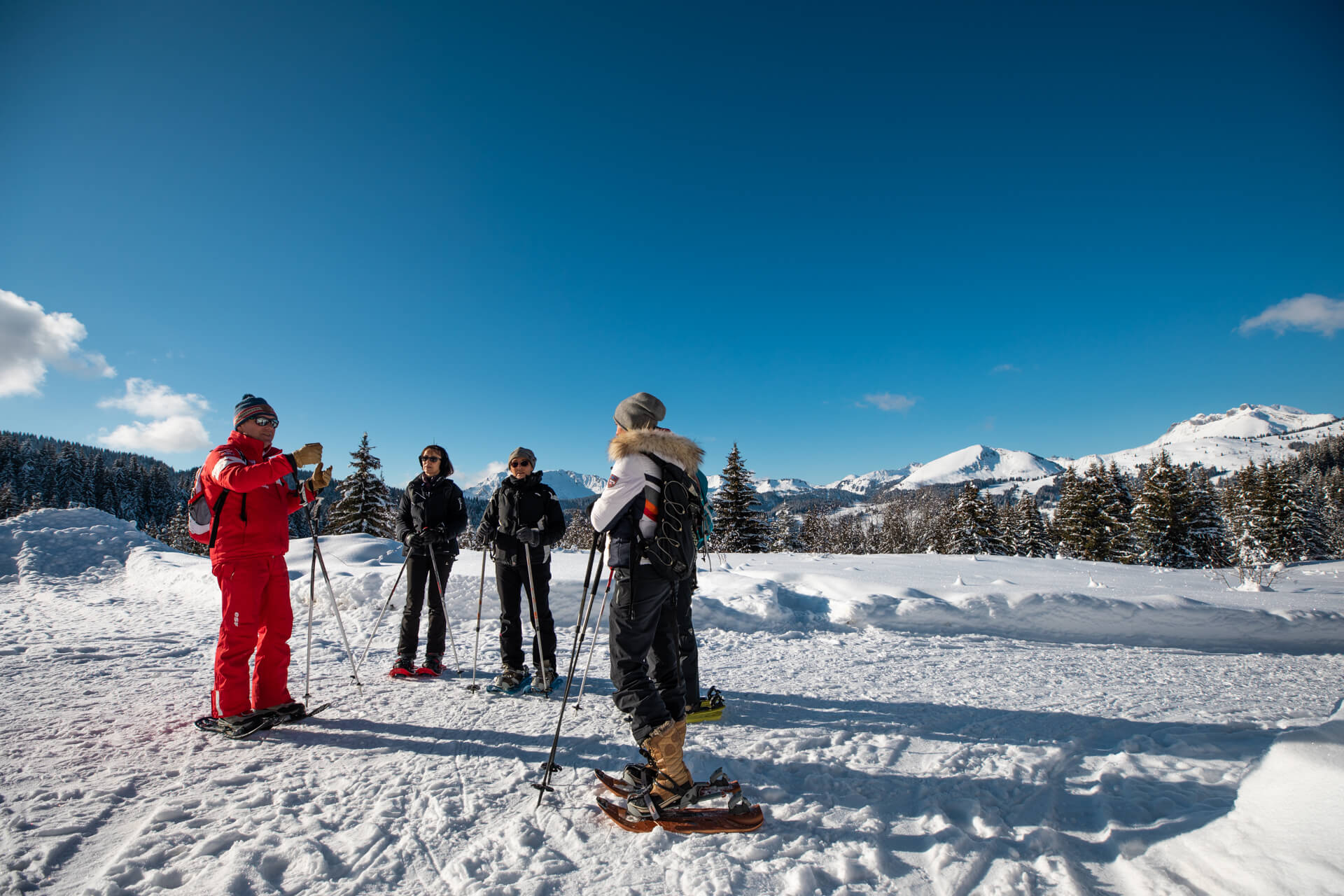 There are plenty of mountain guides in Les Gets to choose from, some are avid birdwatchers, passionate about botany or history, they know everything there is to know about the local wildlife, some are young and feisty, others are older and wiser, all of them can take you on an exploration of the ski area and beyond…
They are passionate and will expertly pass on their knowledge of nature, the environment and the history of Les Gets. they'll take you to unique places that can only be accessed on foot and with a professional, and they will show you some breath-taking views that only a select few have been lucky enough to see.
Snowshoeing is in fact a mountain activity in its own right which requires extensive knowledge of the mountains: to prevent risks by choosing the right itinerary, awareness of the weather conditions and terrain, etc.
Here you'll find a list of all the professionals at the resort who can take you on a snowshoeing outing:
09:30am – Time to set off
Here is a small selection of half-day hikes along marked trails that you can do without a guide according to your desires, your shape and the time you have.
Chavannes sector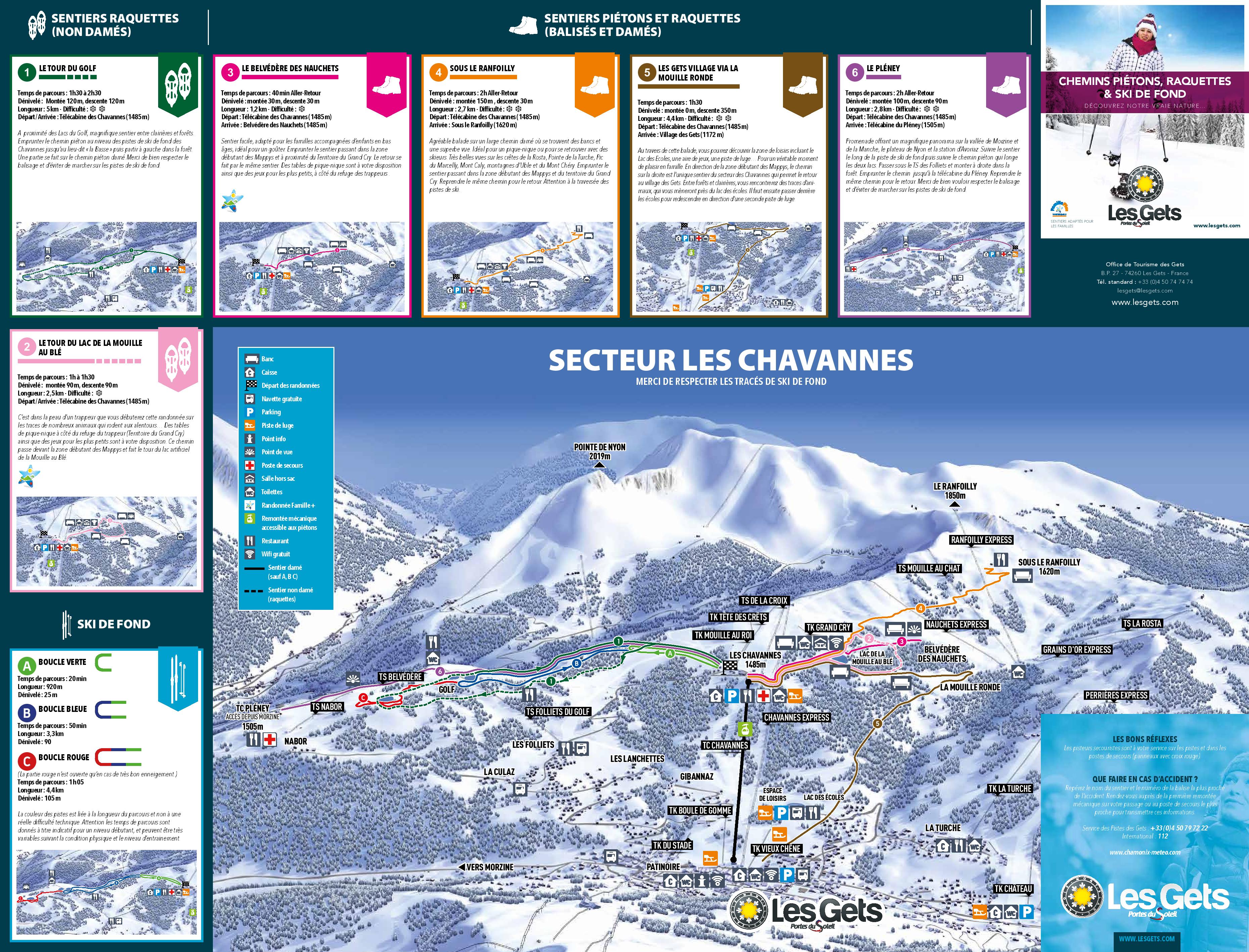 Option 1 : Head towards Le Ranfoilly for some exceptional views
Trail N°4: Pleasant walk along a wide, groomed track, with benches and a superb view. To be combined with a picnic at the Trappeurs shelter (Grand Cry territory) or at the Nauchets Viewpoint (trail n°3). Some great views over the La Rosta ridges, the Pointe de la Turche, the Pic du Marcelly, Mont Caly, the Uble Mountains and Mont Chéry. Take the trail that passes through the Mappys beginners' area and the Grand Cry territory. Go back along the same route.
Duration: 2.5 hours – 3 hours there and back
Length: 2.7 km
Change in altitude: 150 m positive inclination and 150 m negative inclination
Departure point: Chavannes cable car
If you want to go straight down to the village, you can go along trail n°5, via La Mouille Ronde.
Duration: 2 hours downhill
Length: 4.4 km
Change in altitude: 350 m negative inclination
Option 2 : Head to Le Pleney for a family-friendly walk through the forest
Trail N°1: Superb walk through the forests and forest clearings, with a great view of the village of Les Gets, Morzine and La Manche valleys, Nyon plateau and the resort of Avoriaz. The trail is mostly flat making it suitable for families with young children. If you are feeling sporty, and if you set off with a guide or instructor, we recommend carrying on until you reach the pretty Nabor Alpine pastures, the perfect spot for a lunch break.
Duration: 2.5 hours – 3 hours there and back
Length: 2.8 km
Change in altitude: 100 m positive inclination and 100 m negative inclination
Departure point: Chavannes cable car
Mont Chéry sector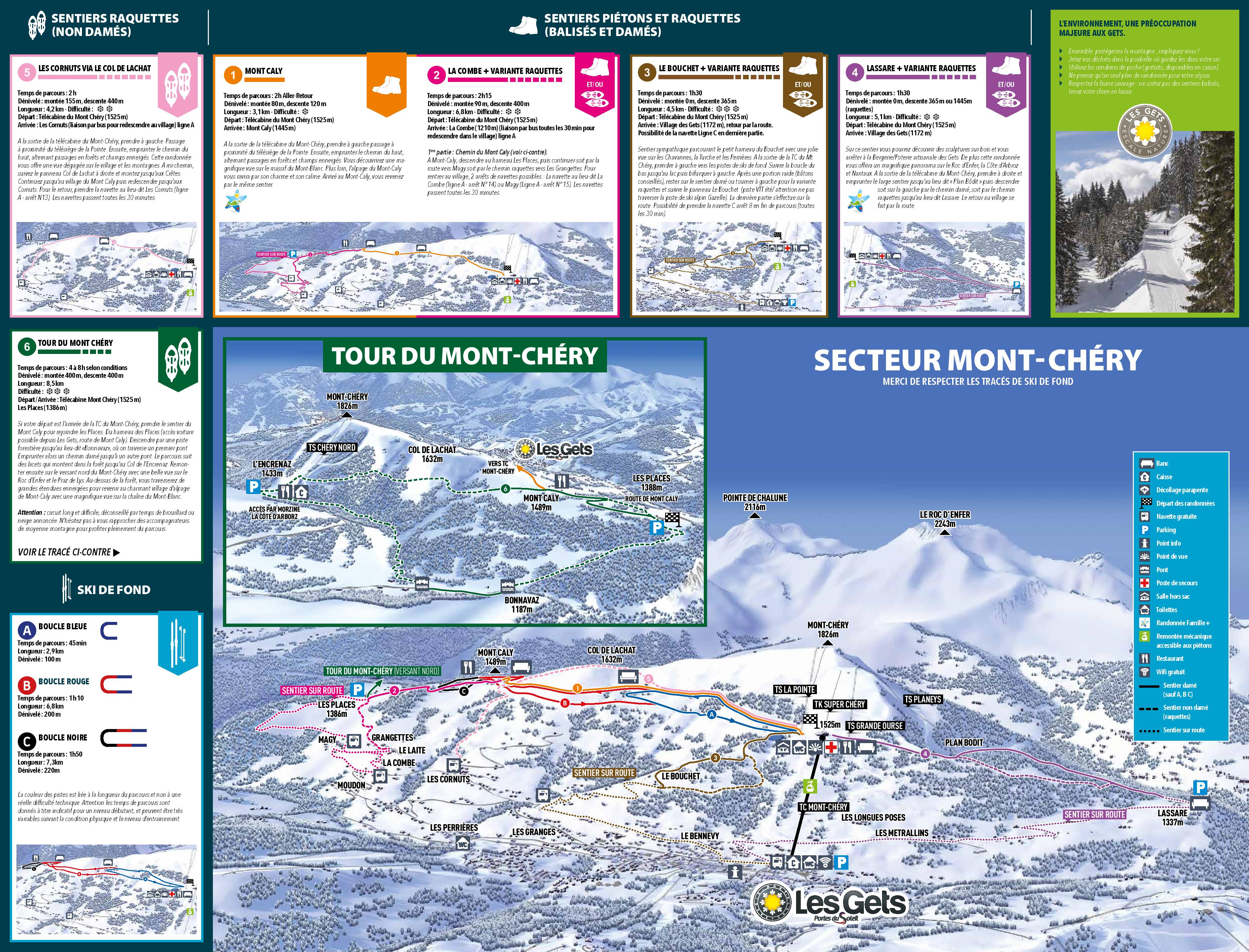 Option 3 : Head to Lassare for an adventure in the wilderness
Along trail N°4, you will discover some wooden sculptures and stop off at the Sheep Farm/Artisanal Pottery in Les Gets. You will be following the same trail there and back, with a superb panoramic view of the Roc d'Enfer, Côte d'Arbroz and Nantaux. From Lassare, follow the marked trail towards 'Plan Bôdit', until you reach Mont Chéry cable car, your arrival point. On the way back, you can either go left along a groomed track, or along the snowshoeing trail to Lassare.
Duration: 3.5 hours
Difference in altitude: 190 m positive inclination and 190 m negative inclination
Departure point: Lassare
Option 4 : Head to Mont Caly for a nature and heritage outing
This hike begins at the hamlet of Les Places. Go along the snow-covered track that leads to the Mont Caly Alpine pastures (trail n°2), and you'll be impressed by this charming and peaceful place. Then follow the trail to Mont Chéry cable car (trail n°1), through forests and across snow-covered fields. During this walk, you'll be surrounded by a magnificent view of the Mont Blanc mountains. Come back along the same track.
Duration: 3 hours – 3.5 hours there and back
Length: +/- 5km
Change in altitude: 220 m positive inclination and 220 m negative inclination
Departure point: Les Places hamlet
Are you itching to get off the beaten track? Do you want to find out more about Les Gets' history and heritage? Maybe see some animal footprints? Call upon a professional.
We met up with four guides (Pascal, Dominique, Laurent and Julien) who shared with us their passion for their job and their expert knowledge of the area.
"When we go out on snowshoeing expeditions, we try to venture off the marked trails as much as possible, to really explore the wilderness. We adapt the itineraries according to the needs and physical ability of the participants. For experienced walkers, we suggest exploring the Ranfoilly and La Rosta sectors, for some beautiful views of Mont Blanc, Samoens, Morillon and the Pointe Percée. I also like going to La Turche, Mont Chéry or outside of Les Gets for an even more thrilling adventure. I'd like to remind you that these itineraries are not marked, some passages can be quite technical and you shouldn't go there without a guide".
"What I love about my job is taking people on a journey, telling them stories, showing them the exceptional heritage and environment of Les Gets. For example, I tell them about how the different hamlets got their names, the history of the farms and pastures we see along the way, traditions of Les Gets, etc."
"I particularly like the Lassare sector due to its wild nature. We walk across wide-open spaces covered in snow, and through dense forests with some great views of Avoriaz, the Roc d'Enfer and Mont Chéry. This place is perfect for observing animal footprints: deer, doe, roe deer, squirrels, etc. For a bit of added fun, I sometimes suggest sliding down through the powder snow in safe spots."

"Mont Caly is a preserved mountain hamlet, full of charm, and with traditional architecture and well-preserved or restored buildings. With the added bonus of superb views of Mont Blanc and the Roc d'Enfer on the other side. I must insist that if you venture away from the marked trails, snowshoeing is a mountain activity that requires good knowledge of the terrain, the environment and the potential dangers."
2pm – Back to the village
There are so many ways you could fill your afternoon, and why not vary the pleasures: a ride on a snowmobile, some well-deserved pampering, a tour of a local farm or the Art'N'Chéry gallery, a stroll around the old village for a bit of shopping, sledging at the foot of the ski slopes, a ride on the merry-go-round or the children's play areas, etc.