While the opening of the ski lifts is long overdue by alpine skiing fans, another mountain sport is on the rise this winter: Nordic skiing.
Cross-country skiing is the oldest discipline of skiing. Historically, it originated in Norway, where skis were indispensable for hunting and firewood collection in winter. It became a sport at the end of the 19th century.
In Les Gets, the Nordic area opens to the public from 19 December.
So don't wait any longer to discover this sport, both recreational and physical, and which combines hiking and the pleasure of skiing.
A sport accessible to all
The ideal place to start cross-country skiing
The resort of Les Gets offers several slopes without great difficulty in an idyllic setting between snowy clearings and undergrowth. However there are also sportive routes for the more athletic of you.
Mostly located in the forest, the slopes invite you to reconnect with the very essence of Nordic skiing, a return to nature and calm.
The itineraries have been laid out on slightly hilly ground, the effort is progressive, making cross-country skiing accessible to all ages and all desires. Whether you are a beginner or an expert, there are several trails to choose from: the small green loop is ideal for learning the basics of sliding, the blue trail will take you a little more into the effort and the red route will be perfect for getting your cardio up !
See the itineraries
It's good for the spirit and health !
A gentler mountain practice to give a boost to body and mind!
Nordic skiing is an endurance sport which exercises all muscles in a regular and progressive way. The use of the poles works your shoulders, triceps and abdominal muscles while the gliding movements tone your leg muscles. Cross-country skiing also improves your cardiovascular health and endurance.
Not forgetting that outdoor exercise, and even more so in the mountains, has a positive effect on stress management, mental health, brain activity and contributes to your general well-being.
Cross-country skiing is an ideal form of exercise to stay healthy, while minimising the risk of injury.
To each his own style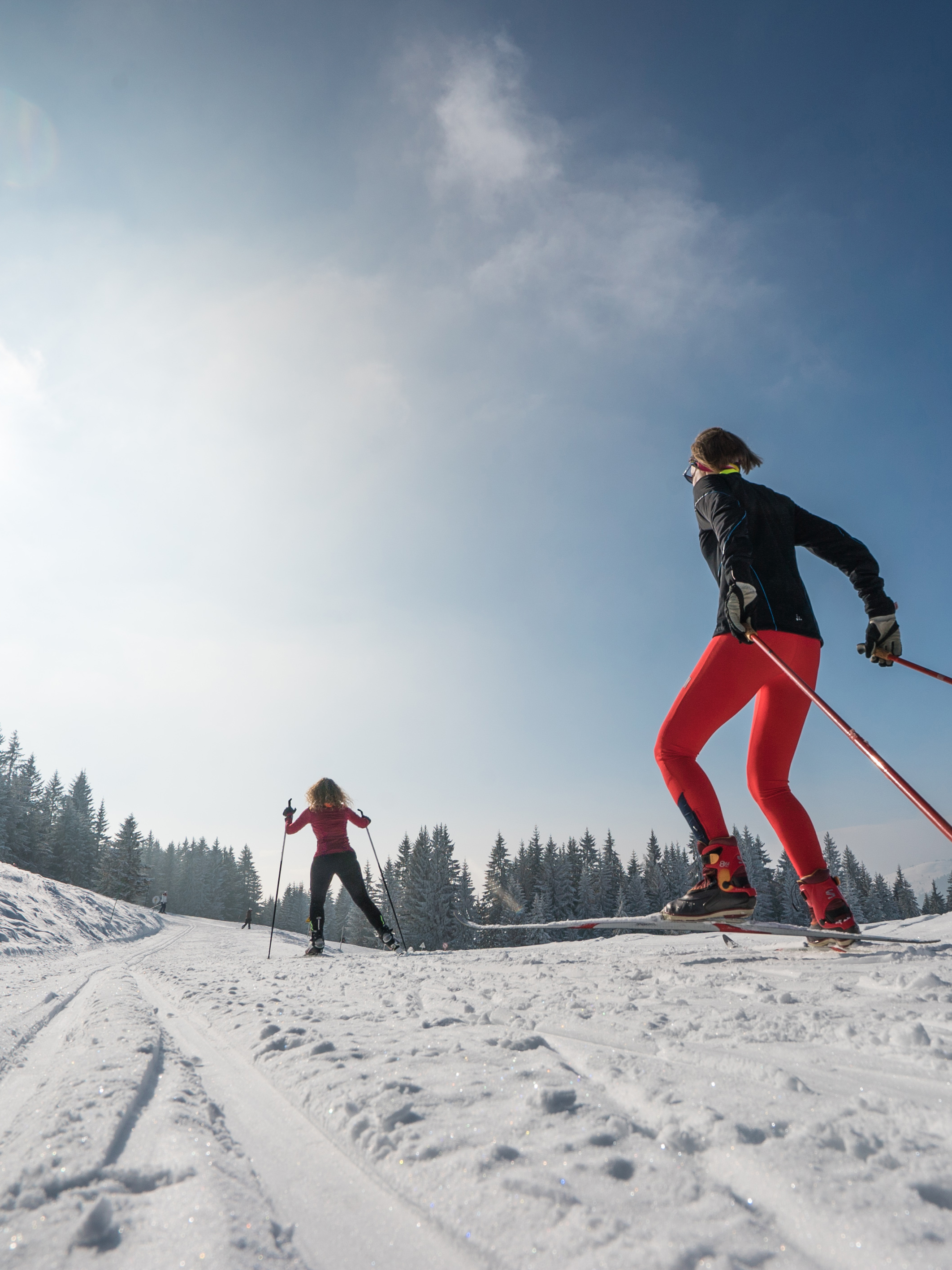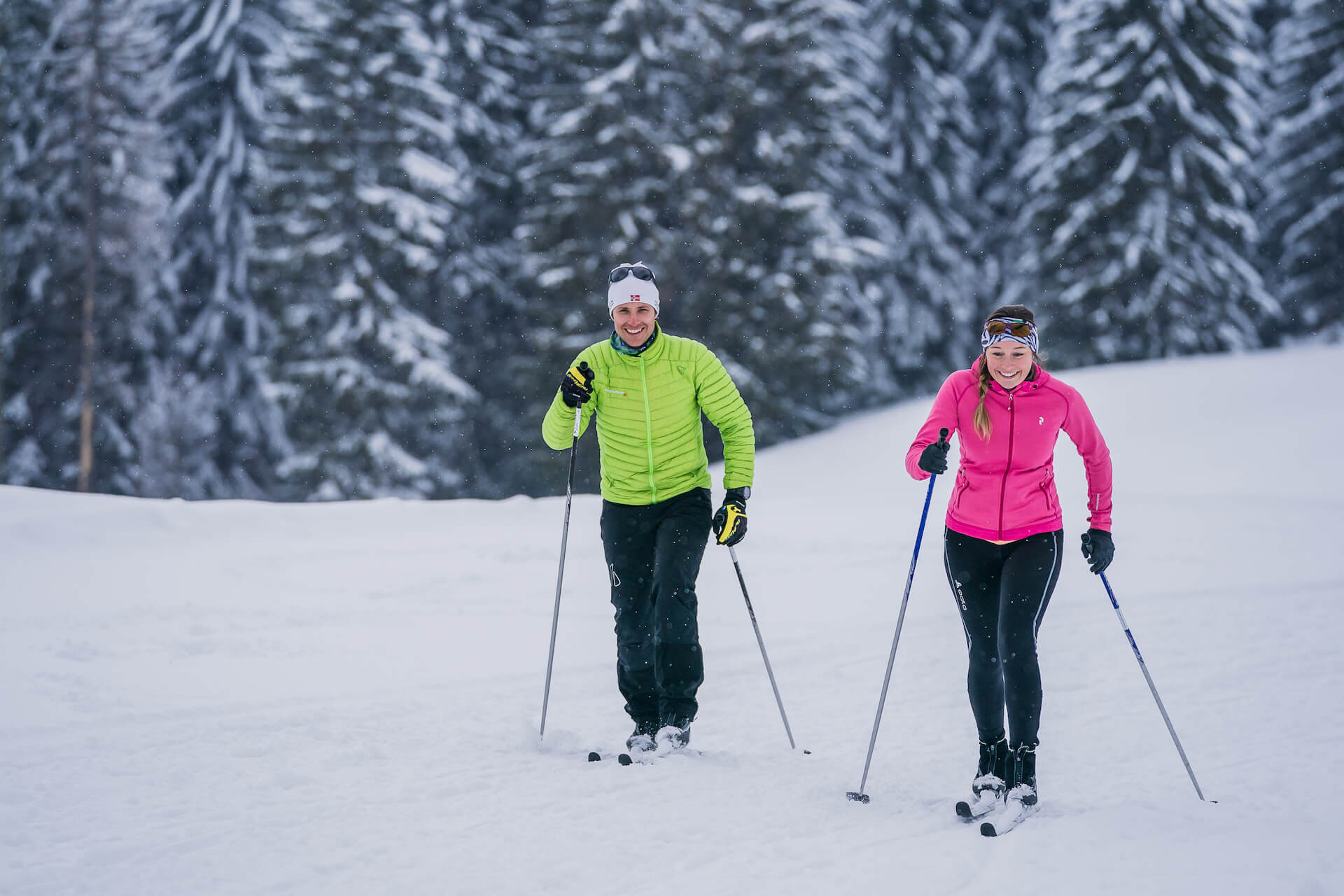 In cross-country skiing, there are two techniques of sliding:
Classic or alternative step: you ski in the 2 rails with the skis parallel, like a sliding walk. This is the traditional technique of the discipline which is also the most suitable for beginners for a first approach to Nordic skiing.
Skating: also called "skating step", the movements are quite similar to ice or roller skating. The skis are spread out in a V-shape and pressure is applied to the sides of the skis to move forward, while pushing with the poles. This practice is more technical but also faster and more elegant.
Whether you opt for classic cross-country skiing or skating, the resort's sports shops will advise you on renting (or buying) the right equipment for your winter sliding outings.
Indeed, skis are a little different in classic Nordic skiing or skating: classic skis are equipped with an anti-recoil system, which makes it easier to go up without hindering the descents.
Follow the guide…
You have never done cross-country skiing before and would like to try it ? In Les Gets, the mountain guides and ski instructors will be delighted to accompany you on your outings and teach you the basics of this beautiful discipline.
2 or 3 reminders for a successful Nordic ski outing :
Dress appropriately for the weather conditions. But not too much either, because you will be warm once you're on the move. As for all outdoor sports in winter, the 3-layer rule is the best way to avoid cold snaps. Don't forget the hat and gloves.
Take some food and drink. Although cross-country skiing is a gentler mountain sport, it is still a full sport. Sport means energy expenditure and hydration. So don't play Rambo and think about taking water and a snack for your outing.
A bit of theory before practice: before you start sliding on Nordic trails, and to avoid unfortunate falls, find out about the right techniques, positions and movements to adopt. Professionals from the resort are there to answer all your questions.
Now that you've learned the basics of cross-country skiing, and practical information on how to do in Les Gets, we can't wait to see you in our Nordic area this winter!