You can see it everywhere… On the roads, the forest paths and the mountain trails, the electrically-assisted bicycle has really exploded during the past few years. Have you wondered why? The best way to find out would be to try!
As a family or with friends, electric mountain bike is the activity to try this summer! Luckily, Les Gets and the Portes du Soleil have set up routes suitable for the practice of e-biking so that you can ride over the whole area easily thanks to electric assistance, with no worries about the elevation.
Are you ready to power up? We'll take you on a tour to discover this on-trend discipline.
Try out electric mountain biking in Les Gets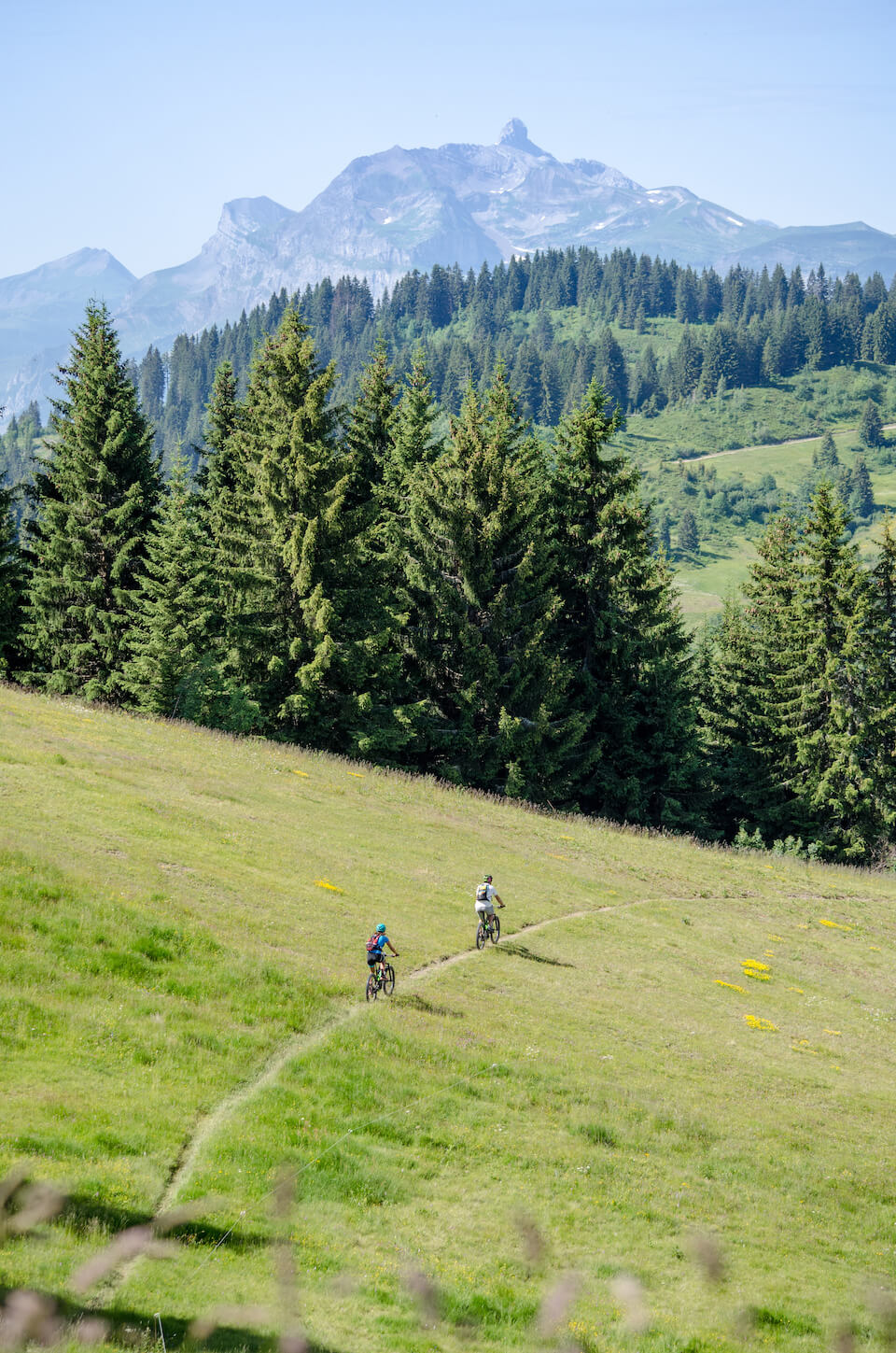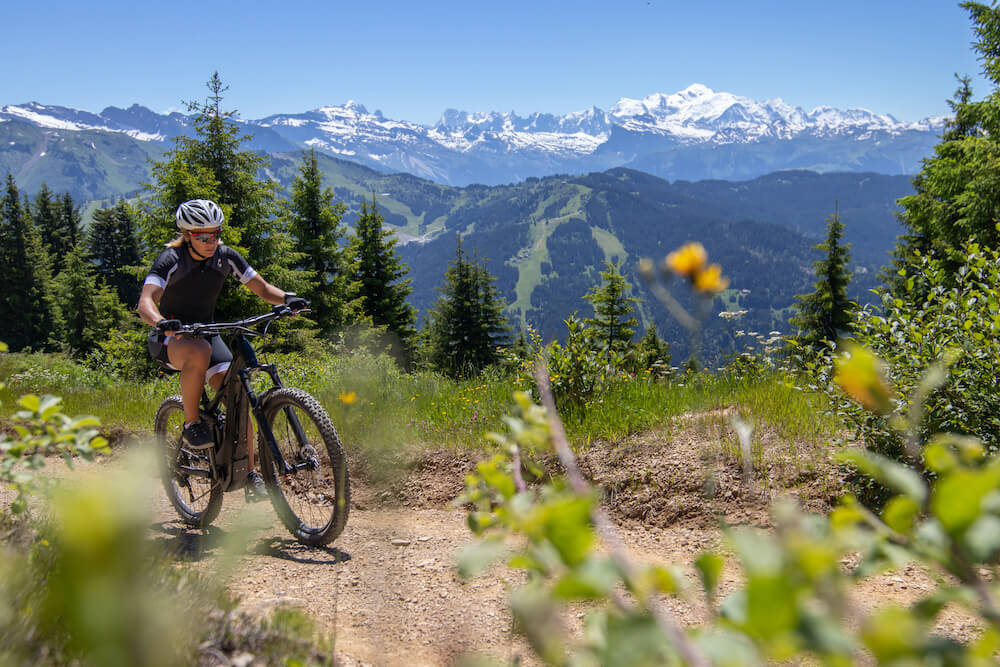 Les Gets resort is an ideal location to discover electric mountain biking thanks to five signposted routes for around 60 km of enjoyment!
Varied and fun routes where each person can go at their own pace: green and blue routes for those who love quiet, contemplative rides along the Mont Caly, the Pléney and Morzine, red routes for more experienced riders wanting to conquer the Col de Ranfoilly or the unspolit nature on the Plateau de Loex.
Free charging stations
On your route, recharge your hybrid mountain bike at several electric charging stations:
— Chavannes Central Cashier
— Lac des Ecoles
— Crête des Chavannes, near the golf course
— Sherpa supermarket
Tips from pros…
Audran, mountain bike instructor at Bike Academy tells us about electric mountain biking in Les Gets
"The big advantage of Les Gets, is that it is a hilly resort that is not too steep, so it allows everyone to learn and progress in mountain biking. There is a wide choice of "discovery" routes for families and children from 7-8 years old. For example, departing from Les Gets, you can go past Les Mouilles towards the Parc des Dérêches in Morzine and you can return using the 4×4 trail. There is also access to more technical and enduro terrain on the Mont Chéry or Morzine side for more experienced bikers. For experienced cyclists who want to explore the Portes du Soleil, we try to get off the beaten track, we look for old hiking routes that can be done by bike to explore the area in a different way.
Les Gets has the great advantage of offering varied and fun routes for all levels. Another asset of the resort is that it is "mountain bike friendly" with direct access to the trails. " 
Conquer the Portes du Soleil
Is it possible to get up high and enjoy the most beautiful views of the Portes du Soleil in one day? Yes, Captain, but only if you have some mountain biking experience and are in good physical condition!
For keen mountain bikers, we suggest the Portes du Soleil Mountain Bike tour, an 80-km epic across the French and Swiss mountains, which follows the route of the Pass'Portes du Soleil.
Departing from one of 12 Franco-Swiss resorts of the Portes du Soleil area, you can explore the villages in a different way: Les Gets to Morzine via Avoriaz, Champéry, Châtel and Lake Geneva and that of Montriond, you'll experience a complete change of scenery. You will discover hundred-year-old alpine chalets and enchanting waterfalls, opposite the majestic Dents du Midi!
Need a little help ? To avoid some difficult climbs, buy a Portes du Soleil pass and take advantage of the lifts!
With almost 300 km of accessible mountain bike trails and 34 marked routes, the Portes du Soleil area offers endless possibilities. In addition, 21 Bosch charging points have been installed so you can charge your battery free of charge.
Tips from pros…
Damien, mountain bike instructor at MCF, shares his favourite spots
"Gone are the days when you return from cycling the Portes du Soleil on a regular bike exhausted! Thanks to the electric mountain bike, we have access to wonders outside the resort. There are some great rides on the Col de Cou side, where the pastures are vivid green. I also like the Grand Paradis sector, near Champéry, dominated by the imposing Dents du Midi and the Dents Blanches. There are incredible views of the glaciers. It's a real change of scenery without too much effort. Otherwise, closer to home, the whole periphery of Les Gets is very nice to explore on an electric mountain bike: the Col de l'Encrenaz and Graydon near the Roc d'Enfer or the Chamossière side and the Pointe de Nyon. "
Electric cycling is one of the fastest growing outdoor activities in Les Gets and the Portes du Soleil. So more accessible itineraries to reach certain areas that today require a good technical level are being created.