Today is national raclette day! And doesn't this delicious, mouth-watering dish deserve its moment of glory? Raclette is a comfort food par excellence. Cheese, potatoes, cold meats and gherkins, the perfect combination after (or during) a good day's skiing in Les Gets.
On national raclette day, learn more about this typical mountain dish.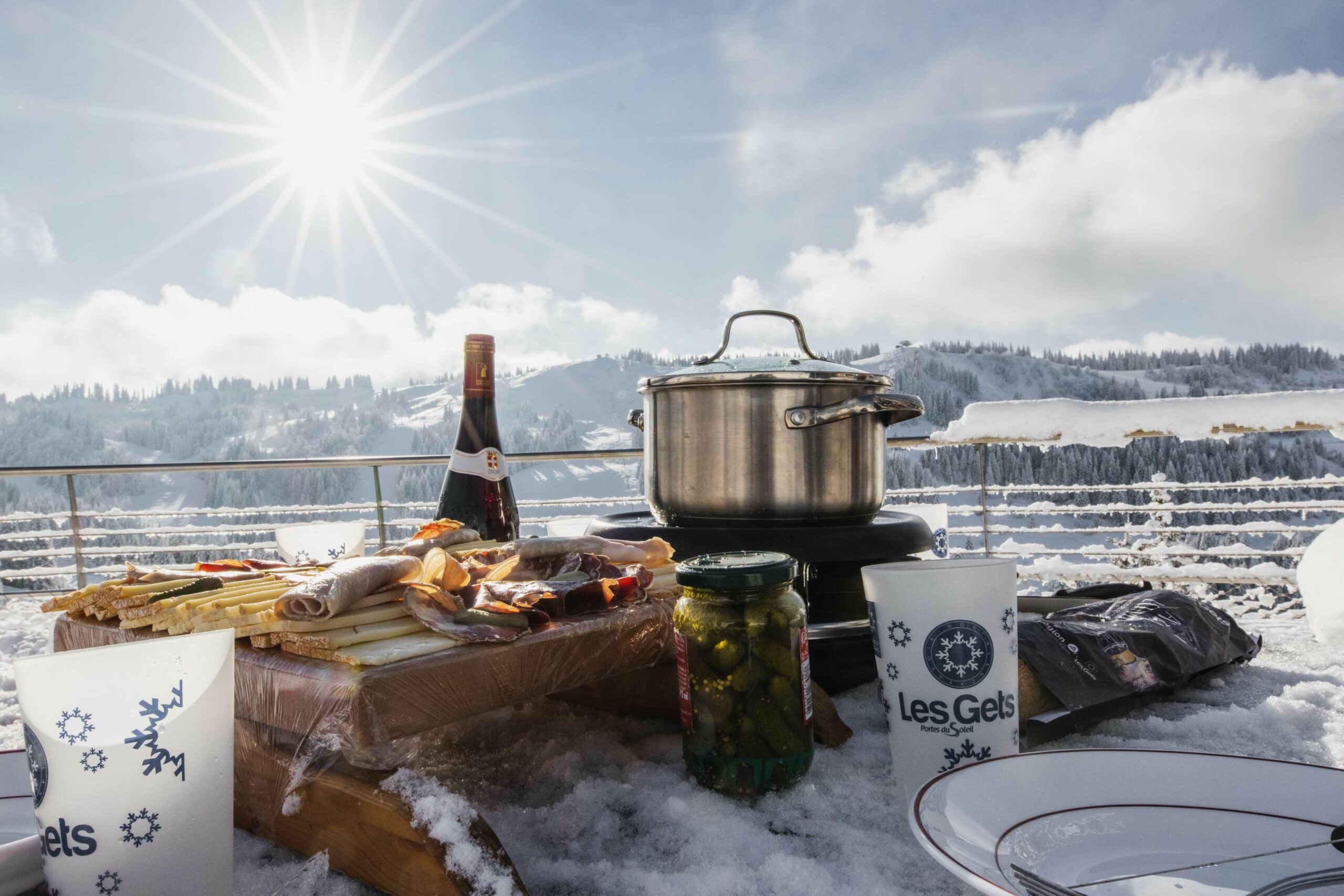 The history of raclette 🧀
According to legend, the history of the raclette dates back to the Middle Ages in the Swiss mountains of the Valais canton. Preparing this famous dish was much different then to how we do it now. Since the goal was to melt the cheese near a source of heat, like a fire in the hearth, it was essentially roasted cheese! The cheese had to be scraped (racler) so it would slide onto the plate. It was Léon, a Swiss shepherd, who discovered this one winter when he wanted to eat a delicious warm dish.
In the 1970s, raclette became a popular dish with the invention of the raclette machine, thanks to a famous French household appliance brand. During the same period, raclette crossed the border into France and later become a favourite dish with the French.
Raclette in a few figures in France
🧀 4th most popular cheese produced in France at almost 64,000 tonnes per year.
🧀 2.1kg is the average consumption of raclette cheese per household per year
🧀 83% of households have a raclette machine
🧀 In 1st position, it's France's favourite dish
🧀 200g of cheese and 4 potatoes per person makes a successful raclette
10 tips for a successful raclette party
🧀 Each person needs their own pan… they cannot be expected to wait or share their cheese!
🏋️ You need ventilation … eating a raclette is like a sport, it warms you up.
🧀 Provide enough cheese and cold meats… Better to have too much than too little
🍷 Remember one or more bottles of wine… You need to wash it down
👍🏻 Loosen the belt in anticipation… You need to be in a comfortable outfit for a successful raclette party
⛷️ There is no season to eat raclette… But it is still better after a good day of skiing in Les Gets
🍽 Offer several varieties of raclette cheese… smoked, plain, with wild garlic, with pepper, for a pleasant change
🥗 Ensure the aperitif and starter is light… leave as much room as possible for eating the raclette
🫖 End with a delicious herbal tea or a little glass of genepi… to help you digest all that cheese
Where can you eat raclette at Les Gets?
On the slopes at lunchtime after a good morning's skiing or in the evening in the heart of the snowy resort, you can eat a raclette at any time. The main thing is to enjoy the moment with family or friends. And what could be better than experiencing this in one of Les Gets' restaurants?
If you'd like to eat raclette in your accommodation by the fire before watching a Christmas film, you can! Browse our list of Les Gets shops where you can order delicious raclette cheese as well as cold meats.
❗️Top tip: shop owners in Les Gets can loan you a raclette machine
You can also eat your own raclette on the slopes with small appliances that work without electricity thanks to candle warmers or on the belvedere of Les Nauchets where you will find wooden tables as well as electrical outlets to plug in your raclette. This spot in Les Chavannes offers a magnificent view of the ski area!
You now know everything about the history of raclette. You will be able to shine at your raclette parties with all these tips and information.
Want to know one last secret? Raclette is better when eaten in Gets 🥰