Sébastien Varlet
Sébastien started skiing at the age of 5 in Bellevaux, a neighbouring resort in the Alpes du Léman region. Little by little, his training and competitions helped him build character and develop unfailing determination as well as an unlimited passion for skiing.
From the age of 15 years he followed a sports-study programme (skiing option) at Lycée de Moutier. 2 years later, having won recognition in a few FIS downhill skiing competitions, he decided to go into instructing. He became a ski instructor with the French ski school, ESF, when he was 17 years old.
At Portes du Soleil he discovered a much bigger ski area with many more mountain faces, valleys and corridors to explore!
In 2013, after passing his BTS exams (vocational diploma) and obtaining his national ski-instructor certificate, he decided to travel. He was 22 at the time. And so he travelled the word, stopping for a season in New Zealand where he taught others to ski. There, the mountains became his stimulus… and he began seeking out the best freeriding faces!
Now participating in 3- and 4-star Freeride World Qualifier events in Europe, his aim is to join the best international freeride skiers on the Freeride World Tour 5-star series.
Sébastien Varlet has been one of our resort's ambassadors since he signed a contract with the Tourist Office in 2016.
Main achievements
2016-17
Winner FWQ 3* Engadinsnow by Dakine
Winner FWQ 4* Roldal Freeride Challenge
2015-16
Winner FWQ 3* The North Face Freeski Open New Zealand 2015
Freeride race scoring = from 1* to 5*
1* and 2*= national race
3* and 4* = European race
5*= World tour.
Follow Sébastien
Ski tour 2018
Sébastien Varlet 2018
Bérangère Rogazy
Bérangère became an ambassador to the resort of Les Gets, her true heartland, in 2019 through a partnership with the local council.
She discovered the sport, which was to become her passion, in 2005 at Sallanches archery club. In 2007, she took part in her first French championship. Ever since, she has participated nearly every year in 2 different disciplines: indoor archery (18 metres) and outdoor Olympic archery (adult distance 70 metres).
Now a member of Brignais archery club, she ultimately aims to win a team medal at the French Club championship. Since 2016 she has participated in French team selection events and was selected for the 2018 Mediterranean Games in Tarragona.
At the age of 27, Bérangère juggles her time between the hospital, where she works as a medical electroradiology technician, and her physical and mental training which includes plenty of outdoor practice. Unfortunately, she will not be fulfilling her Olympic dream in Tokyo in 2020. But she remains every bit as motivated for her Paris 2024 goal.
To optimise her preparation, Bérangère will continue taking part in French team selections and aims to compete in major events like the World Cup and the European and World championships. She also hopes to rub shoulders with the very best archers in certain heats of the prestigious Indoor World Series competition (18-metre indoor) which should move her up in the rankings.
Main achievements
2020 :
– 9th of the Olympic pre-selections
2019 :
– 9th of the Indoor World series Luxembourg
– 7th in the French club team championship
– 7th of the selections for the French national team outside France
2018
– Team Gold Medal at the Mediterranean Games
2017
– 6th of the selection for the French team for the European Indoor Championship
– 4th to 3rd round of D1 (Boé) FITA
2016
– 8th at the French FITA Championship
2014
– 3rd in the French 50m Championship
2013
– 3rd in the French Youth Championship by FITA League team
– French Junior 50m Champion
Jules Segers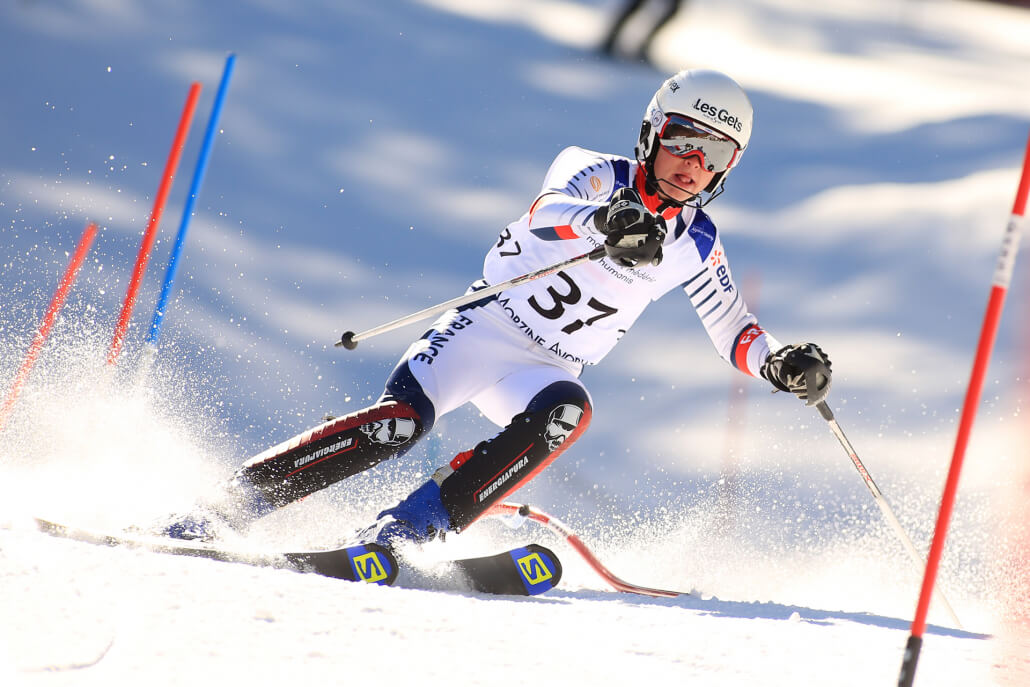 At the age of just 17, Jules Segers is a rising star in parasport downhill skiing. He was born in Les Gets where he took to the slopes at the age of 3 years before joining the Ecole du Ski Français (French Ski School) in Les Gets. Having grown up in a family of sports enthusiasts, the competitive spirit is second nature to him, along with a thirst for surpassing himself.
He has a real passion for downhill skiing, and winter sports in general. "Downhill skiing is a rich and varied sport that covers an incredible terrain. On the slopes, off-piste, or on a slalom run, every single turn is different", the young skier says.
After obtaining encouraging results in the French Cup, he joined the French parasport ski team in 2017.
Alongside his skiing, Jules is studying for a science baccalaureate and aims to start at the University Institute of Technology (IUT) in Annecy-le-Vieux in 2020. 

Season after season, Jules sets himself targets which, he hopes, will pave his way to the highest level.
After an excellent 2018-2019 season, Jules was able to represent Les Gets and France in various national and international competitions (European and World cups) in 2019-2020.
Main achievements
SLALOM:
– 5th at the 2018 French Championships
– 3rd in the general ranking of the French Cup 2018
– 8th in the European Cup at Landgraaf 2019
– 1st youth of the 2019 French Cup in Les 7 Laux and Peisey Vallandry
– 8th at the 2019 World Cup Finals in Morzine

– 3rd at the 2019 French Championships in Méribel

– 6th at the European Cup finals in Klövsjö (Sweden)
GIANT:
– 4th at the 2018 French Championships
– Top 10 at my first World Cup start in Veysonnaz
– 1st youth of the 2019 French Cup in Les 7 Laux and Peisey Vallandry
– 8th at the European Cup finals in Klövsjö (Sweden)
SUPER COMBINED: 5th at the 2019 French Championships in Méribel
SUPER G: 5th at the 2019 French Championships in Méribel
Ski jumping
Océane Avocat Gros
Océane Avocat Gros, aged 22, is studying sports science at STAPS in Grenoble. But she also holds in her hands the future of women's ski-jumping, a sport she has enjoyed since the age of 14!
She joined the French B Team in 2016 and aims to demonstrate her ability to the full by competing in the World Cup series. Her motivation and quest for high standards make her a charming asset to this sensational sport, and the pride of the resort.
Her best achievements to date:
• 3rd in the 2019 French Championships
• 4 Top-6 places in World Cup B
• 2nd in the 2013 Team Junior World Championships
• 19th in the World Cup rankings with several places in the Top 30
Follow Océane