The « Nook-Naah » sisters have settled in well, above the Lassarre road. Anouk, half shepherdess / half potter and Nathalie Bonhomme, half graphic designer / half potter, are already celebrating 12 years of the artisan pottery in Les Gets.
A happy birthday full of « sandstone », sweet and poetic in the image of the pretty pieces in their collections
Suckling lamb, sandstone lamb
Outside, the sheep and lambs are coming out for the first time since the end of a winter that couldn't last. Green grass and blinding sun, the herd bleats a loud hello. On the doorstep, there's a brown head and a blonde head, smiling. They work in pairs, have two jobs and four girls, two each.
Young thirty-something, Anouk, the eldest, and Nathalie' younger by a year, are local, raised on unpasteurised milk, on the farm further up from the workshop. From her farmer father, Anouk has inherited a passion for animals and the desire to make a living. As for pottery, she had to learn that. « As a child, I remember being enthralled by a lady who was operating a lathe at an exhibition on old trades. When I realised you could make a living doing that, I knew. »
After training, she set up on her own, half shepherdess, raising lambs, « ecological lawnmowers », and half potter. Nathalie, she started out first on the banks of Lyon as a graphic designer, before responding to the call of the mountains, and her sister.
Sister power
For five years, the two have been working together. Anouk turns, Nathalie decorates, playful creators of « feel good » pottery with naive and poetic embellishment.
In the workshop, the shelves are filled with bowls, cups and plates and also jam funnels, spoon rests, bird boxes and pencil holders. Chaps, of course, as their surname in French requires, or hipsters, unicorns, cows and pineapples, all drawn individually freehand by Nathalie on the sandstone turned by Anouk. Sisterly cooperation works perfectly, based on a love as obvious as it is modest. « At first we considered a kind of contract: if there's a problem, we'd go to the bar for a drink and if there was still a problem, we'd get a mediator to help. We have never needed to, but we still go to the bar. »
The creative, poetic and authentic pieces of the two sisters are promoted thanks to the Route Terroir et Savoir-Faire du Haut Chablais.
The Haut Chablais Route of Terroir and Know-How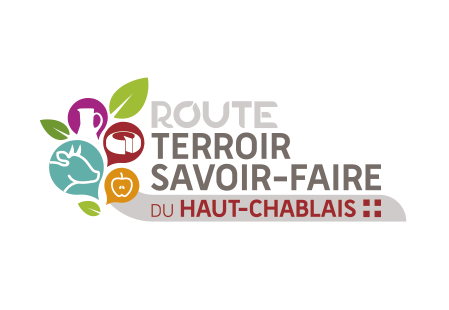 The Haut Chablais Route of Terroir and Know-How brings together all the farmers and craftsmen who produce and promote the products and know-how of the region.
The landscapes of the Haut-Chablais owe much to the farmers, who are present in the valley bottoms as well as in the mountain pastures. They share their love and passion for their work. They like to showcase their products, all of which come from their farms. Farmers and craftsmen, between authenticity and modernity, are the guardians of mountain know-how.