Fondue is the ideal dish to warm up after (or during) a good day of skiing in Les Gets! A must-try winter dish, fondue is part of the Alps' heritage. Savoyard fondue is a cheese fondue traditionally eaten with bread. Here is all you need to know about this speciality.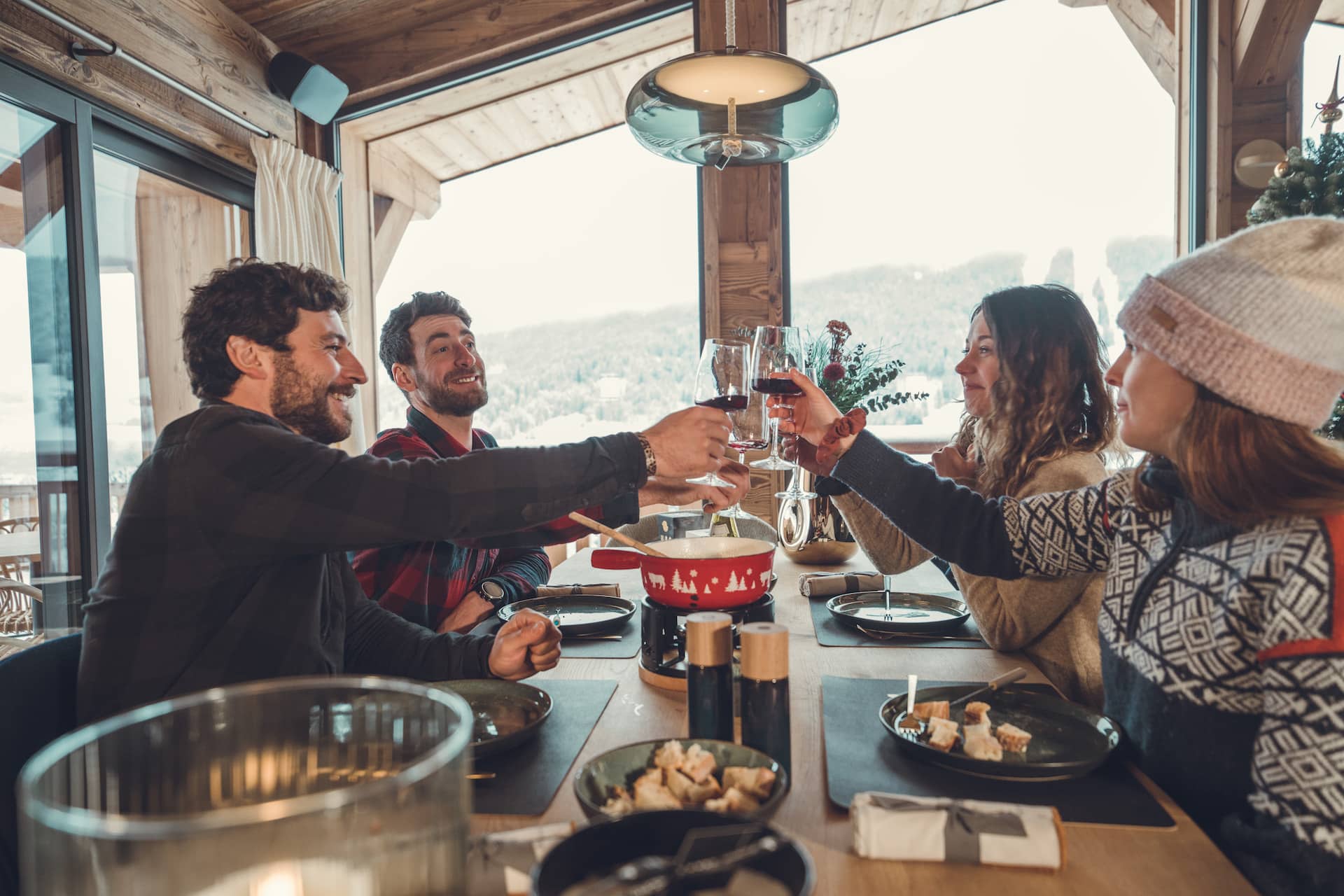 The origin of fondue 🫕
Fondue is a traditional Swiss dish, originating in the mountainous regions of the Swiss Alps. The first traces of fondue date back to the canton of Fribourg. Originally, fondue was a dish for farmers who used melted cheese for leftover dry bread and other foods that could no longer be eaten as is.
Over time, fondue became a popular dish in Switzerland and eventually crossed the borders to the French Alps with the Savoyard fondue.
Ingredients for the Savoyard fondue for 4 people
🧀 1 kg of cheese, i.e. 200 grams per person (Beaufort, Comté, Gruyère Savoyard)
🍷 30 cl of Savoy white wine
11 things to know about Savoyard fondue
🍻🍻 Whoever drops their piece of bread gets a paenalty or pays a round
🌽 You can add cornstarch to make your fondue thicker
🚰 You can make a fondue without wine by adding water or cider
🥗 Salad and a good bottle of white wine are the perfect accompaniments for the Savoyard fondue… The more daring may wish to add some charcuterie
🫕 You have to stir the fondue by forming an 8 with your wooden spoon
🫕 You can add dehydrated mushrooms, mustard, pepper… Each one of these adds flavour
🥖 Ideally you use stale bread from the day before
🥚 It's traditional to crack an egg at the end when there's hardly any cheese left… it's really quite good
🧀 The nun is the layer of cheese that remains at the bottom of the fondue pot at the end of the fondue
🧂 For easier cleaning, leave cold water and salt in the fondue pot overnight
Where to eat a fondue in Les Gets?
Whether it be on the slopes at lunchtime after a good morning's skiing or in the evening in the heart of the snowy resort, fondue can be eaten at any time. The main thing is to spend a convivial moment with family or friends. So what could be better than to share this moment in a restaurant in Les Gets?
Of course, you can also enjoy your raclette at home by the fire if you prefer. Find our list of shops in Les Gets where you can order good raclette cheese and charcuterie.
❗️good to know: some shopkeepers in Les Gets lend out raclette pots.
Now you know all about the history of fondue. You will be able to shine at your fondue parties, fully primed with all these tips and information. Enjoy your meal!