Days out in the great outdoors with no timetables or constraints, where you decide on your programme the day before over a drink, with the sole aim of enjoying yourself. Switch off your alarm. Bye bye busy schedule. And that's when your ideal holiday can begin !
Here, it's never been easier to escape every day: MTB, road cycling, hiking, trail-running, paragliding, golf, dog-hiking, white water sports and so much more. The list of outdoor activities in Les Gets is endless, and you're guaranteed to find something to satisfy your urge for adventures !
But a holiday is especially about enjoying simple pleasures and just living in the moment: eating at a restaurant on the sunny terrace, an open-air concert, enjoying a drink with friends and putting the world to rights, or going on a festive bar crawl !
Here's a look at what you can expect this summer on a #madeinlesgets holiday !
Do you feel like riding ?
It's hard to imagine a summer holiday in the mountains without getting on a bike. This is the resort's number one activity as it is one of the best places in France for mountain biking.
When you talk about biking in Les Gets, there are multiple teams ✌️
So which team are you ?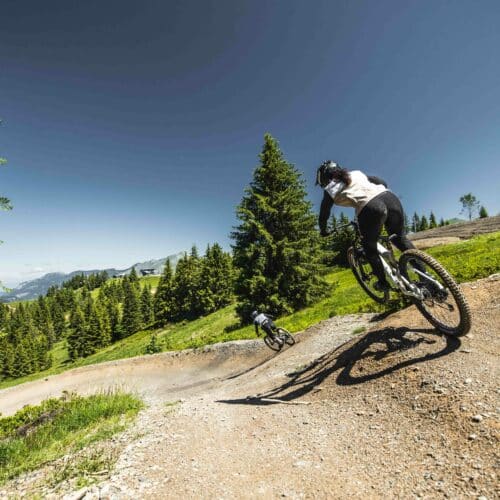 Team Bikepark
Looking for a rush of adrenaline and thrilling rides over the slopes, round the bends and (sometimes) the jumps on the 128 km of tracks at the Bike Park.
It's me !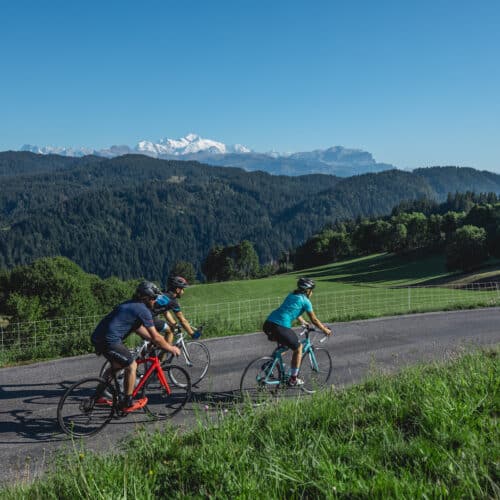 Team Road cycling
If riding on tarmac is your thing, don't hesitate to take on the challenge riding up the famous mountain passes along the Route des Grandes Alpes or from the Tour de France.
It's me !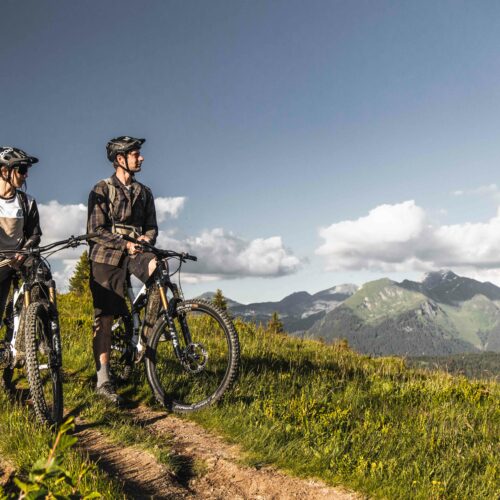 Team E-MTB
For those who may be looking to explore the mountains and peaks without too much effort, thanks to the electrical assistance.
It's me !
Espresso, EXPLORE, cocktails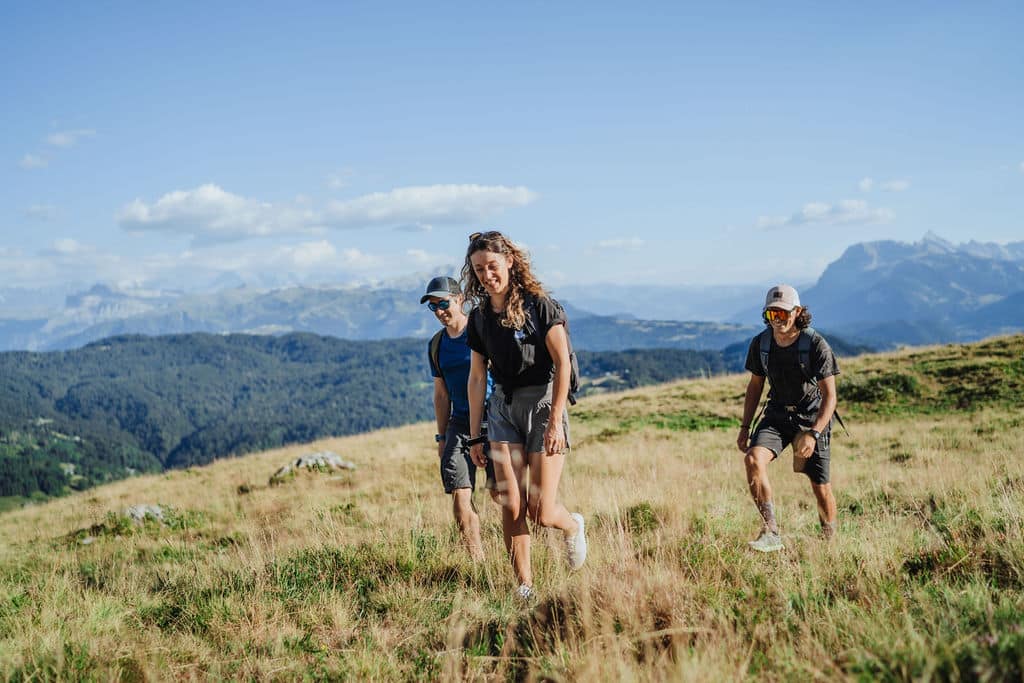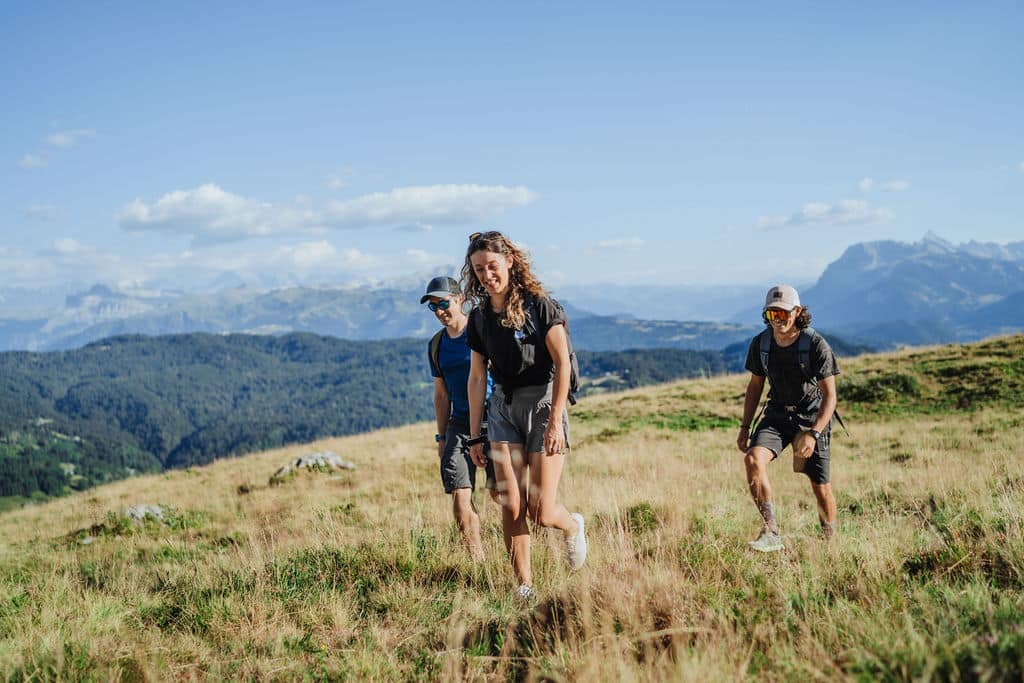 Europe's highest peak is always visible and in so many different forms, that's the incredible advantage of hiking around Les Gets. From Mont Chéry, Mont Caly or Ranfolly, you can admire the Mont-Blanc mountain range in all its splendour, changing viewpoints with the different slopes, altitudes, light effects, weather conditions and times of day.
With close to 20 marked trails suited to everyone and all levels of ability, there are plenty of possibilities for hiking here. You could enjoy a few drinks as you want the sun go down behind the peaceful, wild peaks, take a refreshing break on the shores of a mountain lake, stop for a picnic surrounded by century-old mountain chalets, take photos of the breath-taking views for your Instagram stories, and so much more!
Are you looking for a more fun hiking outing? Then why not choose to walk with a dog? We highly recommend dog-hiking ! Basically, you'll be attached to a dog with a harness and you'll walk along the trails together. As well as the enjoyable aspect of this activity, it is also a great approach to take for the uphill climbs because the dogs will give you a helping hand on the way up.
Calling all foodies
In Les Gets, we appreciate the good things in life, especially when they're local, fresh and made with love. In the cosy atmosphere of a mountain chalet, the elegant setting of a fine-dining establishment or the relaxing ambiance of a tapas bar, there's something for everyone, so you won't be left with a rumbling tummy.
The resort's producers, retailers and restaurant-owners all have their own way of showcasing the resort's fine foods and high standards, serving local products from short circuits wherever possible.
Just ask them for a menu !
Restaurants & terraces
Les Gets by night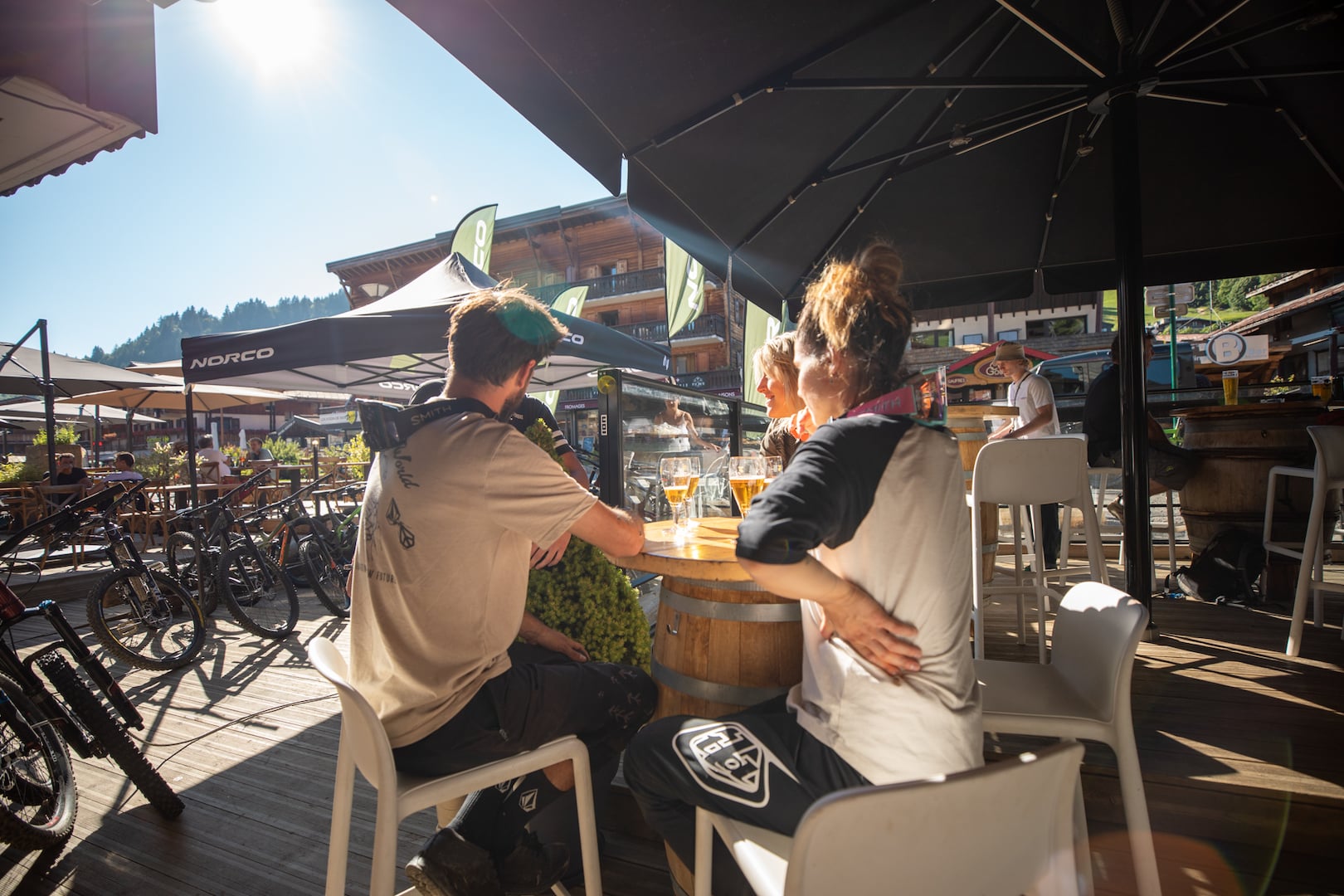 What? You mean the 'après-ski' parties aren't just for the winter? Of course not! You can enjoy early evening drinks all year round! There are around fifteen bars in the village of Les Gets so there's always somewhere to go, to relax and enjoy a drink or two. Whether you're looking for a quick drink or you're feeling really thirsty, the bars and terraces of Les Gets are open from the end of May to mid-September.
When summer comes, this also means it's time for open-air festivals and concerts (woohoo!) In Les Gets, we aim to satisfy all music fans: retro swing vibes at the National Day traditional guinguette, pop-rock-electro bands at the Lounge Music Festival, mechanical music for the 40th anniversary of the museum, and a whole host of concerts in various venues of Les Gets.
And for those looking to stay out until the early hours, head to Igloo, the resort's iconic night club where people have been coming to dance the night away for the past 80 years.